Project Reveal – Modern Boho Loft – Living Area
Created by Vinithra Amarnathan on January 9, 2019
A little modern, a little boho, a little organic and very chic ☺
After a bunch of remodels in the past two years, I was ready for a blank slate to work on and this modern boho loft was just the perfect project!
It was bright, with ample natural light, a great open floor plan and a modern clean structure to work with! Add to that a very discerning client who was willing to take design risks! Ok I got lucky ☺…but it was a lot of hard work, I kid you not! But so so worth it!
I am so happy with every design detail in this house and how well fleshed out the design is!
It's restrained but full of depth, a muted palette on the whole but a fantastic play of textures, organic with bohemian hints and some great art!
We're bringing this project to you in parts and here's the first part of the reveal – the open plan living, dining, kitchen and entryway with a double height outdoor patio space!
Entryway
As you walk in to the apartment the entryway is narrow and tight with one part leading up the stairs into the top floor of this split-level loft while straight down you are led into the main living area!
Being small, we wanted to make the most of the space! We used a large simple brass framed mirror with a sharp and slim matte black ledge below to hold small items.
The ceiling has a beautiful perforated metal pendant light in silver and the play of mixed metals adds a lot of interest to this little spot.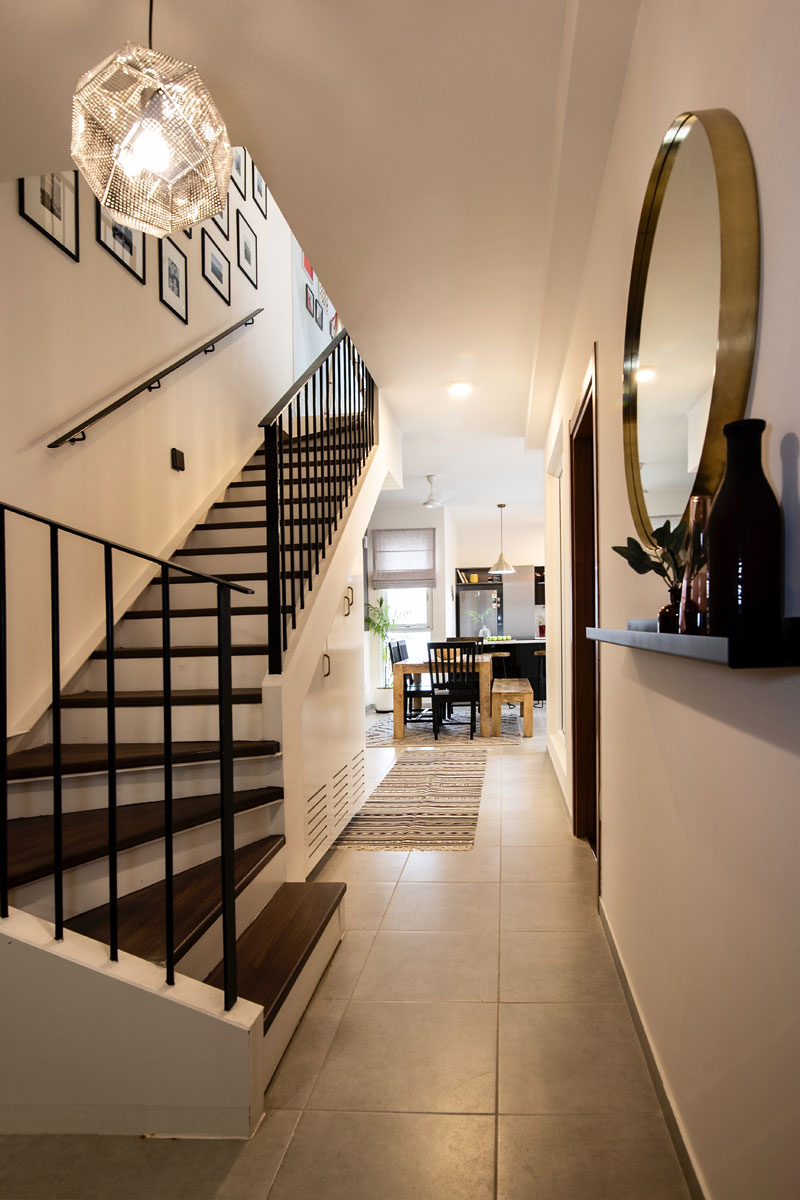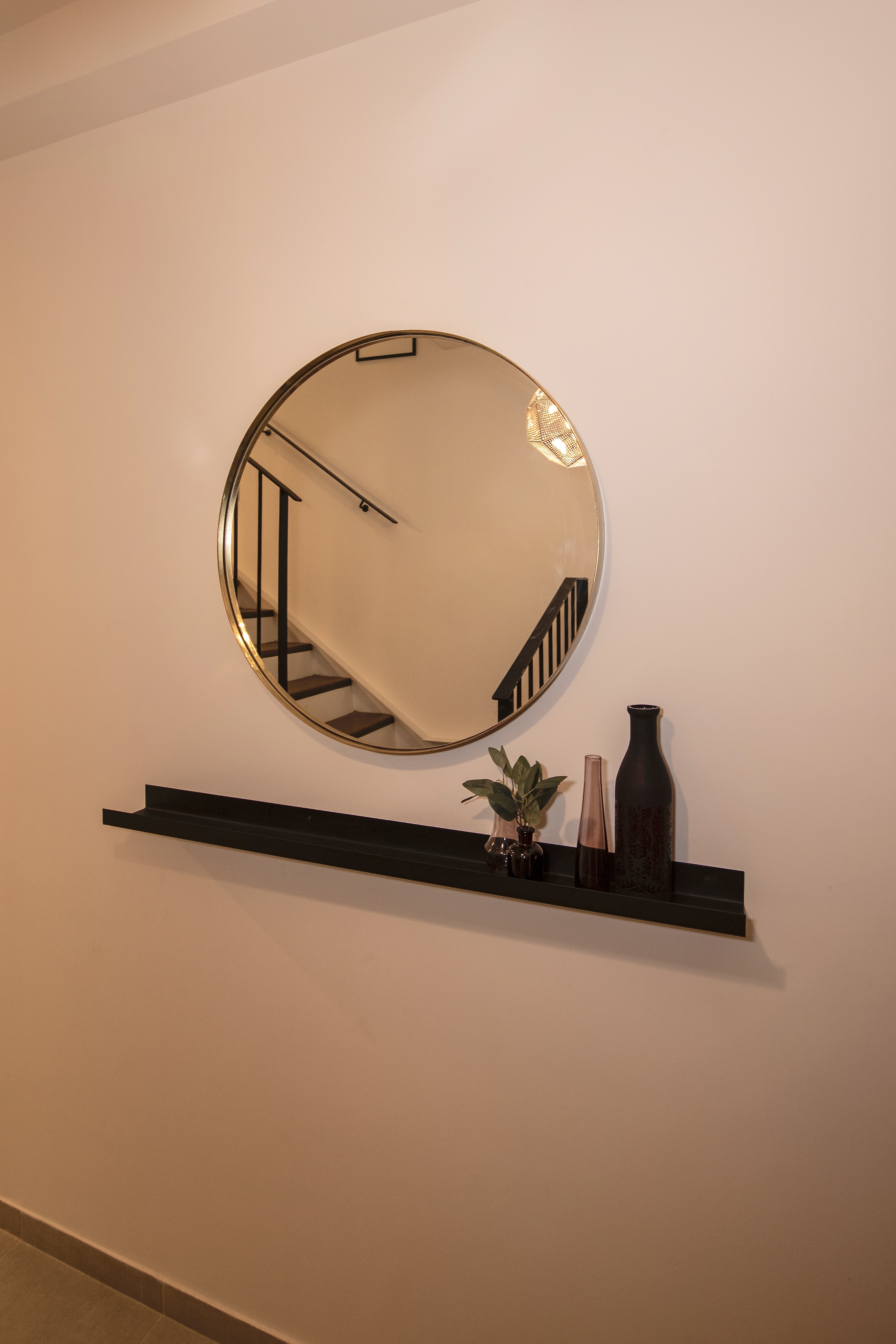 Bar
There was a whole lot of open but pretty much dead space that we had under the staircase and I think the idea of converting it into a bar was fabulous! It utilizes the space beautifully and adds a great spot that can be used for entertaining.
We used a large part of the area to create a bar and the rest of it to provide closed storage for shoes and other entryway essentials, which was perfect given that the house had a small entryway.
We wanted to go with an all white look to keep the space feeling open and bright and modern! One of my favorite elements here is the shiplap walls to set apart the bar area. It's lined with pinewood and painted white, which adds a whole lot of warmth and texture to the space. We used gold hardware and I love how it offsets beautifully against all the white!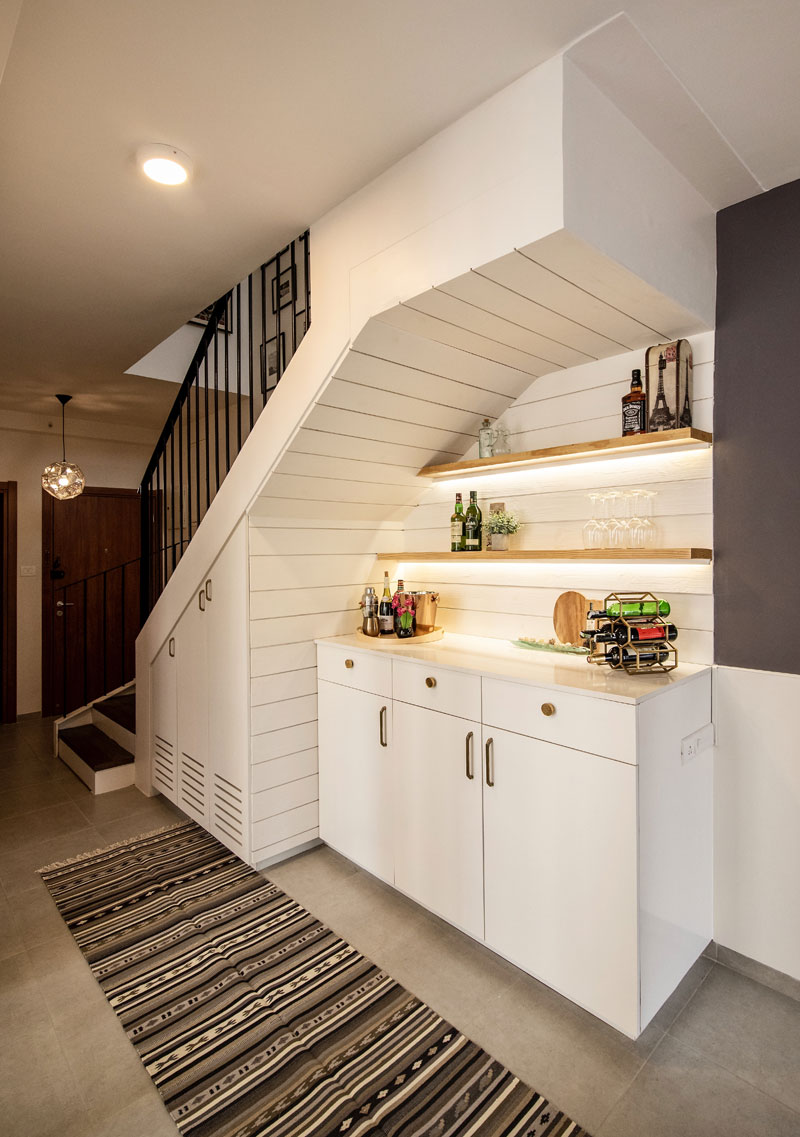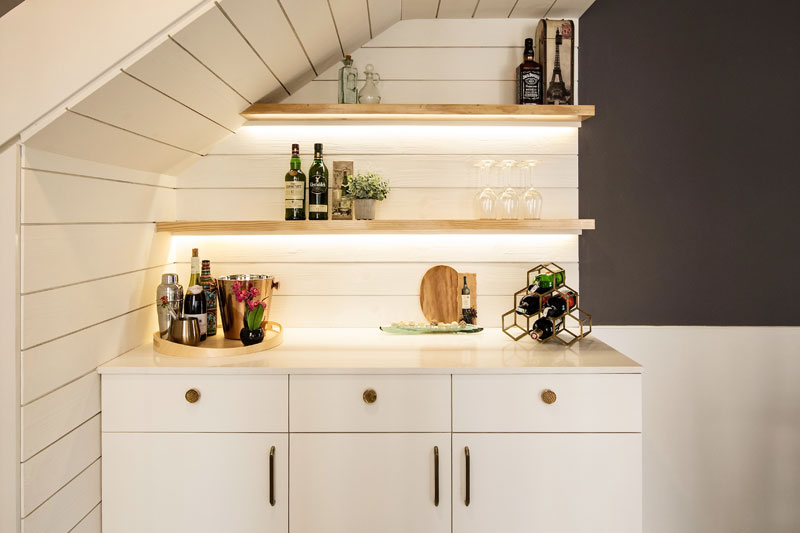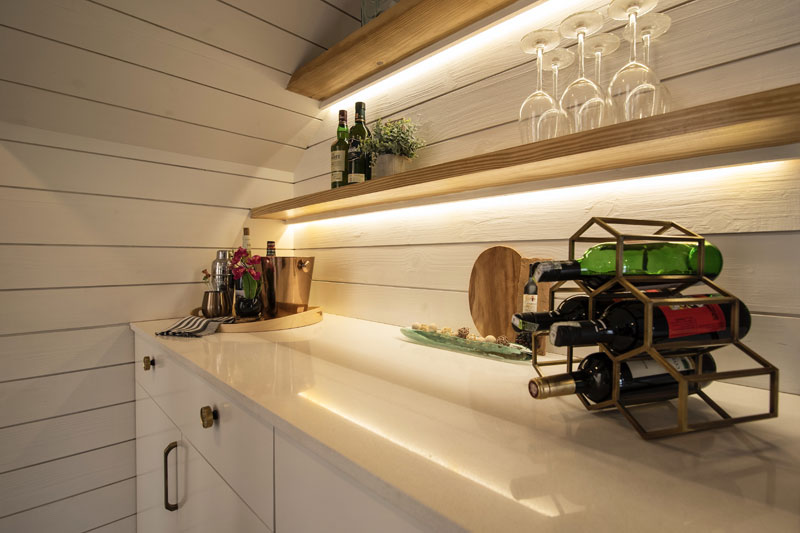 Dining
The dining area is right next to the bar and since it was adjoining, I thought a dark wall would help define the space. We went with a deep charcoal but kept it a half wall and kept the lower half paneled white for contrast. I love this modern take on wainscoting and it adds so much interest to this little space.
The natural wood of the dining table and bench bring in that organic feel, while the sharp black chairs add a modern contrast. We kept all the colors in this space neutral and you can see the textural play of all the elements from the metal candle stands, to the jute runner to the wood bowl!
The space is complemented beautifully by a peony print that adds a punch of color and a hint of feminine to this otherwise neutral space.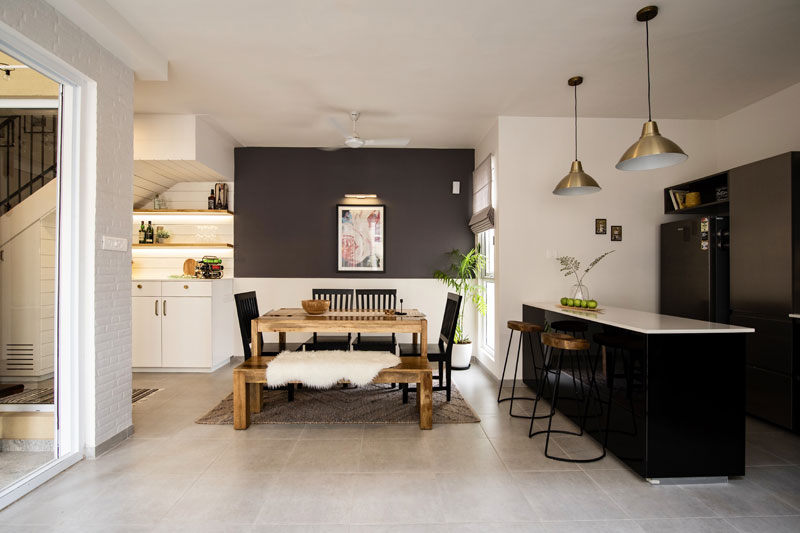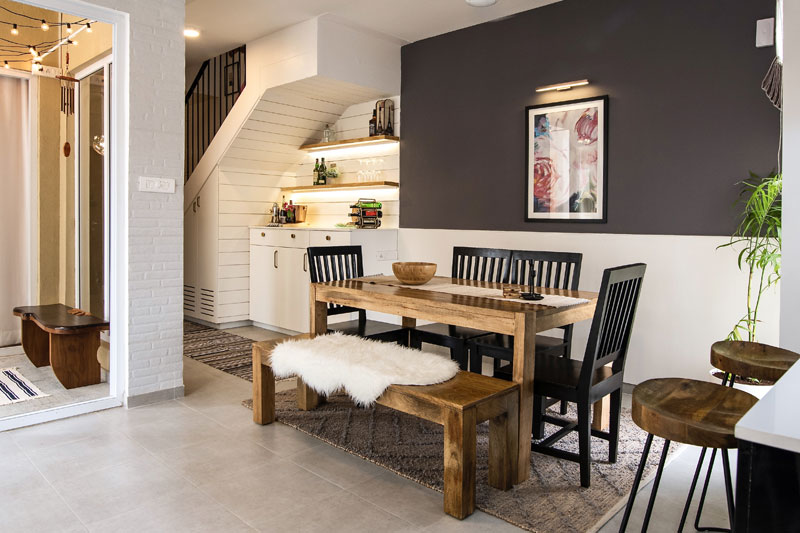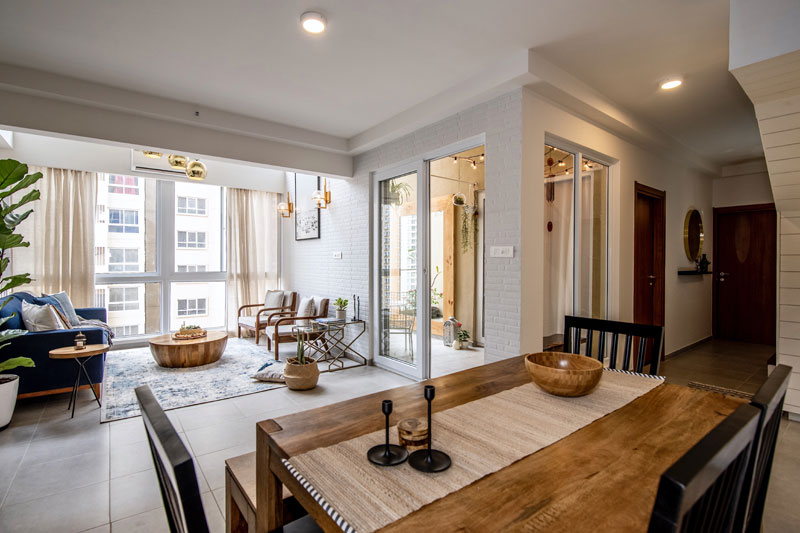 Kitchen & Laundry
The kitchen in this house is small and has a clean sharp look. However we felt that it lacked in storage, so we added a sleek pantry unit in steel gray, switched out the countertops to white quartz and added lovely gold pendants over the island.  A set of natural wood bar stools stand out perfectly adding warmth to the black and white space! I love how its come together!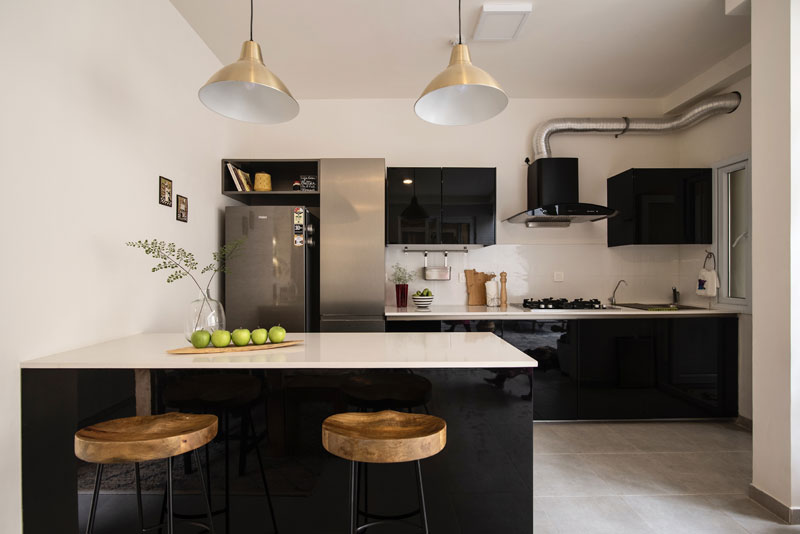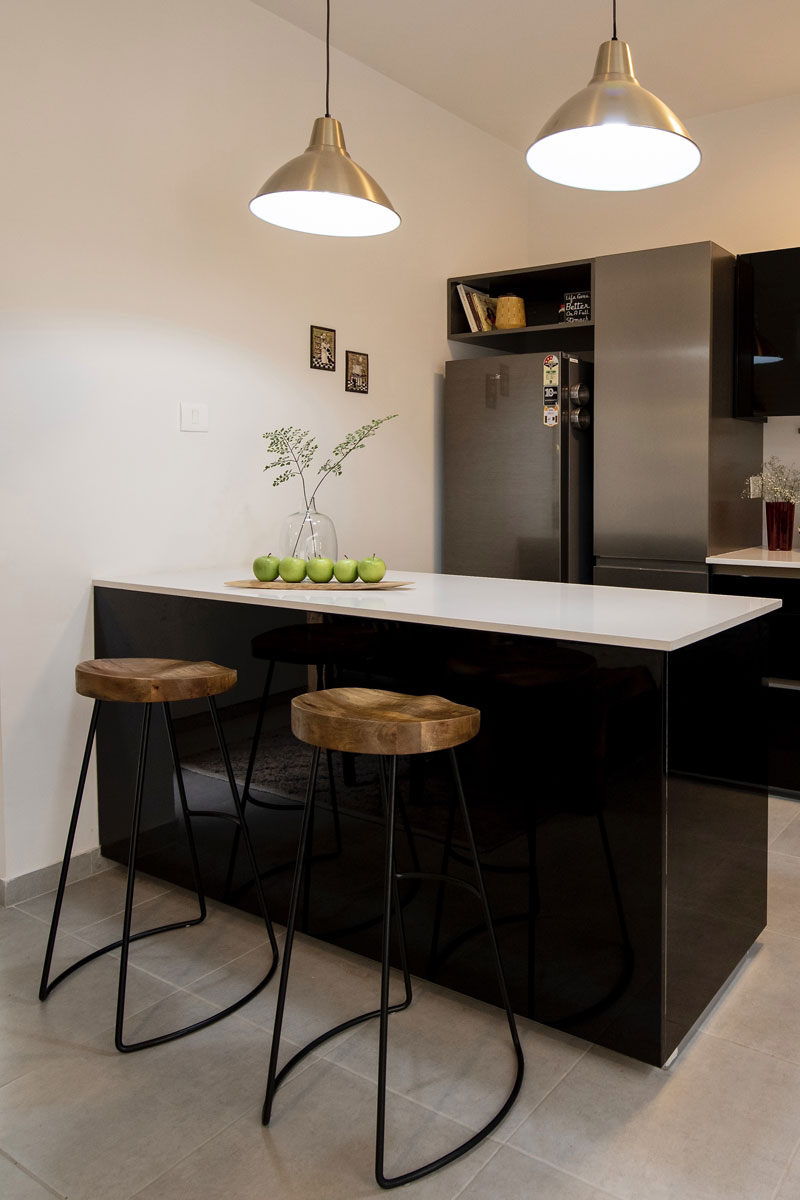 We also created a complete laundry room in the utility space complete with cabinets in white and a sharp black and white tile.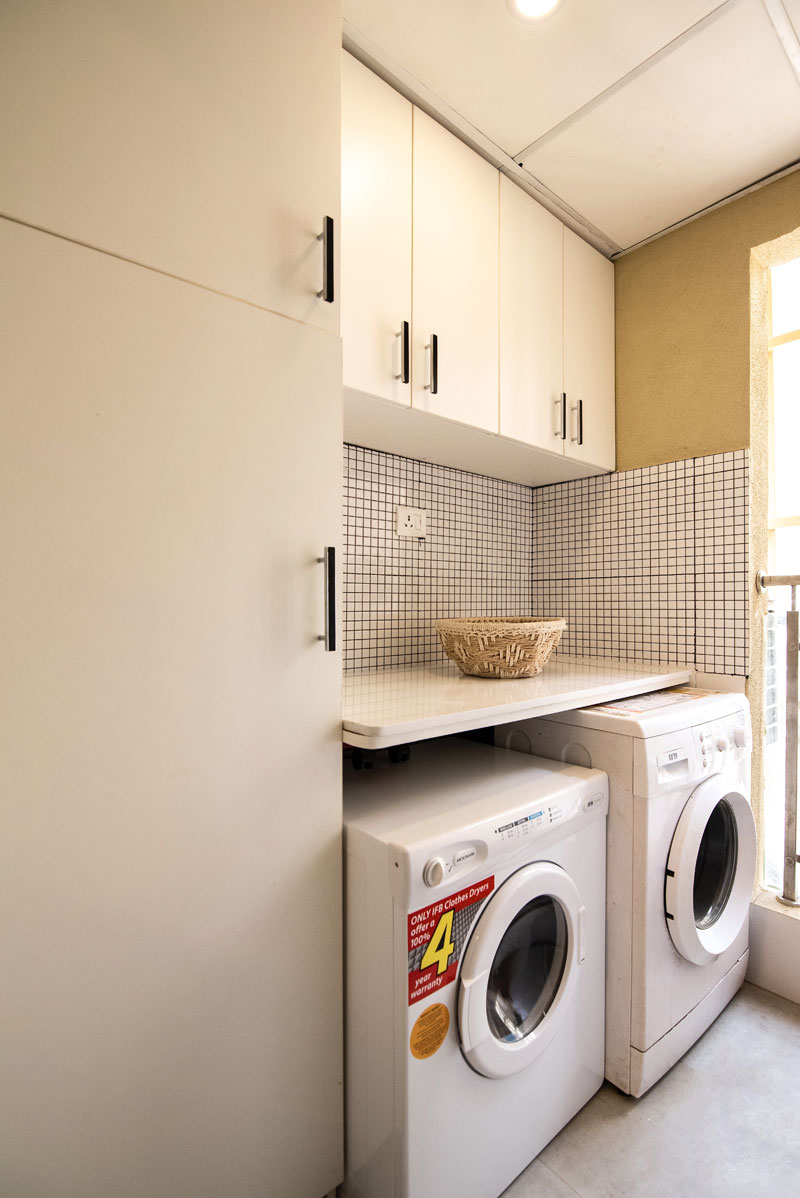 Living
And now comes the showstopper double height ceiling living space! Clearly the height and natural light totally make this space, but it was a challenging space to design because even though it had height, it didn't have much square footage or floor space. So our goal was to amplify the height and use it to bring in that wow effect….and we did ☺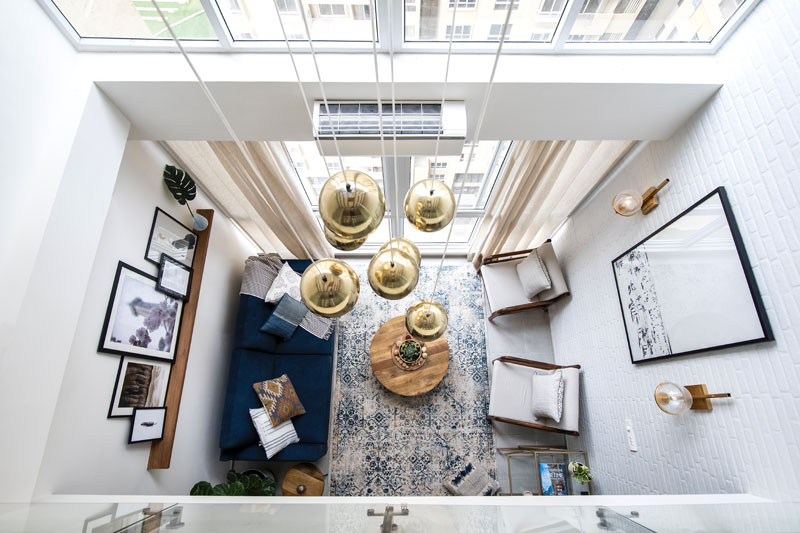 With gorgeous white brick tiling all over one of the double height walls and natural wood rafters on the ceiling, complemented beautifully by a custom made light fixture of hanging gold pendants, this space is truly stunning!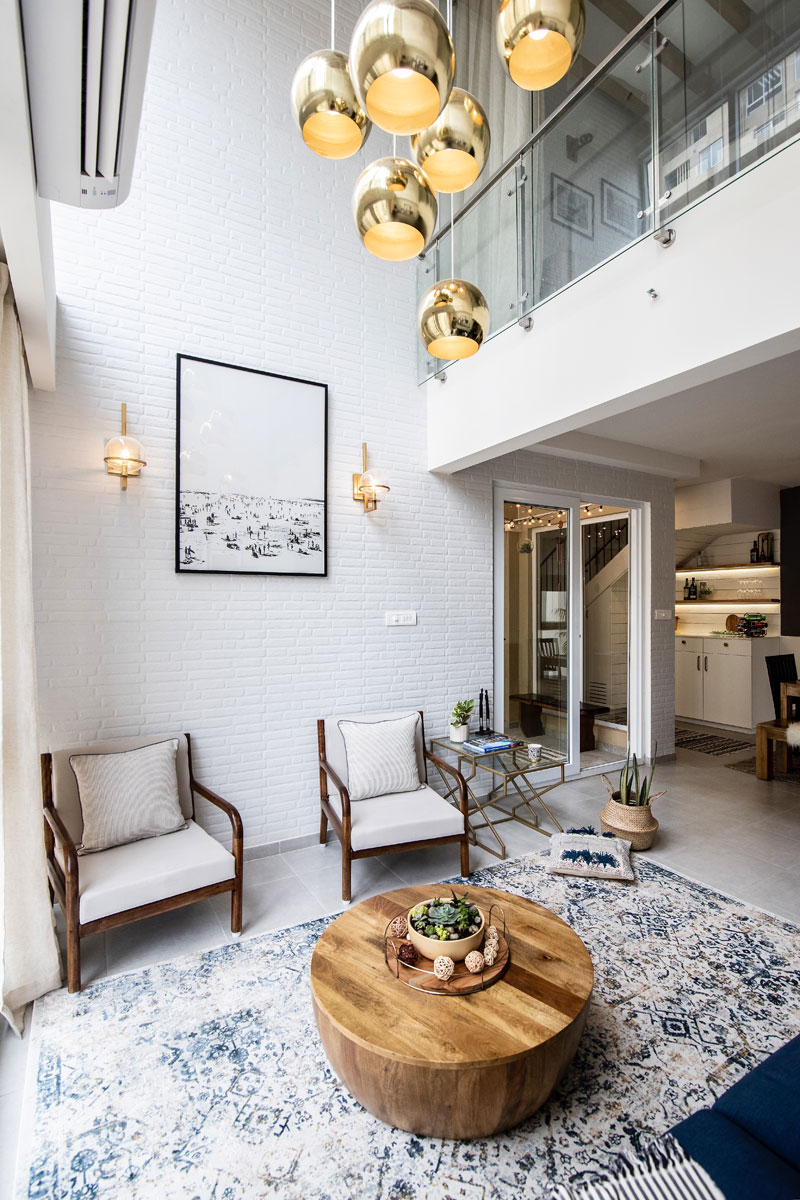 The furniture is modern and clean lined. The navy sofa packs a punch inspite of being a compact sized one and the custom armchairs are sleek with beautiful bent wood arms upholstered in neutral light gray linen. A solid wood round coffee table adds weight and grounds the space offering a nice contrast to the whites and the gold. A set of glass and gold nesting tables sit next to the armchairs.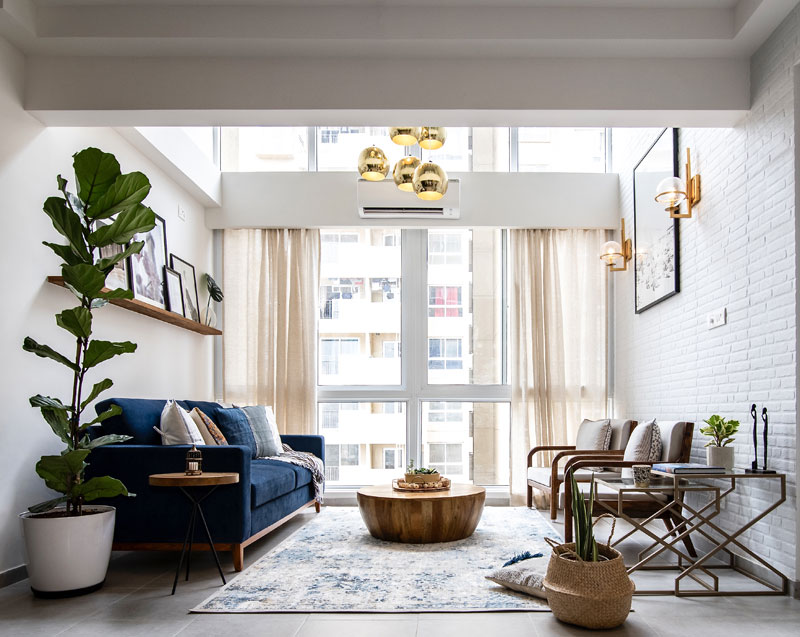 We added simple neutral ivory curtains that bring in that breezy feel and let light in. The rug is one of my favorite pieces in this space and has subtle hints of color with shades of blue, light beige and gray and a bohemian touch that relaxes the entire spaces and brings in that easy casual chic vibe.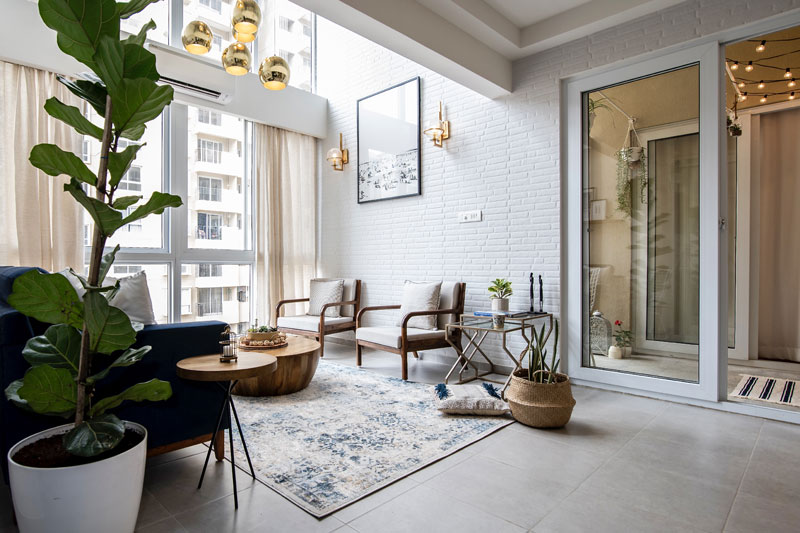 And the Art, how can I miss the custom-made picture ledge above the sofa that has some beautiful art that was handpicked and the stark yet stunning beach print on the brick wall!
Greenery with the succulent centerpiece, a gorgeous fiddle leaf in the corner and natural baskets add to the organic boho feel of the space. This living room is my absolute favorite…I want to move in ☺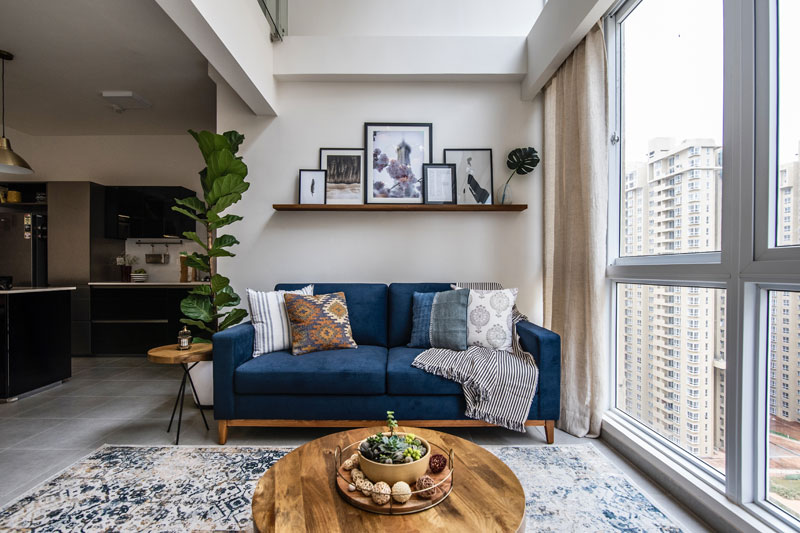 Patio
The double height ceiling of the living room extends into the patio/ outdoor space and is amazing how big this little space looks thanks to the high ceilings.
Given it's a tight spot, we decided to add an oversized mirror on one side. This mirror is framed in recycled wood giving it a rustic chic feel that was perfect for the outdoors! A gorgeous chandelier with hanging chains again amplifies the double height ceiling here.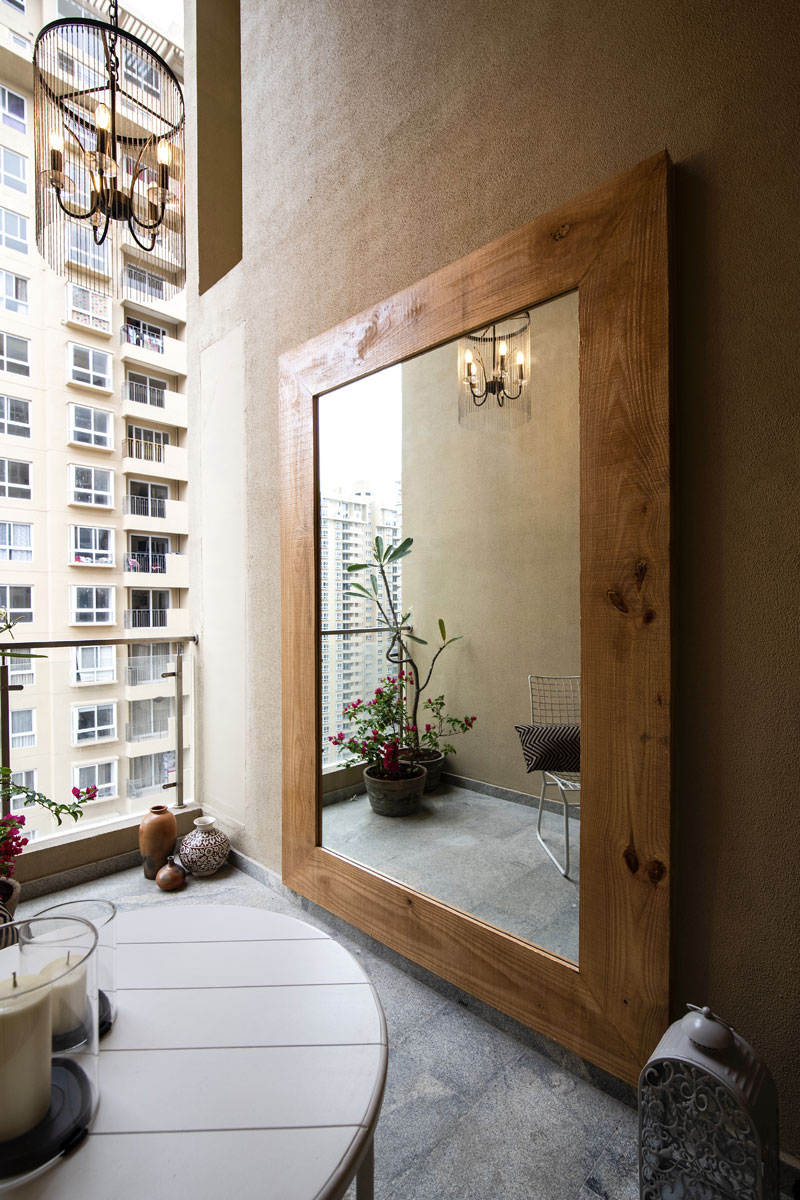 The seating is simple with a patio table and chairs in white metal. A pretty potted bougainvillea and plumeria plant which were the client's ask when we first met ☺ make this lovely terrace pop with color.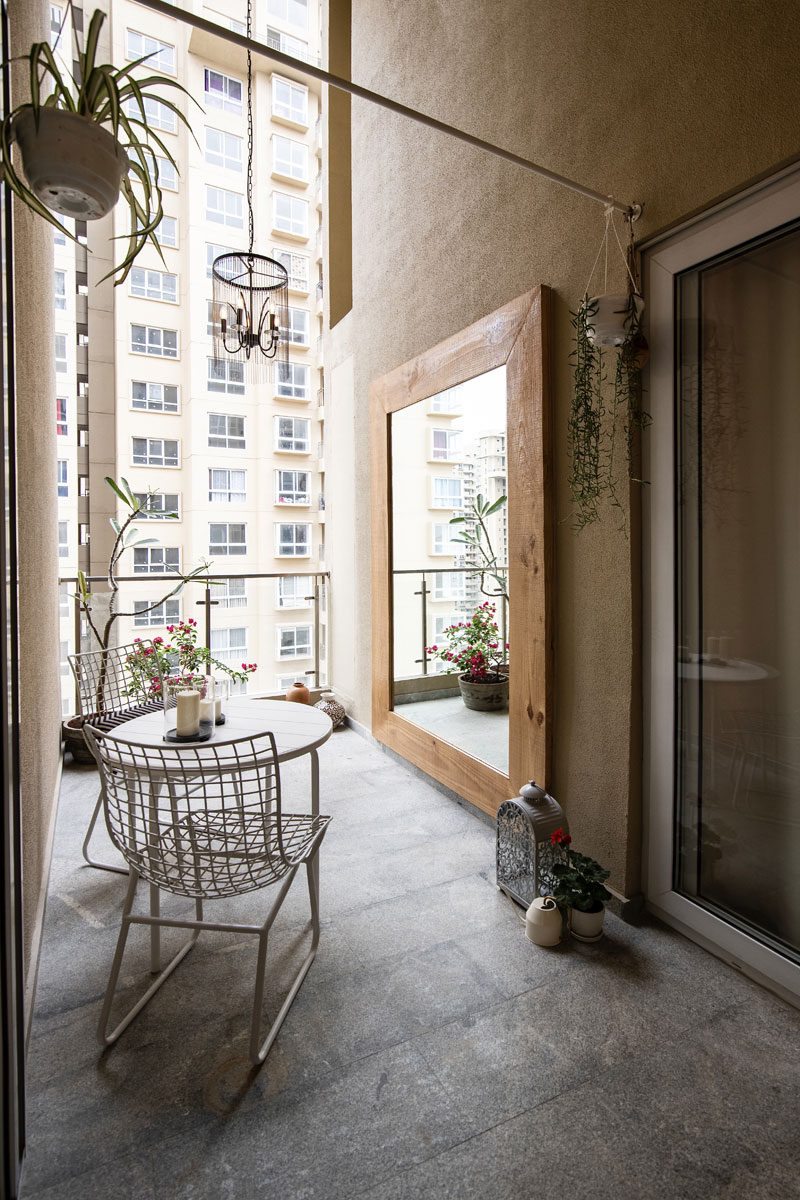 We added some metal bars in the far end to hang string lights and some plants and a small bench makes for a spot to sit under!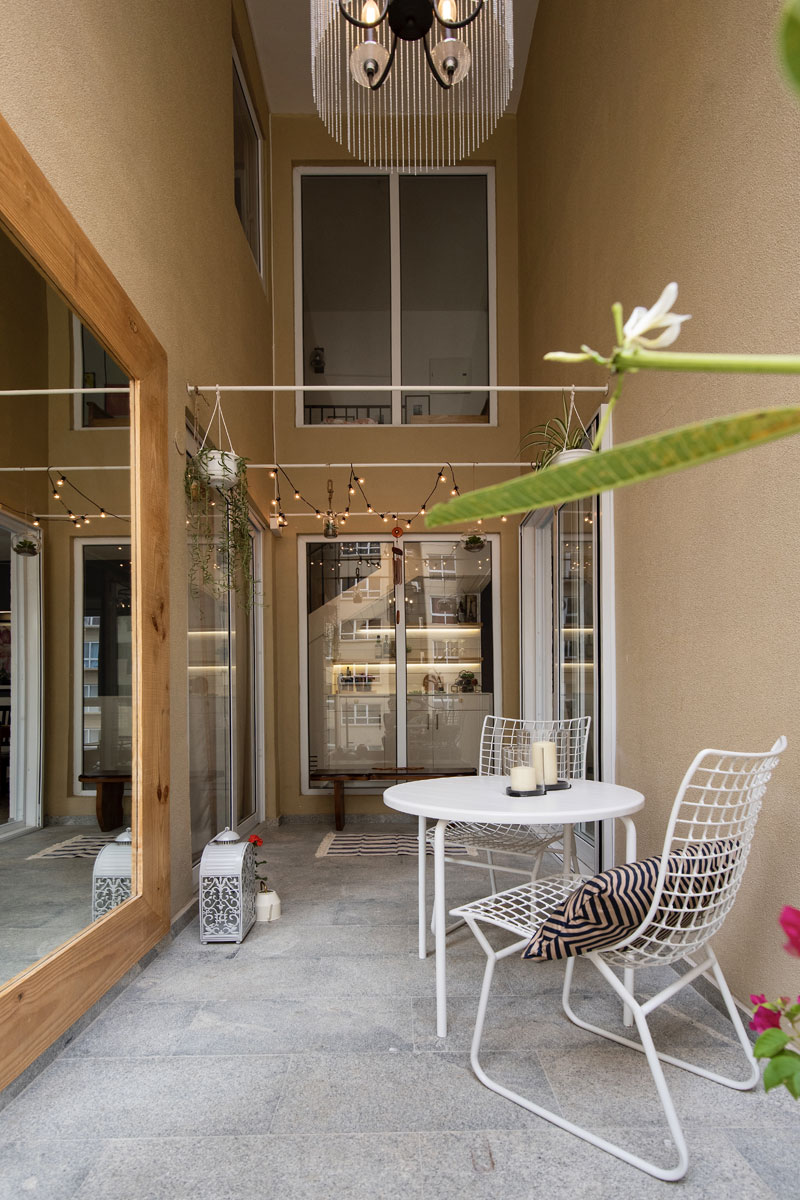 I hope you enjoyed this walk through of the living area in this home.
Stay tuned to see more of this home – the master bedroom, guest bedroom, an amazing family room and the beautiful staircase! I can't wait to share them with you 🙂
All pictures shot by Parth Swaminathan.