Project Reveal – The Organic Modern Home
Created by Vinithra Amarnathan on March 30, 2022
We met Prateek and Archana who happened to be friends of one of our clients just around the time we were completing and handing over the project. We signed up to transform their 4 bedroom apartment in Bangalore and the brief was to have a home that was minimal and simple but with a laidback bohemian and restful vibe. Our clients wanted a space with a simple airy and organic aesthetic while at the same time punctuated with punches of color to bring in vibrance and energy to the space!
We strived to create a home that's largely woven around a simple organic modern aesthetic that was very reflective of Archana's style with bold color and masculine accents that reflects Prateeks energy!
The home is awash in a soft white palette with flowy shapes and curves from the arches and curved edges across the home. And the contrast of raw wood and flutes brings in the edginess and masculinity to balance the space.
There are strategically placed punches of bold color like the rust sofa or the emerald powder bathroom but it largely uses a very striking mix of whites with the natural raw materiality of wood and marble!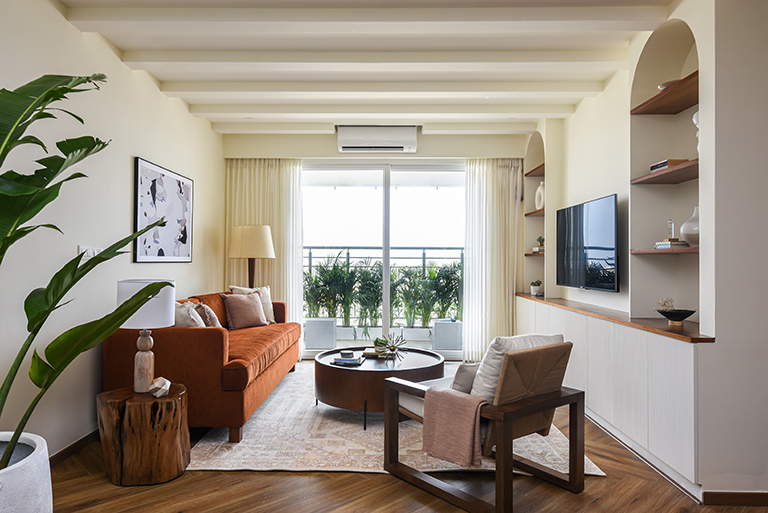 I found the idea of creating a home that's based on the sharp contrast of softness and rawness, curves and fluidity juxtaposed with straight lines and raw edges, soft ivory and blush tones offset by striking color very interesting and achieving the right visual balance was what we strived for through the design process!
We wanted to create a home where every vignette carried through the contrast in different ways, with different materiality but inherently developed with contrast and balance in mind!
Material & Color Palette
The material and color palette was developed around an inherent focus on picking natural simple materials like wood, marble, rattan and plaster. We wanted the material palette to be simple yet significant and like in all our projects we worked with a tight material palette and carried it through all the spaces.
The color palette was predominantly soft whites, ivory and neutral tones with punches of warm colors like rust, blush, dusty taupes and wood to bring in some warmth and depth to the space.
Walkthrough 
The home is approximately 2000 square feet and comprises 4 bedrooms one of which we turned into a walk in closet.
The apartment opens into a narrow small entryway that throws open into the large open living dining space!
We kept the entryway simple with a shiplap inspired vertical groove detailed wall and a simple wood ledge to create a landing strip!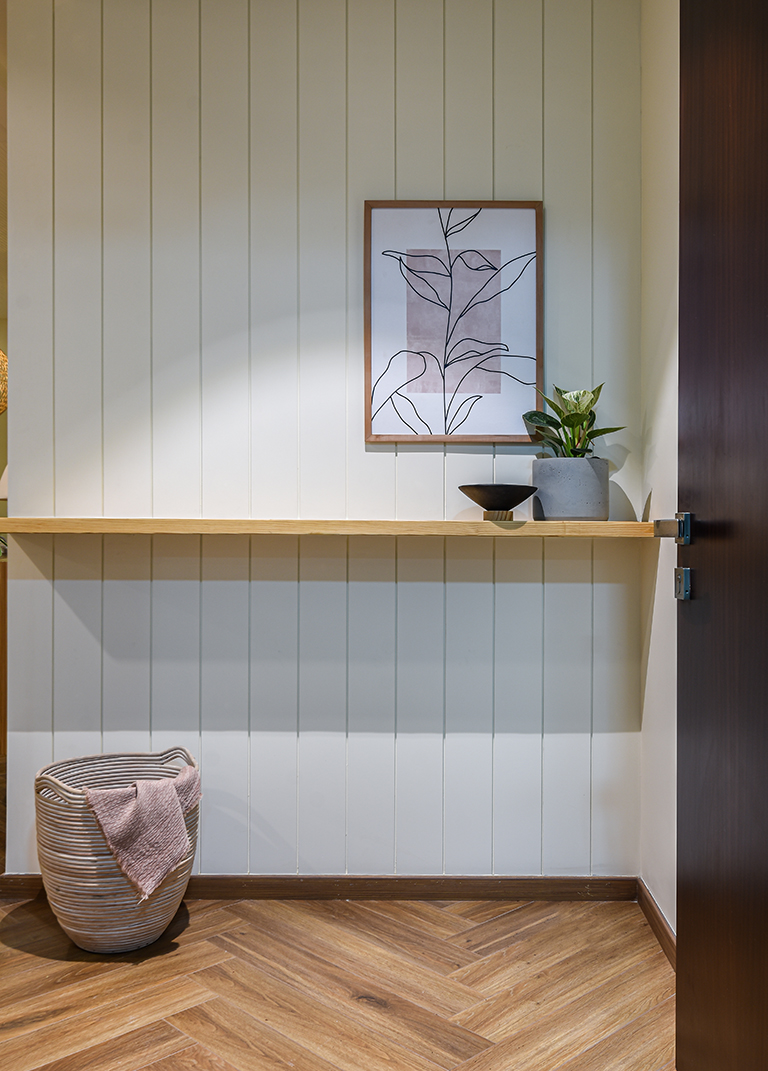 The entryway leads into the open living dining area and at first glance is a simple solid wood bench anchored by a set of organic fluid irregular edged mirrors. We love how this simple vignette almost sets the tone for the rest of the home!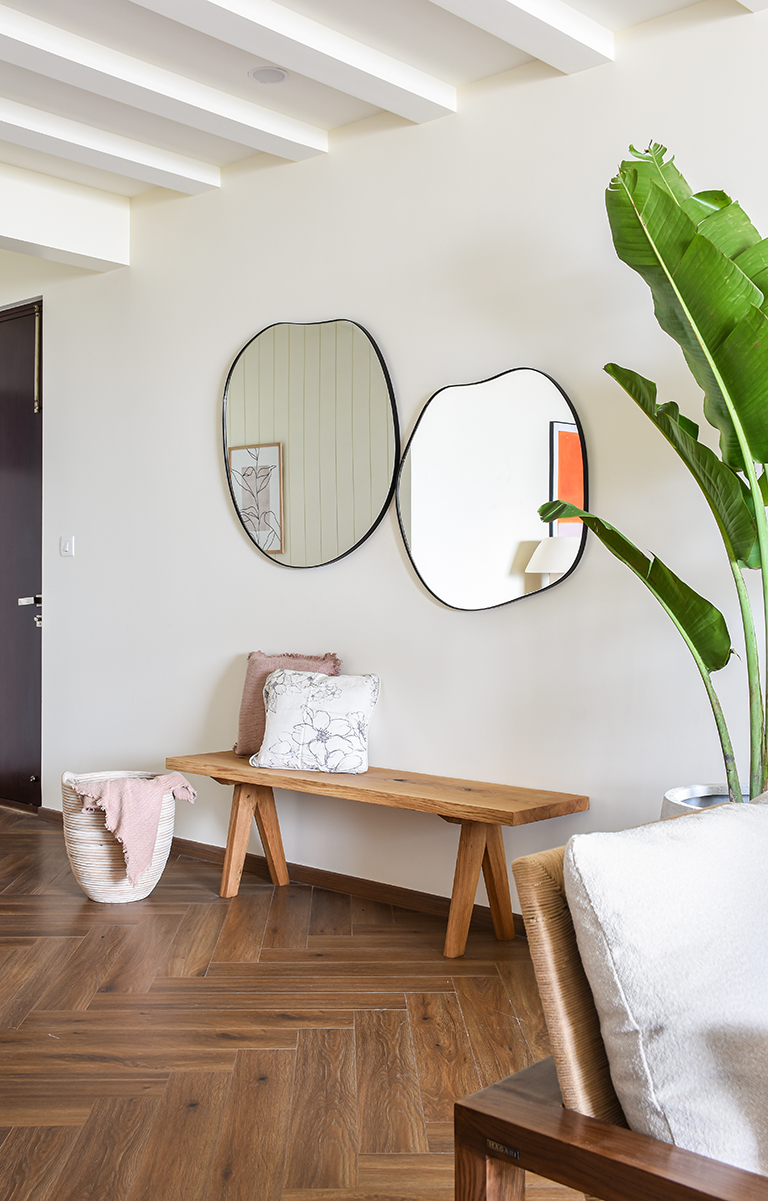 Living & Dining
Right afront is the light and bright living room. We kept the layout simple with a large rust colored sofa in a solid substantial style and we love how this grounds the light and airy living space. Two beautiful cord woven back armchairs with a sleek wood frame sit next to the sofa. A large round coffee table sits atop a tonal blush and beige hand knotted rug from Jaipur Rugs.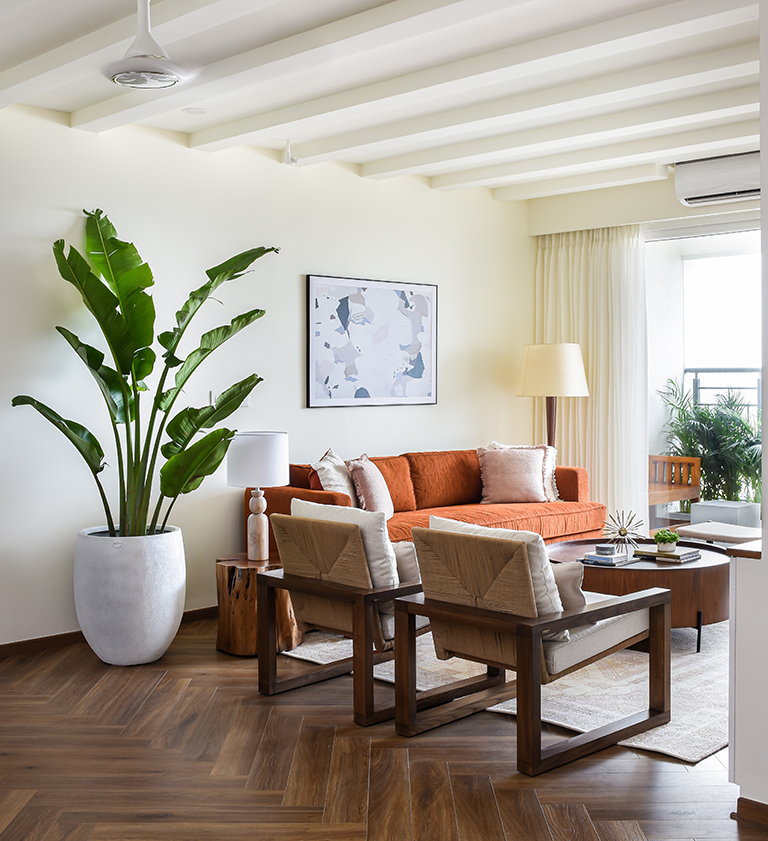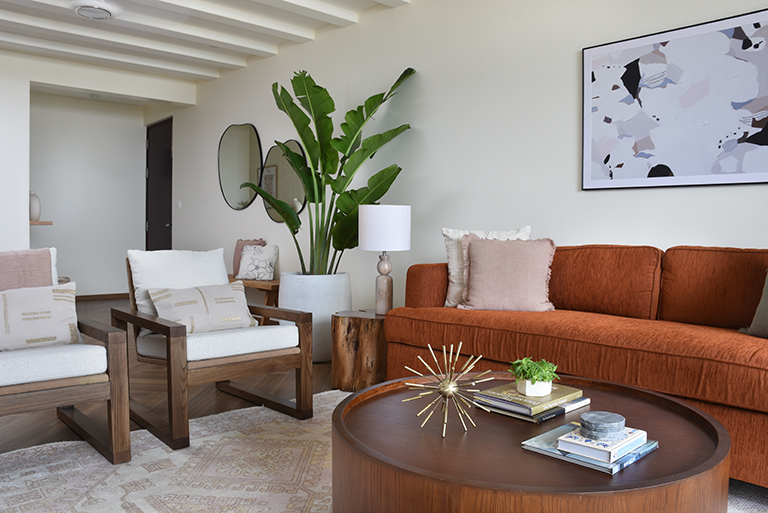 On the opposite end a large TV is set between slim arch shaped open built in shelves and simple fluted detail shutters below.
One of our favorite details in this home is the all-white space that comes alive with varying textures and shapes from soft arches, organic shaped mirrors, white ceiling beams in the living area to the beautiful fluted plaster ceiling in the dining.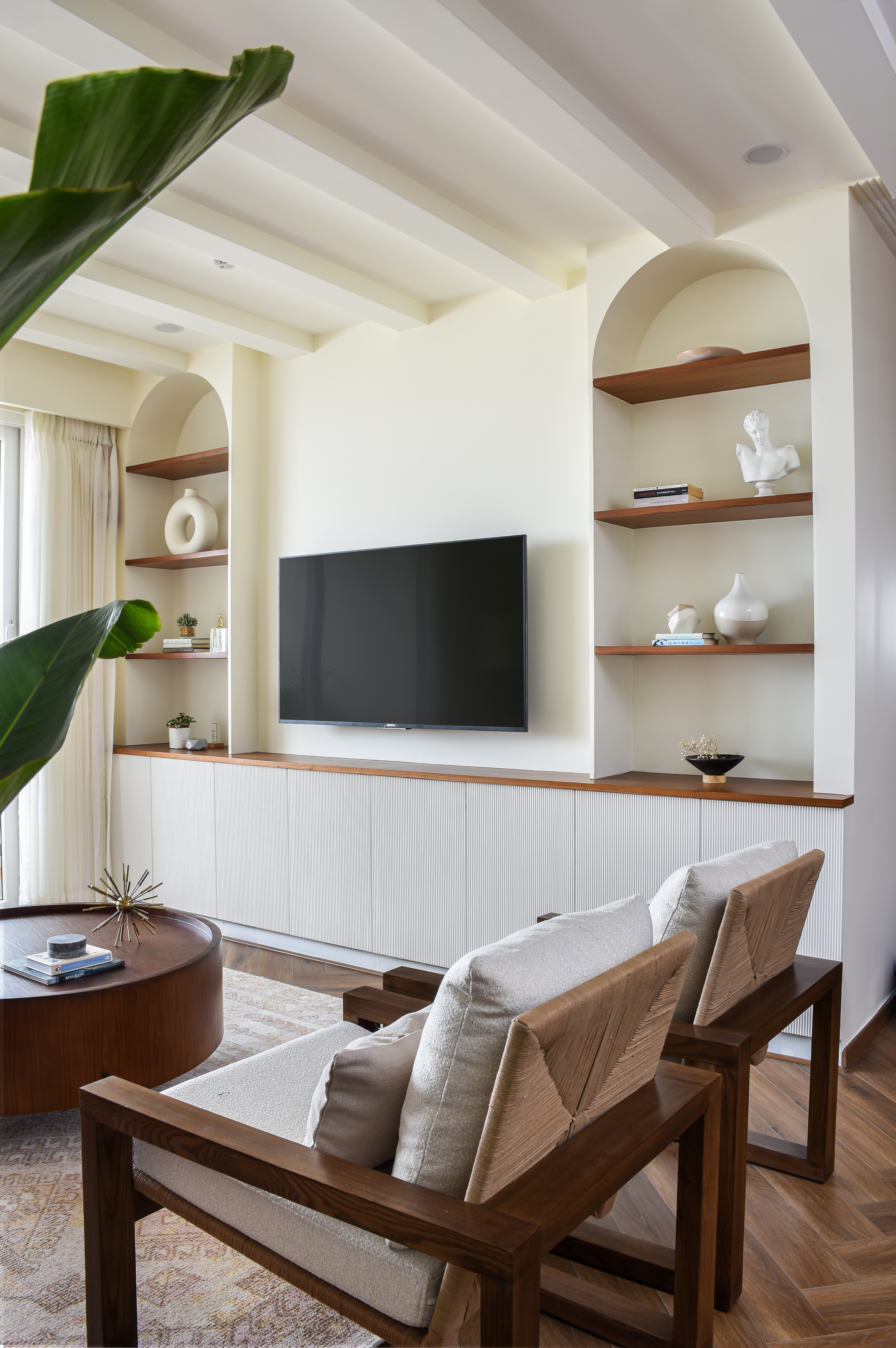 The dining area has a large beautiful walnut veneer clad modern pedestal leg dining table flanked by classic wishbone chair replicas. A handmade rattan pendant offers a striking contrast. On the far end we had a space provided originally for the puja that we converted into a vaulted arched niche and its such a cozy space to hangout in the home!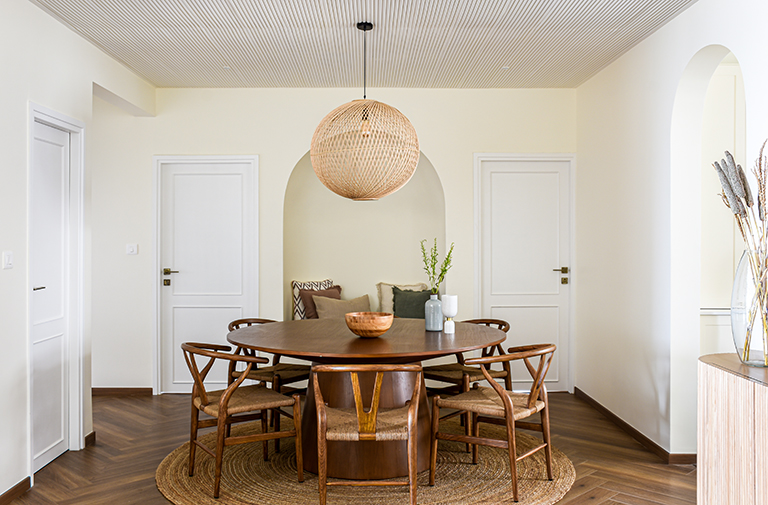 A fluted curved edge sideboard in natural oak adds much needed storage for the space. A large mark Rothko print brings in a punch of color and vibrance to the space!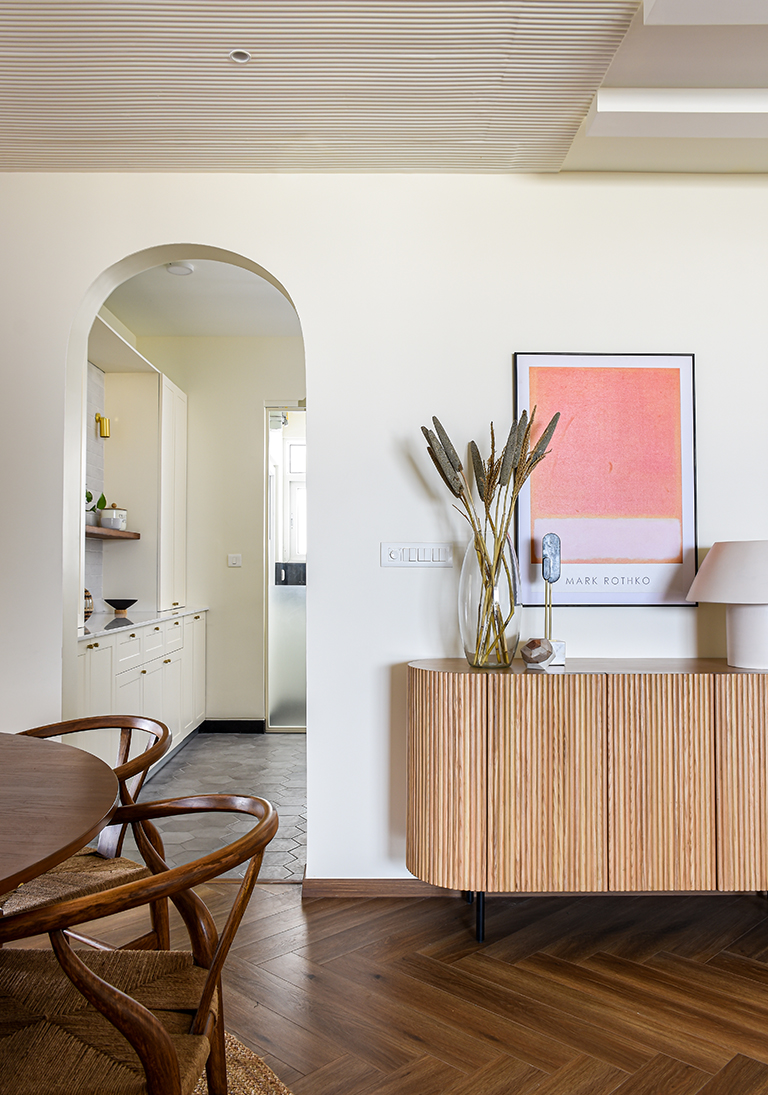 Kitchen
The dining opens into a small kitchen that is enclosed behind a simple arch opening and houses the cook area and appliances on one side and a white brick clad coffee bar on the other. A fluted leg marble top prep table sits in the center of the kitchen under an oversized brass and white pendant.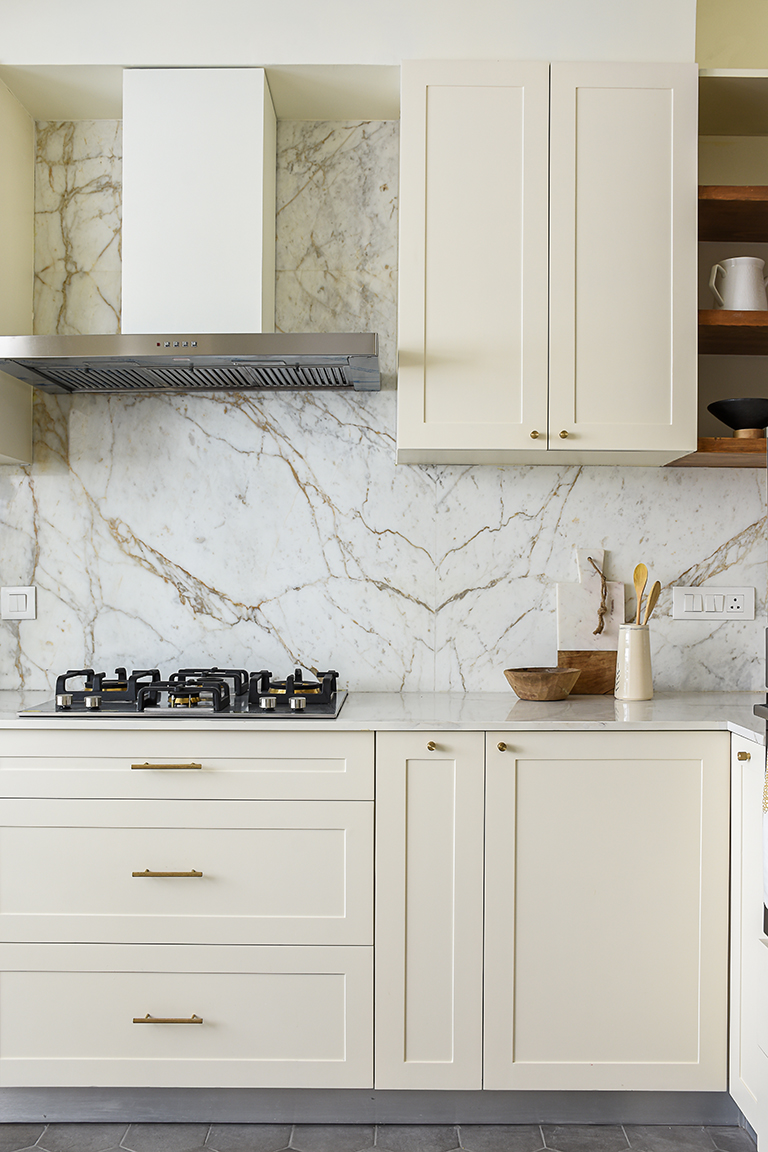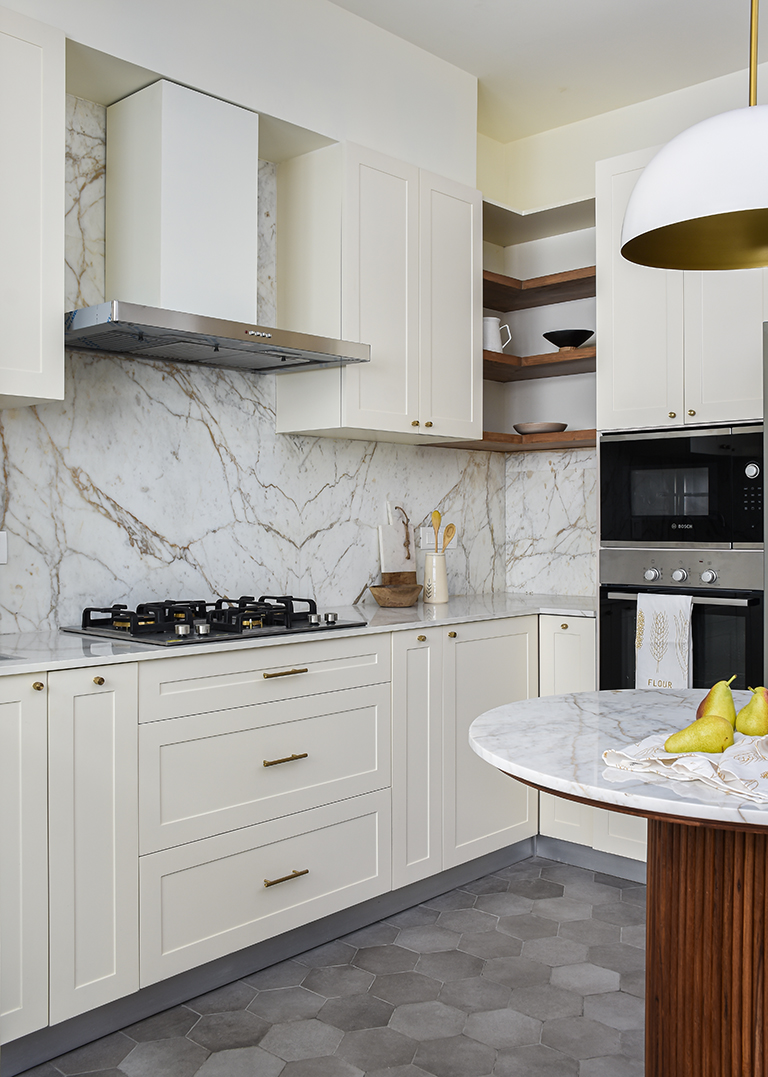 The kitchen is separated from the utility with a simple glass partition reminiscent of a French window pane shutter. The entire kitchen is bathed in a tone of soft creamy ivory from the painted shutters to the marble with gold veining. The white brick wall brings in a hint of the rustic organic against the soft luxurious marble.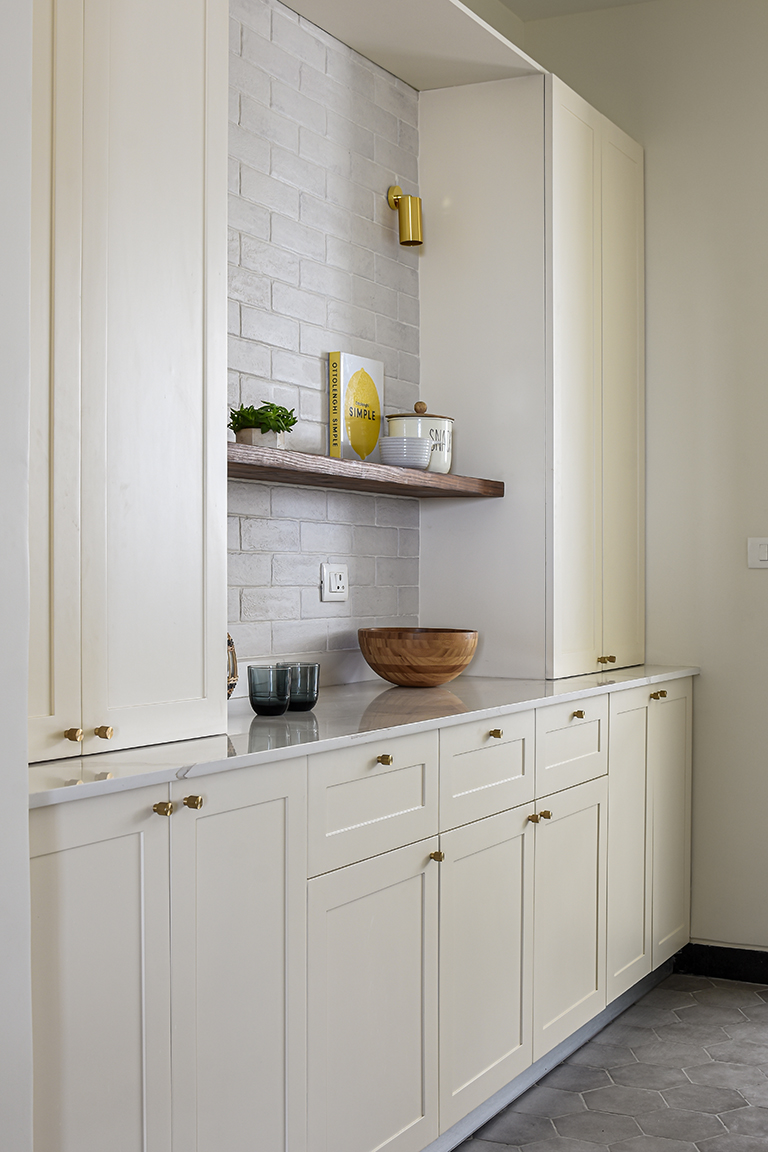 Right next to the dining is a small powder bathroom clad in bold emerald tones and black and whites. The floor tile has a simple geometric pattern that offsets the bold emerald. Simple fluted ceramic wall lights and moody art punctuate this space.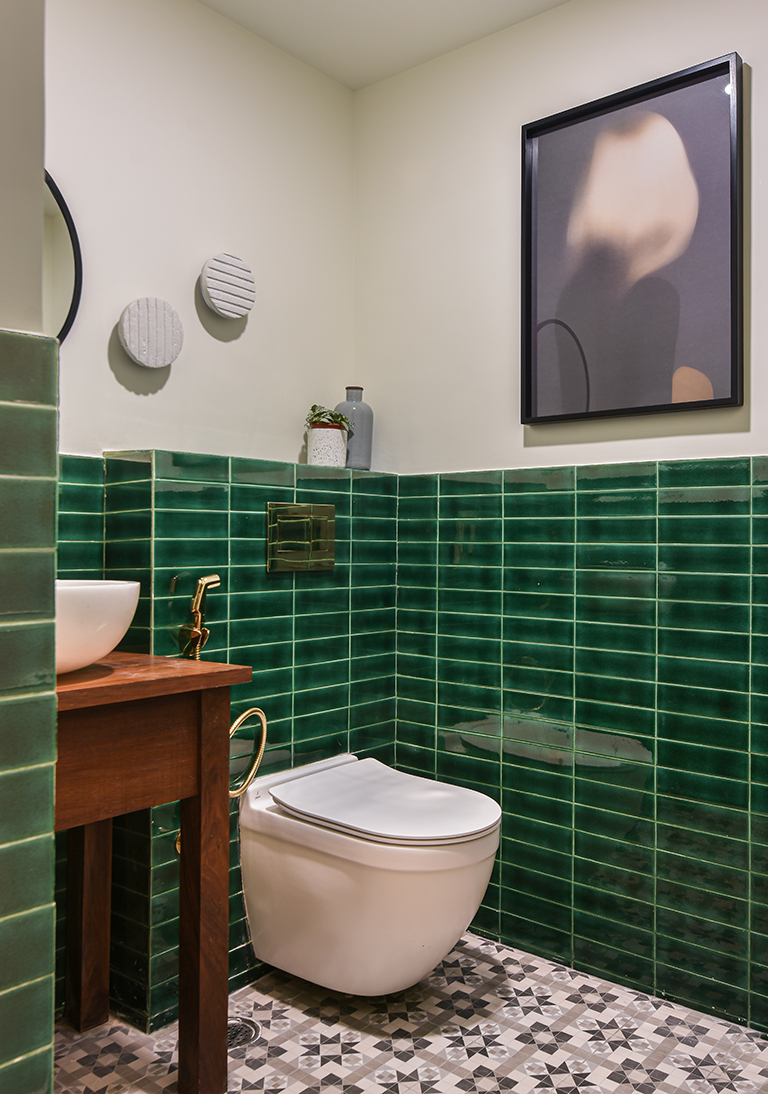 Primary/ Master Bedroom
This space was imagined as a sanctuary and might be one of my favorite primary bedrooms ever! The yin and yang, the balance of edgy raw wood with the softness of the arched hearth and glowing candles, the details all come together to create a laidback organic modern vibe that's perfectly balanced.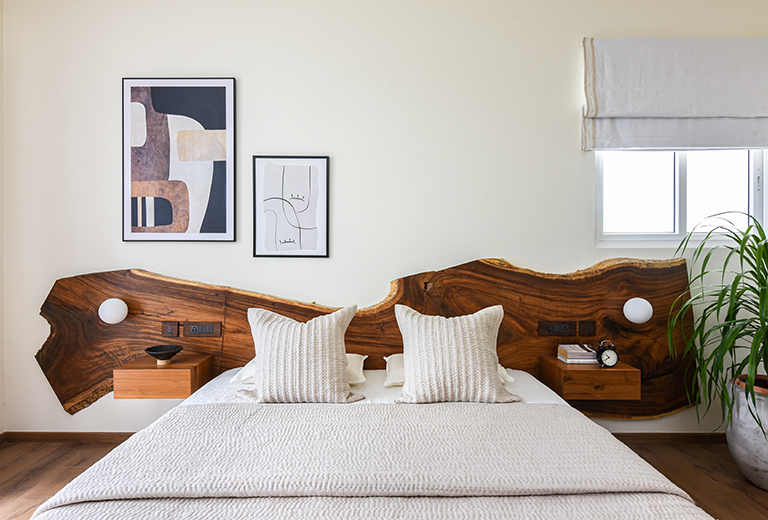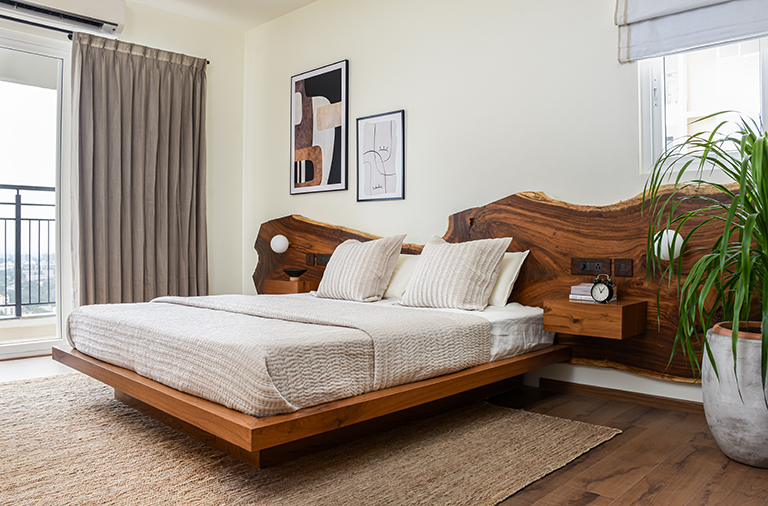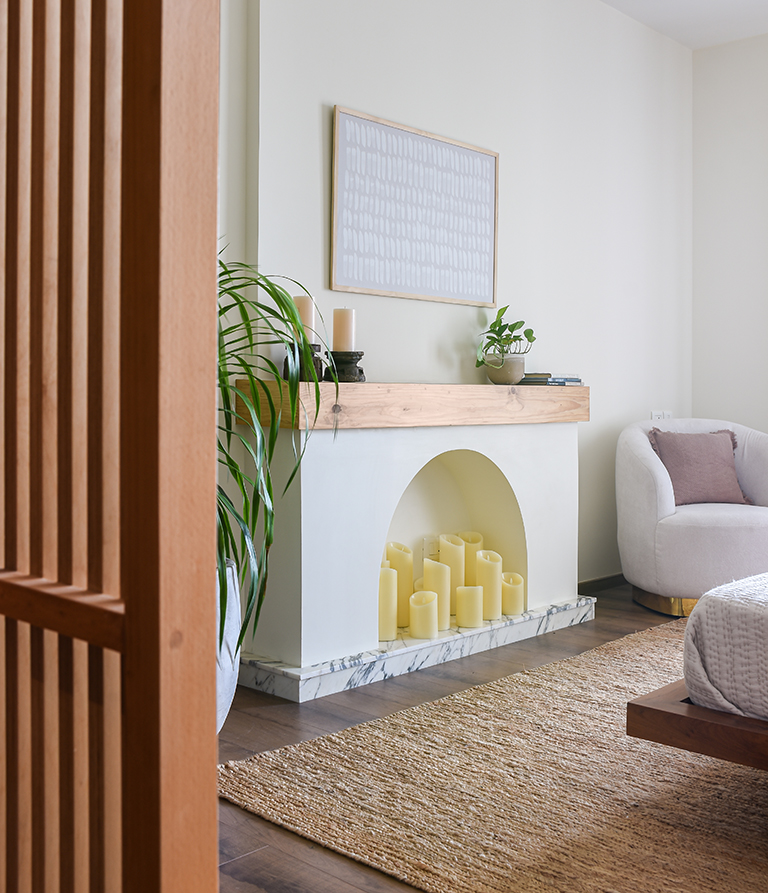 Enclosed into the bedroom space is the stunning master bathroom clad in a bold white statuario marble all over. Hex cut marble tiles frame the wall behind the mirrors and a bathtub adds to the luxury quotient of the space. It's a small bathroom that packs in a punch!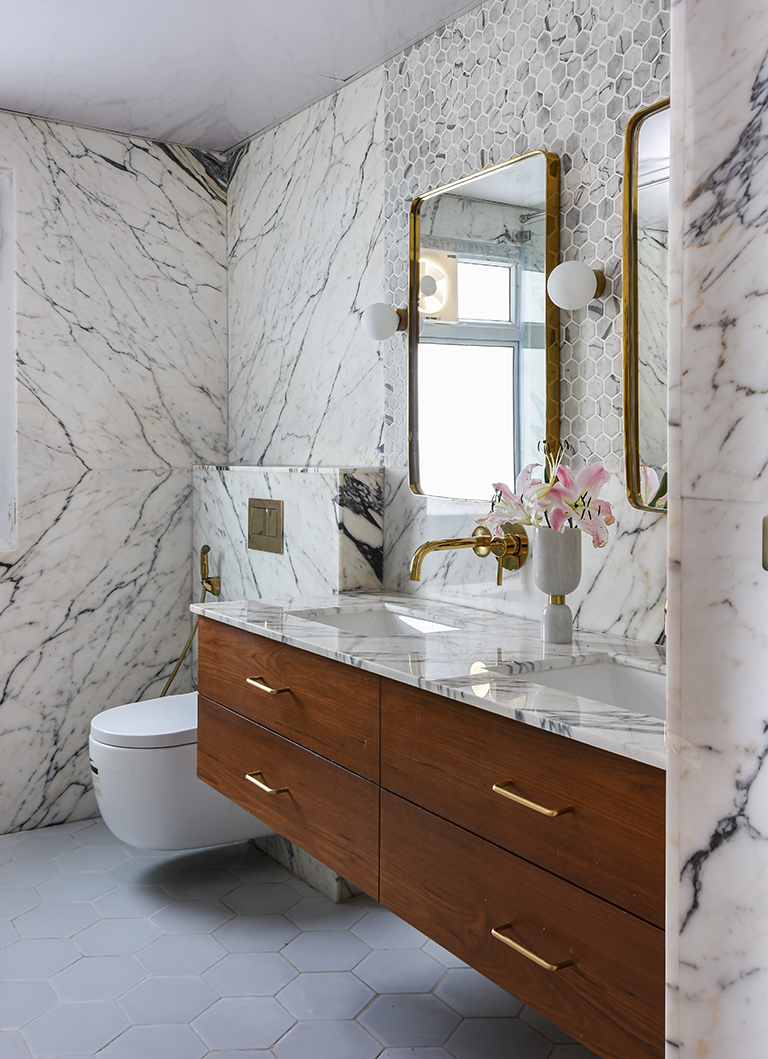 Adjoining the master is a bedroom that we converted into a walk in closet for Archana. It's a simple wood and white closet with a large floor mirror, a bench and a simple beautiful fringe chandelier to bring a soft feminine touch!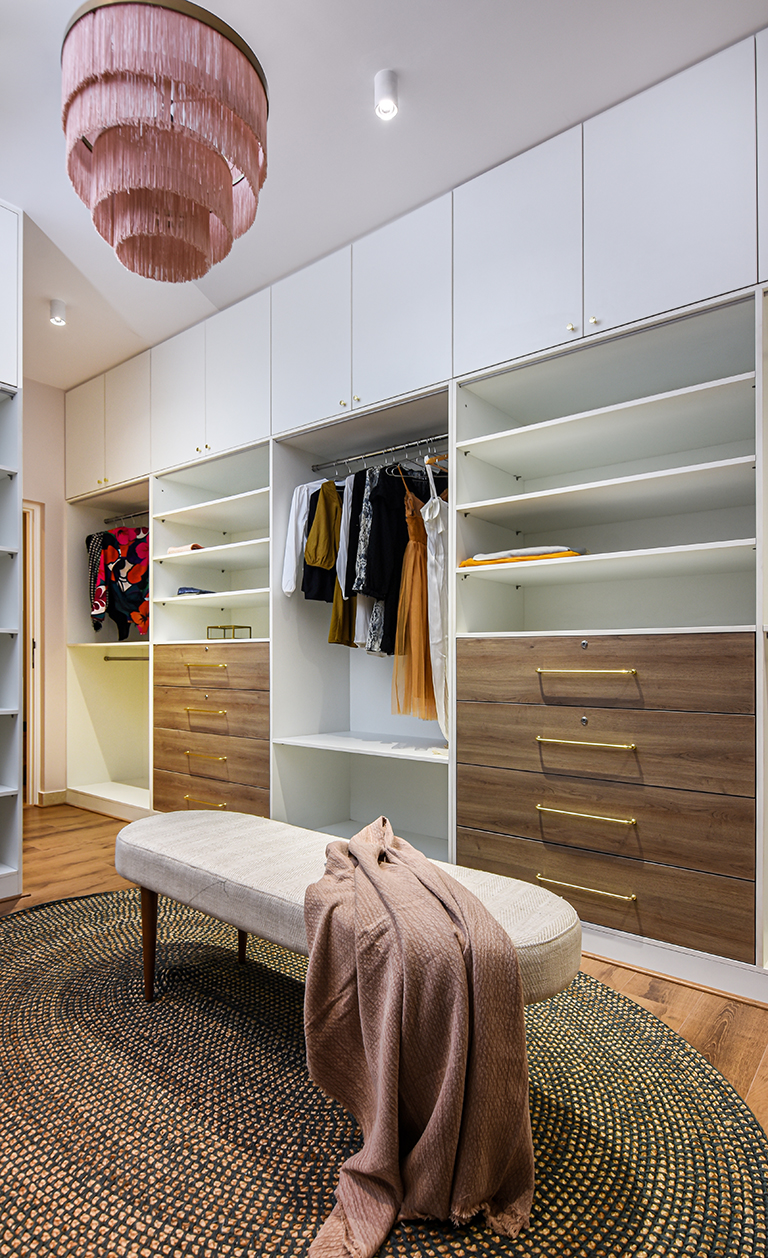 The closet has ample storage and an ensuite bathroom that carries through the tonality and is dressed in terrazzo and blush tiles.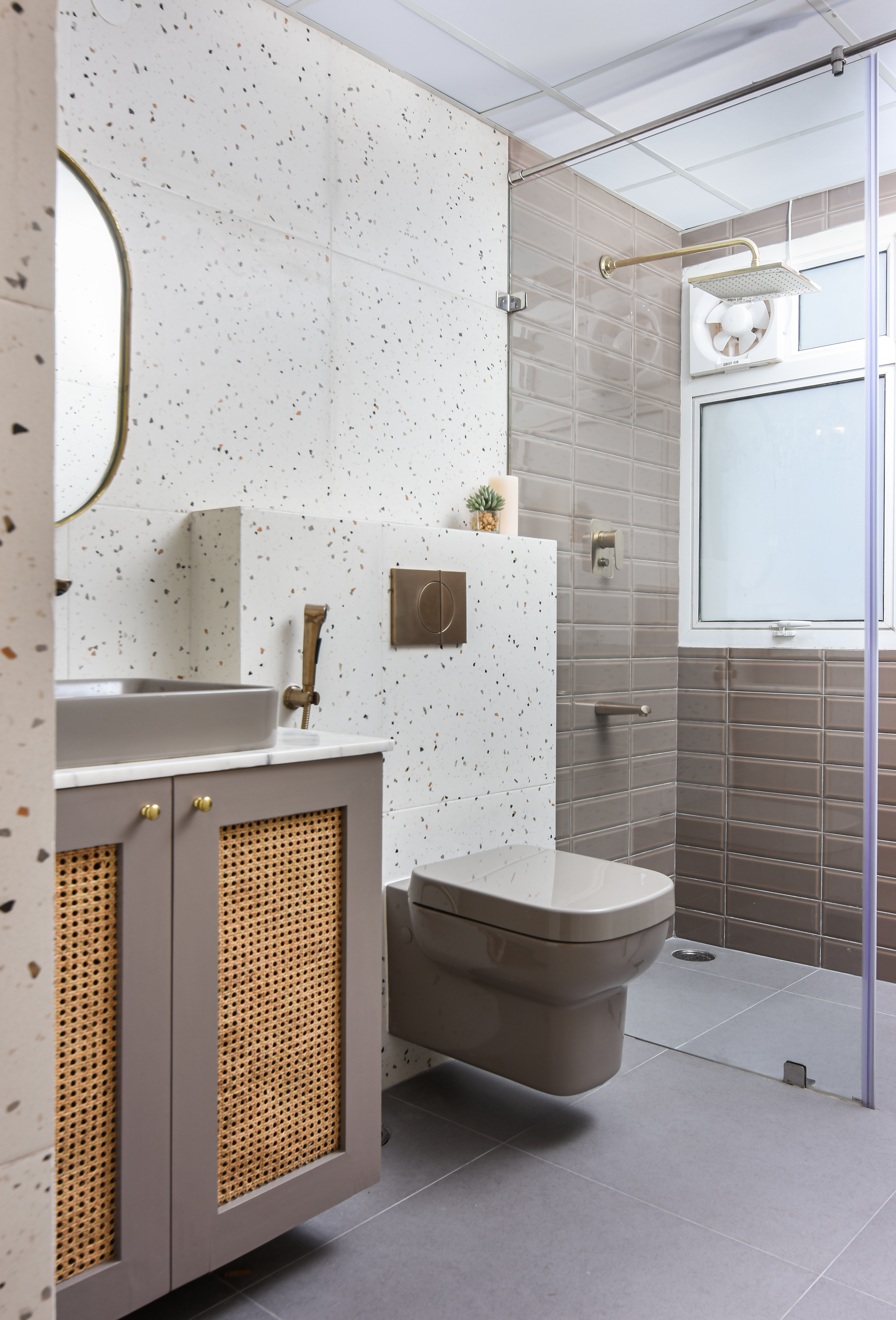 Guest Bedrooms
The Guest bedrooms are simple understated spaces that are comfortable and carry through the organic simple feel of the rest of the home.
In one of the guest bedrooms we used wall moulding as a way to unify the room and deter from the off-centre window we had to work with! While in the other we added simple details like a cork pendant, soft cotton window blinds and a simple wood Ikea bed.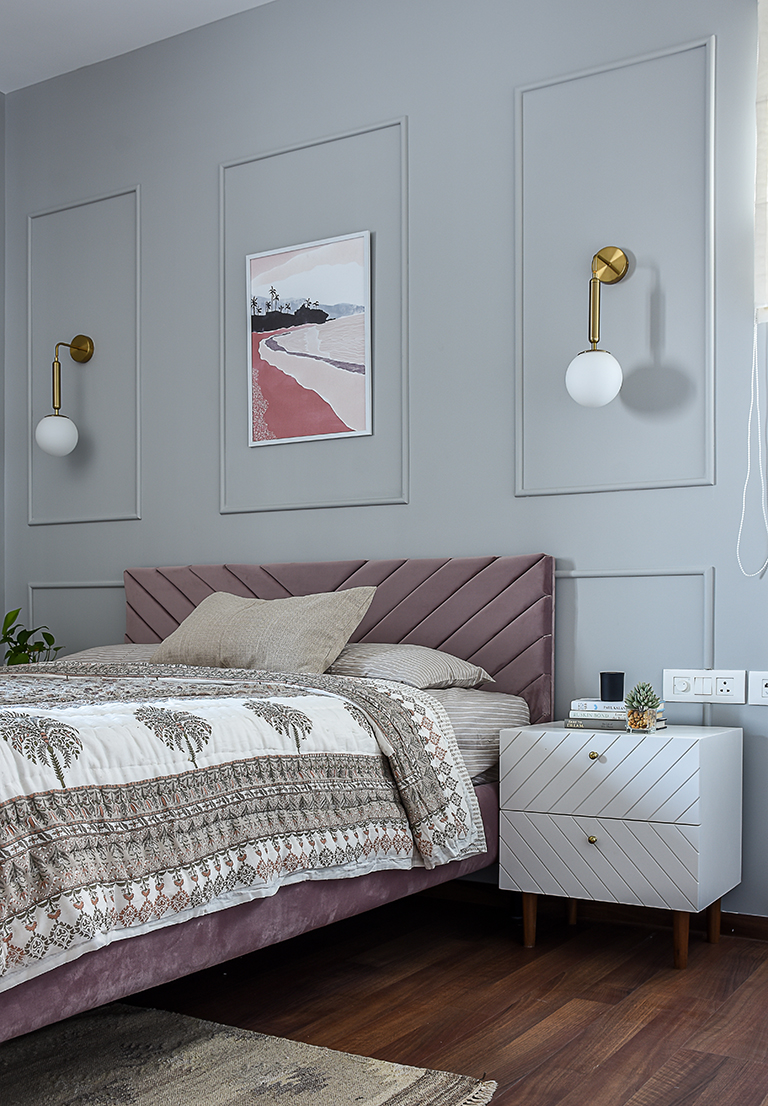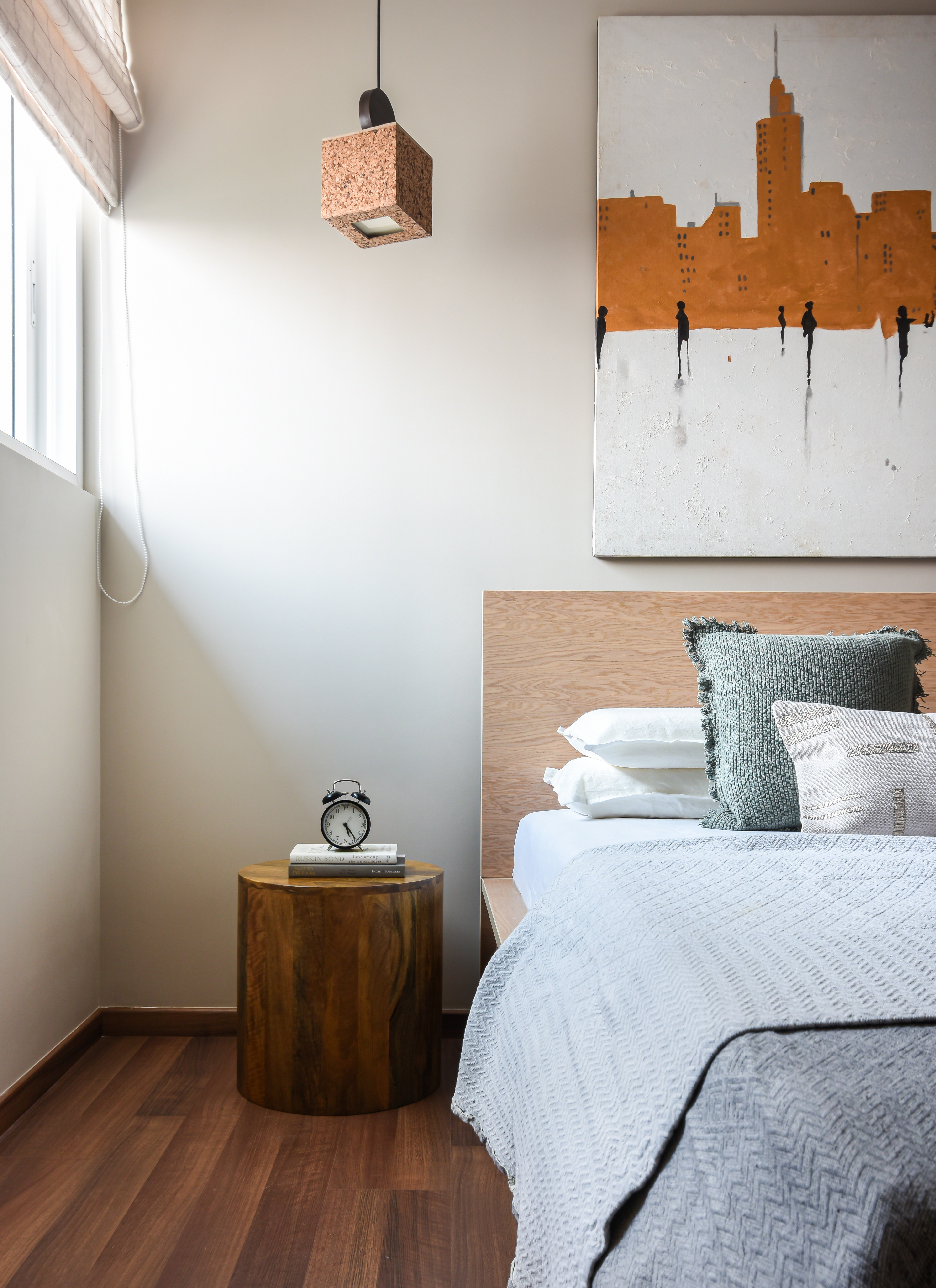 We loved creating this home and truly feel it's a project that allowed us to explore materiality and design staying true to the core aesthetic…..I hope you loved this home as much as we do 🙂
Until next time, Ciao…
All pics shot by Nayan Soni.