Project Reveal – Casa Bonita – A Spanish inspired apartment in Bangalore!
Created by Vinithra Amarnathan on March 8, 2019
Imagine walking in to a first time site and being struck by the golden yellows of the walls, the white arches and the azul of the pool tiles…a sliver of Spain and Portugal and Goa all blended together and tucked away in Bangalore!
And add to that my clients a young couple with a Mangalorean heritage and love for all things colonial, rich and character led.
We knew this home had to speak to old world charm and still bring in the new! I love staying true to the architectural details of a home and that's exactly what we did here…big white arches, blues everywhere and a young earthy cottage vibe!
Our clients loved color and traditional wood furniture while I like a cleaner more modern aesthetic….we married the two and the result is a rather unique and charming little space!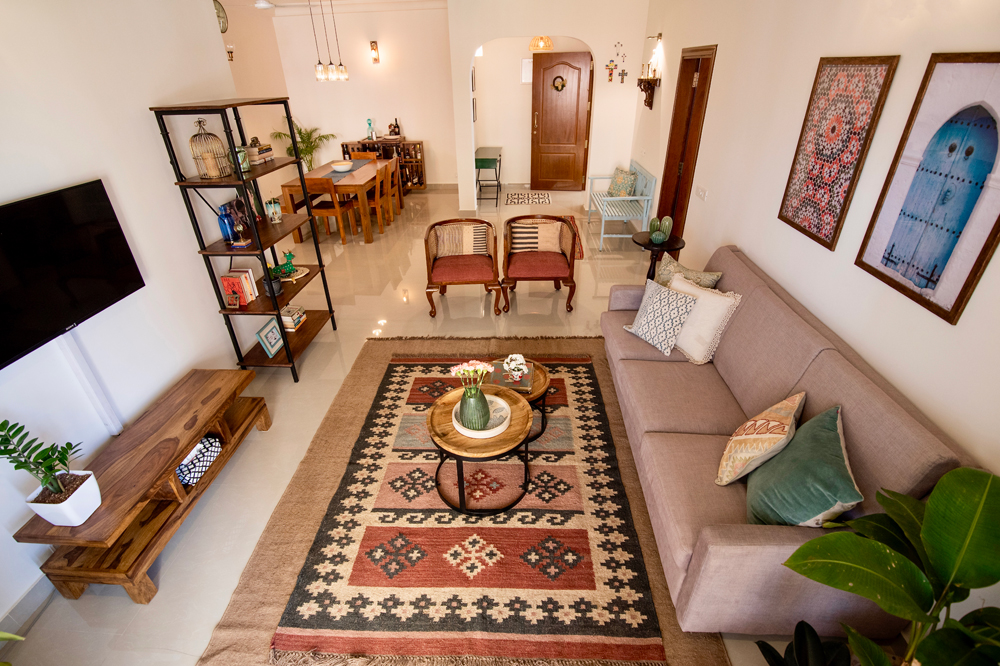 Entryway
Color is everywhere in this home, in good doses but used with restraint! In a way where each space has a little color story but flows into the next in a meander, picking from each other sort of way!
A striking deep green console with curved metal legs is the mainstay in the entrance. Simple vintage style olive botanicals for art and a jute pendant are the only additions to this small space.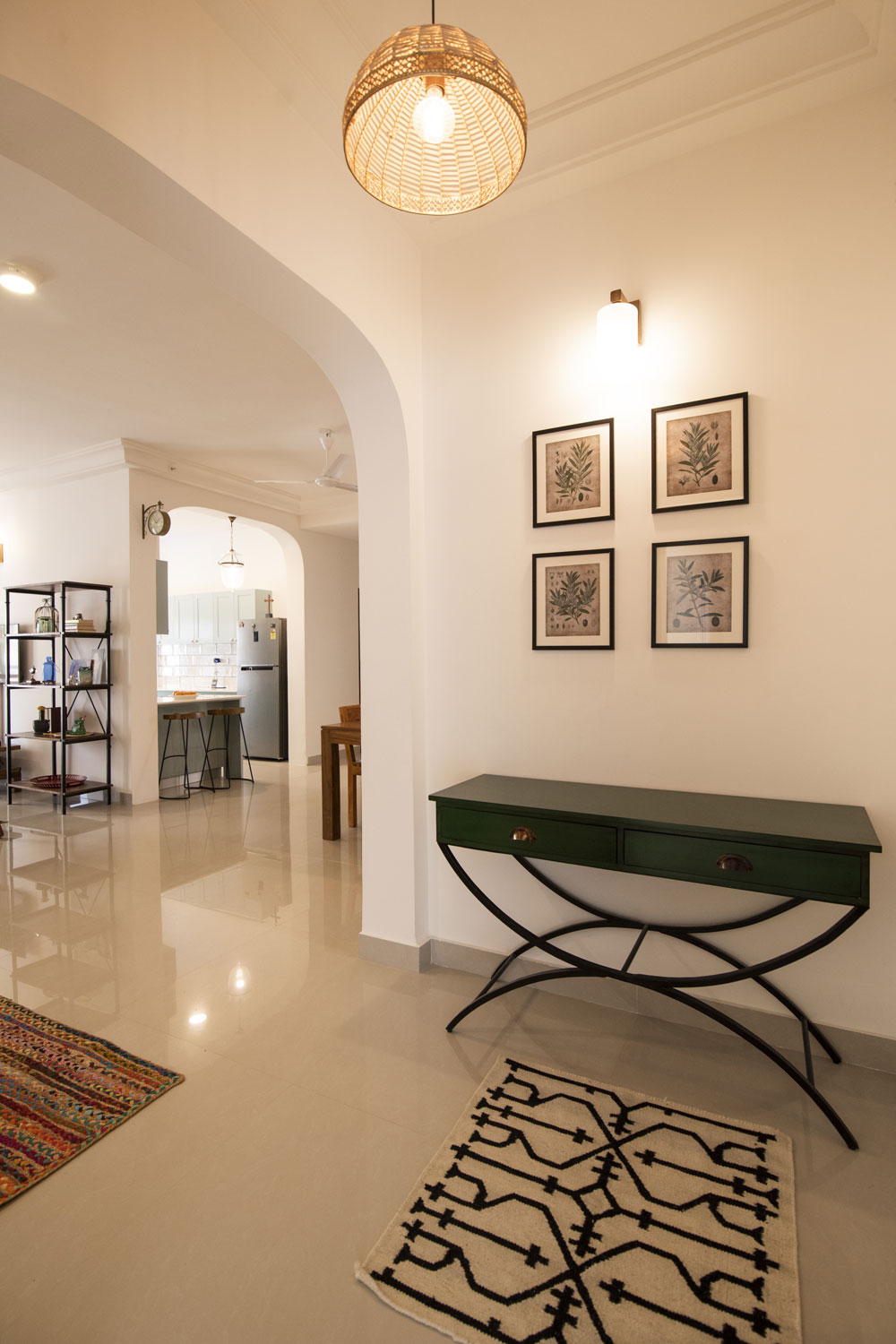 As you walk in the entrance has a lovely arch, which we amplified to match the archway we created in the kitchen.  A small sitting area before the main living room has a lovely custom made blue bench that lends a colorful cottage like vibe to the space!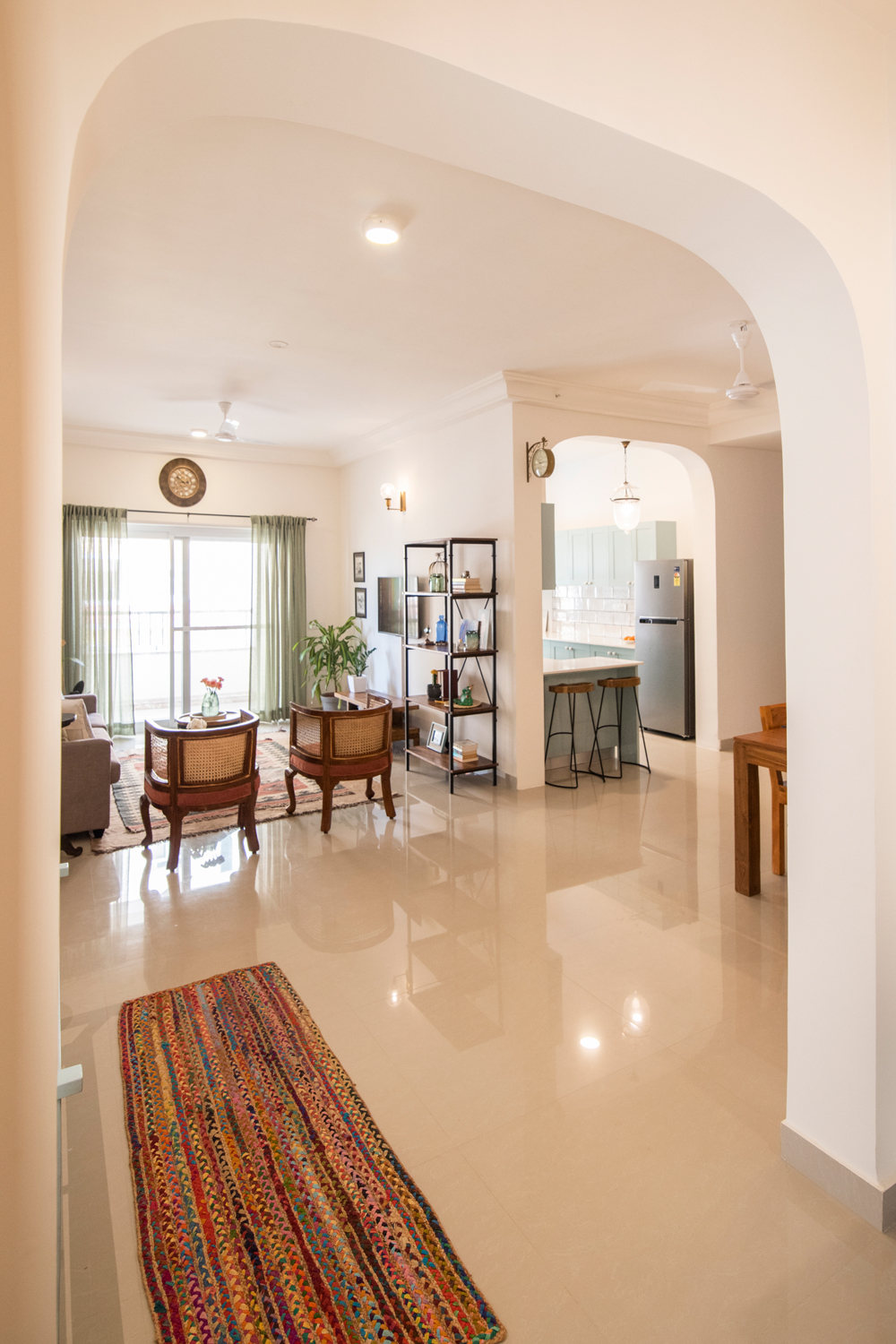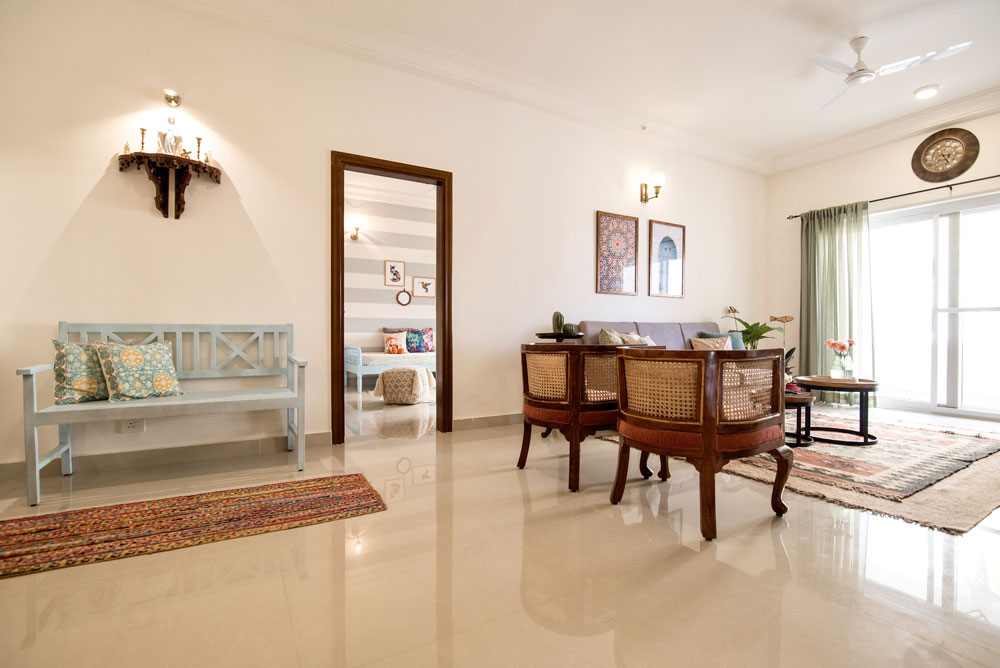 Living
The entry and the little sitting area open into the larger living and dining room. When we started working on the living and dining room design we knew our client loved old world charm and antique shops. They picked the traditional cane back round chairs from an antique shop and we blended that with a more modern Spanish inspired aesthetic by using black metal in the custom made bookshelf and nesting tables, earthy jute and kilim and warm rustic wood. The custom made sofa is a transitional low arm high back style that balances the color and the wood beautifully!
We added large custom prints to echo the Spanish inspired vibe and some fun accents through the space.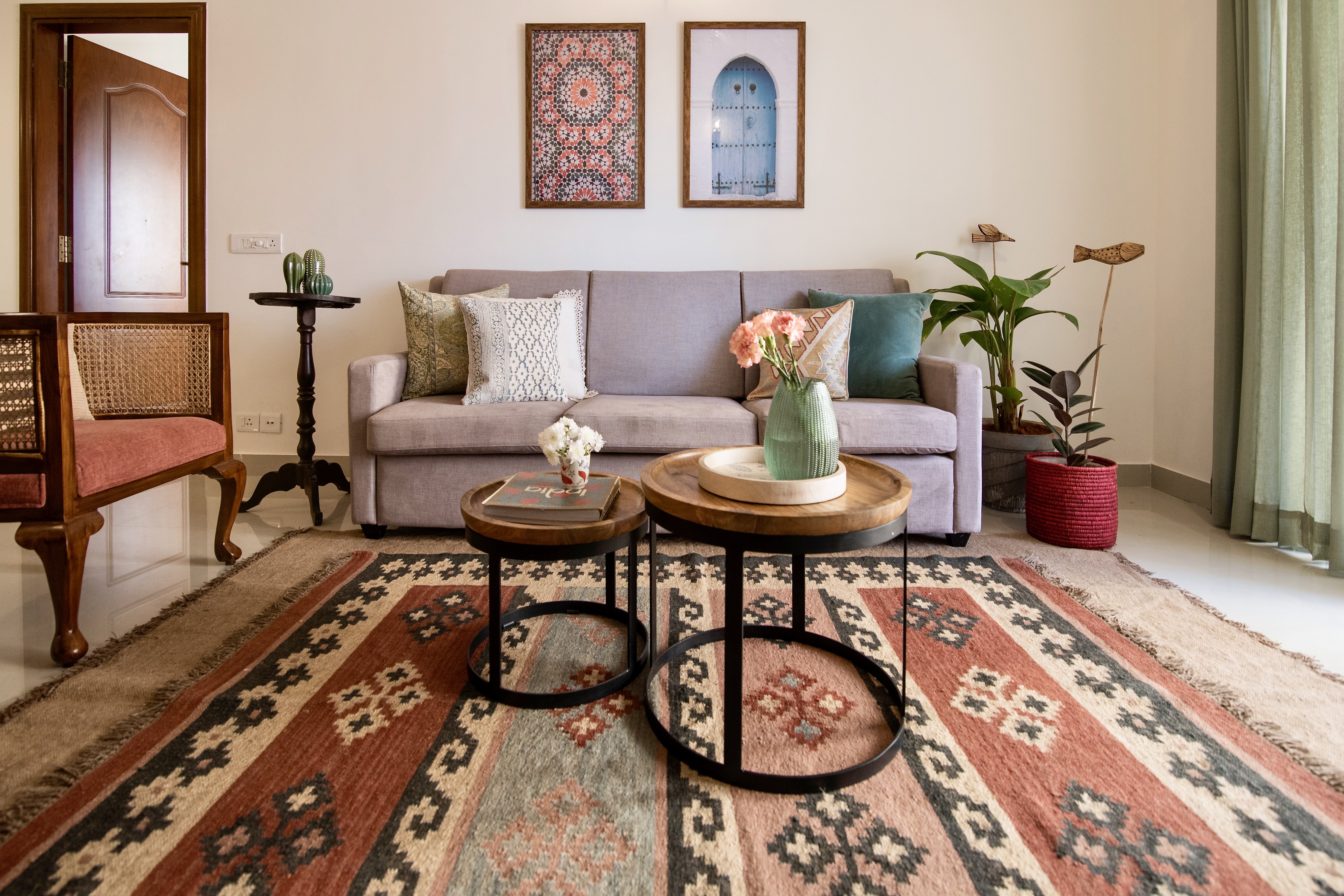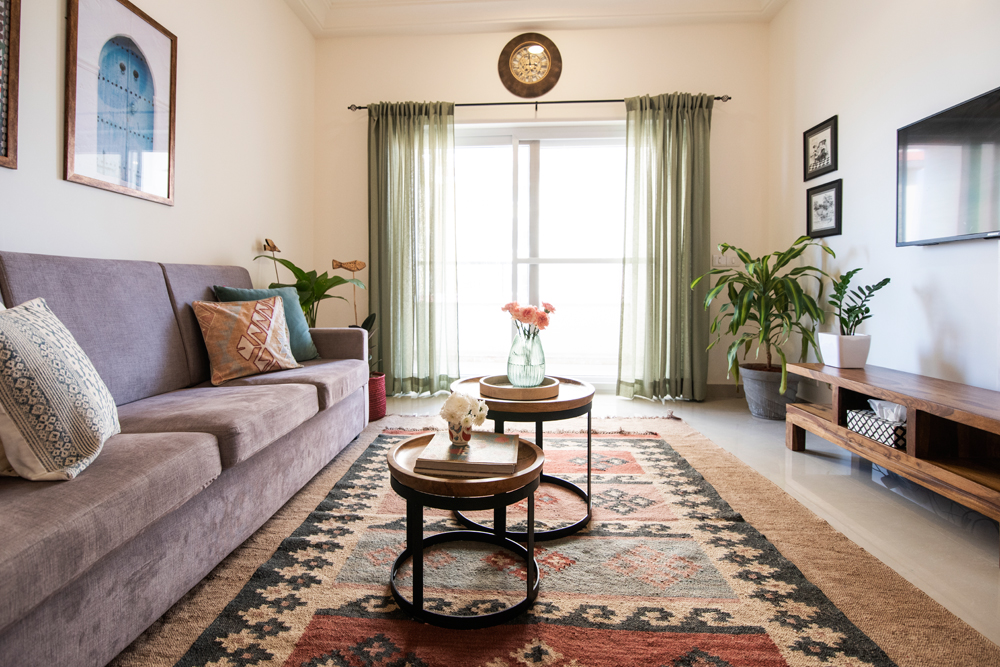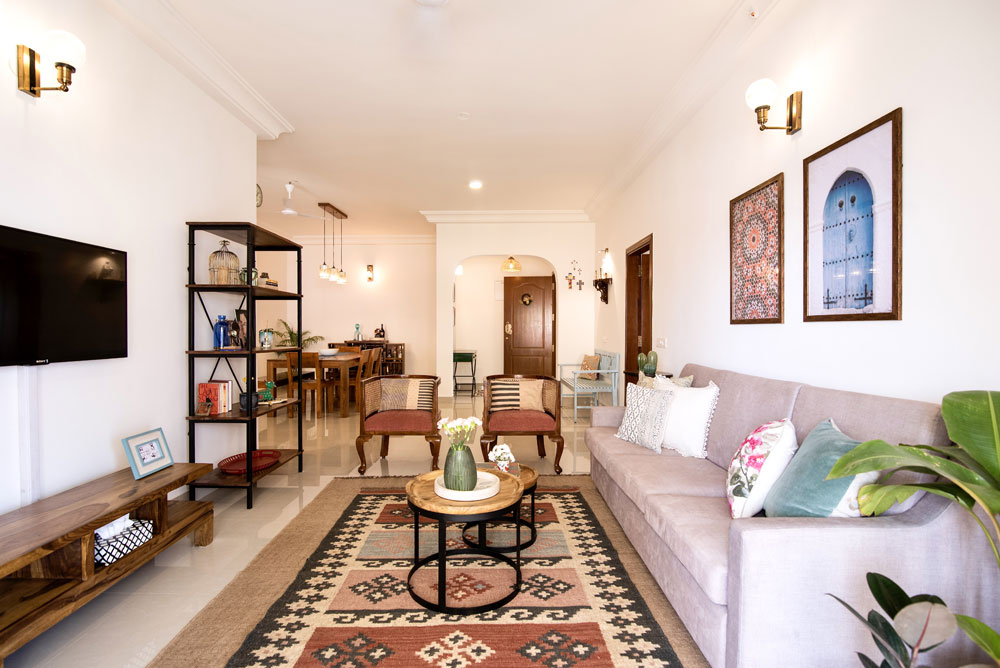 Dining
The dining has a beautiful solid teak wood table in natural finish. We custom made simple modern wood chairs and a bench in a light teak finish to complement the table.
Mercury glass pendants suspended from a wood panel adds just the right amount of sparkle to this dining space. The client also picked a bar unit for the corner that provides storage.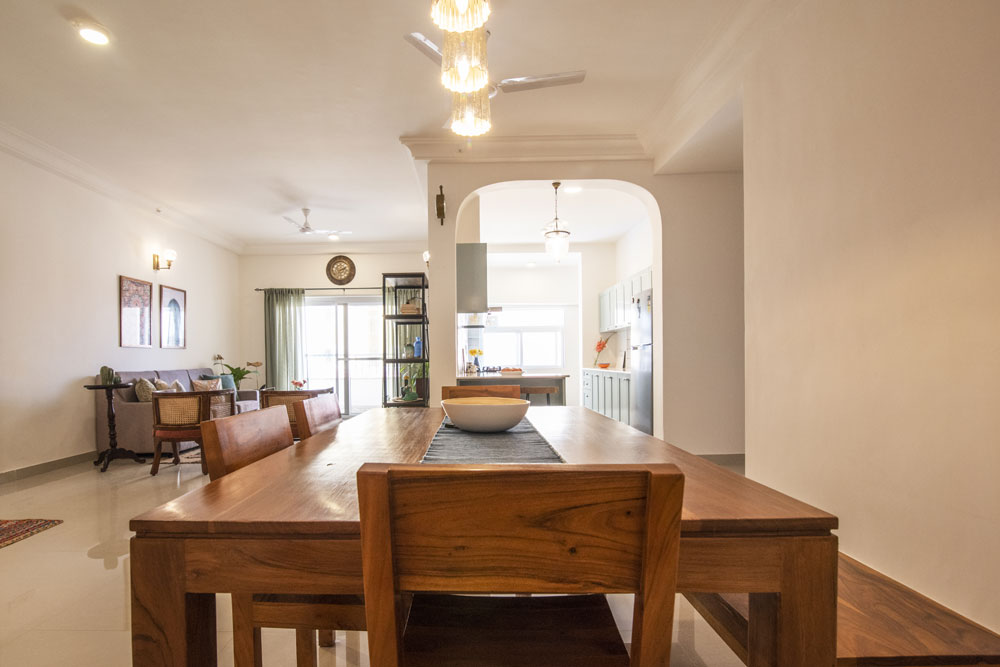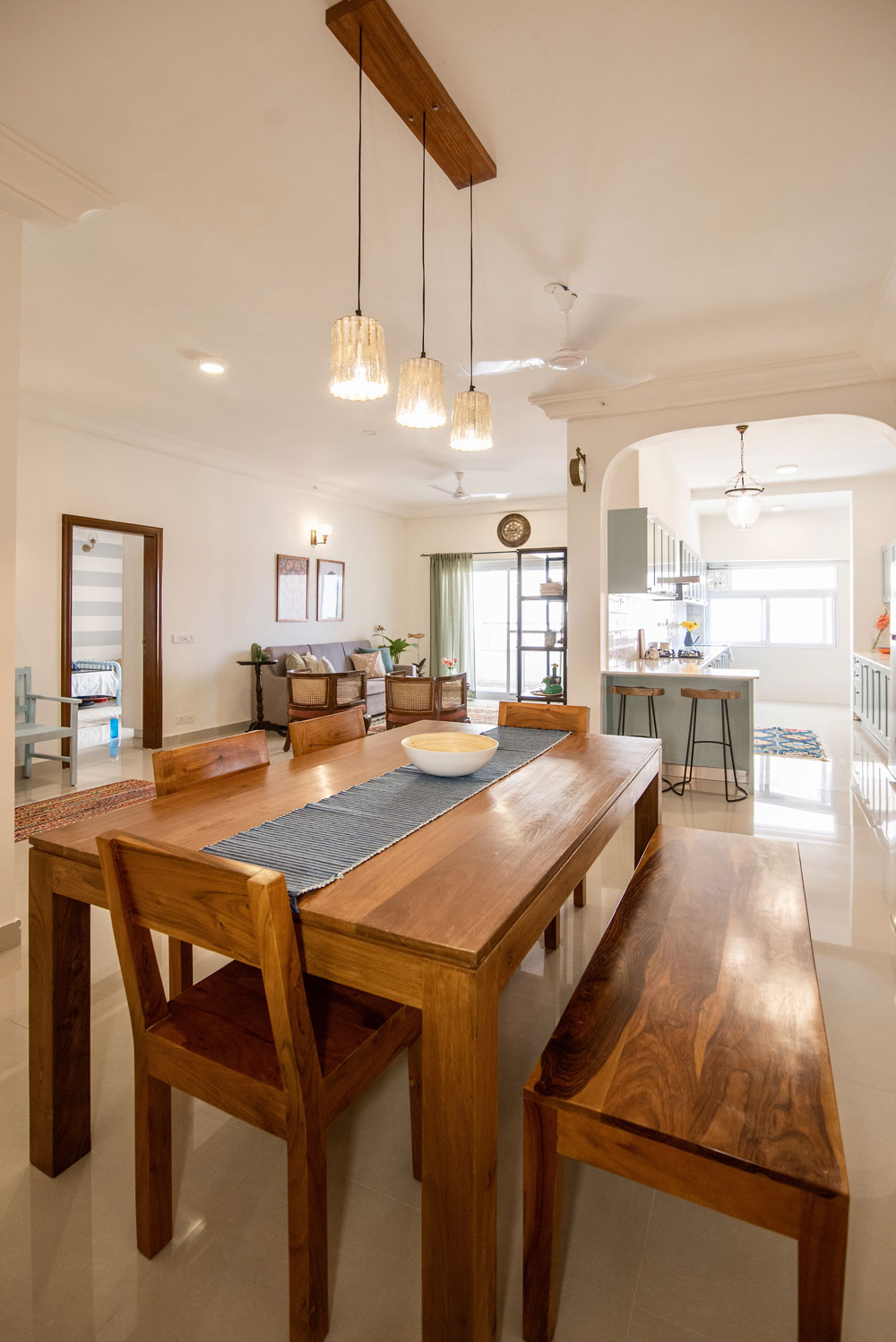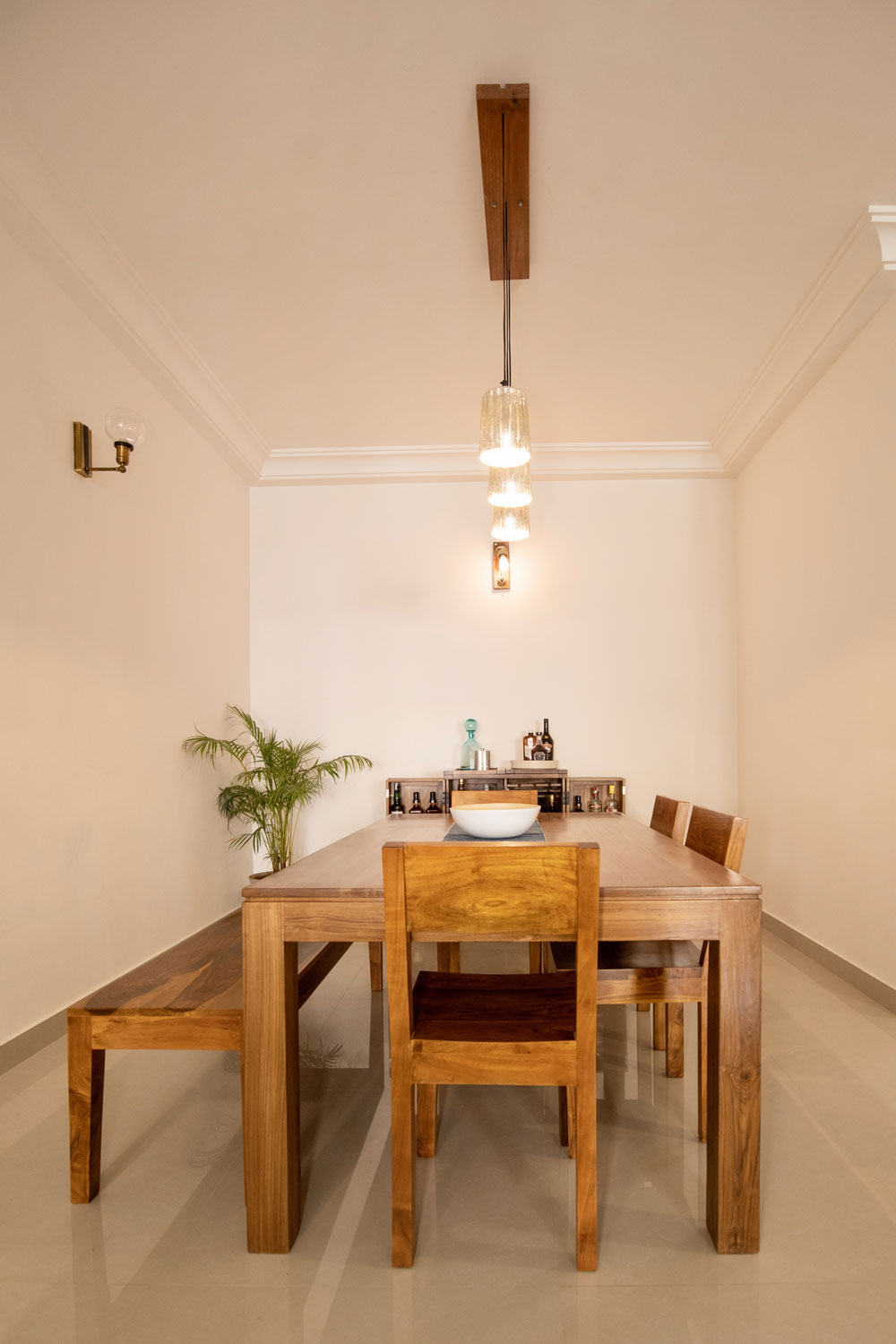 Kitchen
Safe to say this bright custom kitchen is my favorite spot in the house! Its big, bright and beautiful!
The kitchen when I first saw it, had a doorway around it from the dining and it was a long kitchen with a lovely window at the far end. I think from the get go, the thought of breaking down the walls and creating an arch was stuck in my head!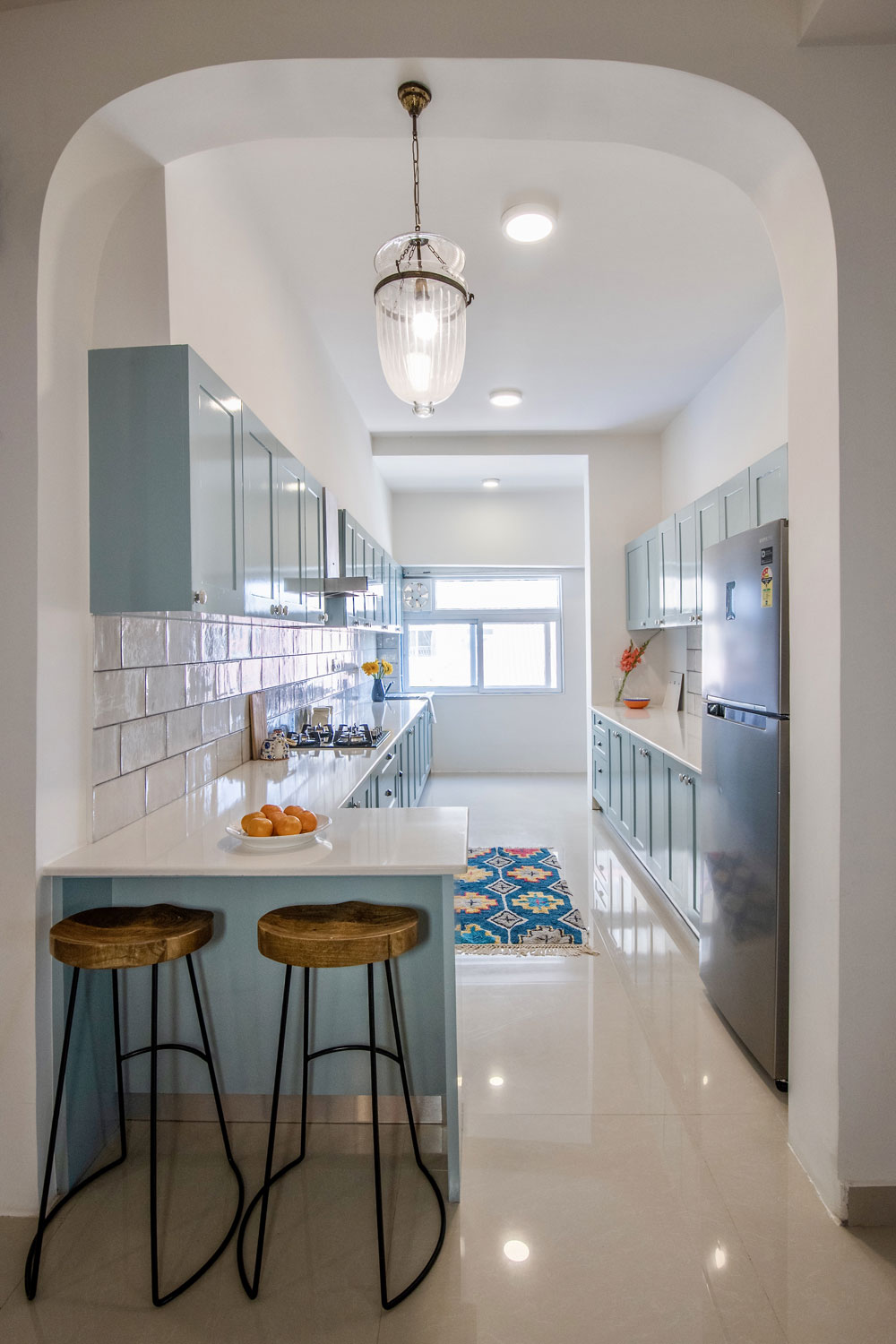 It turned out to be a great way to open the space up and immediately connect it to the larger living dining space. We mimicked the same arch at the entryway to further bring in that continuity!
Drawing from the Spanish inspiration and that the client wanted blue tones, we went with these lovely Moorish blue green tiles for the backsplash. It might have been too heavy to go all around the kitchen so I incorporated it just above the stovetop and used white tile in the rest of the space. The white tile has an old world charm from its rough edges and we laid it subway style to break things up a bit in the long kitchen…I absolutely adore how this kitchen turned out!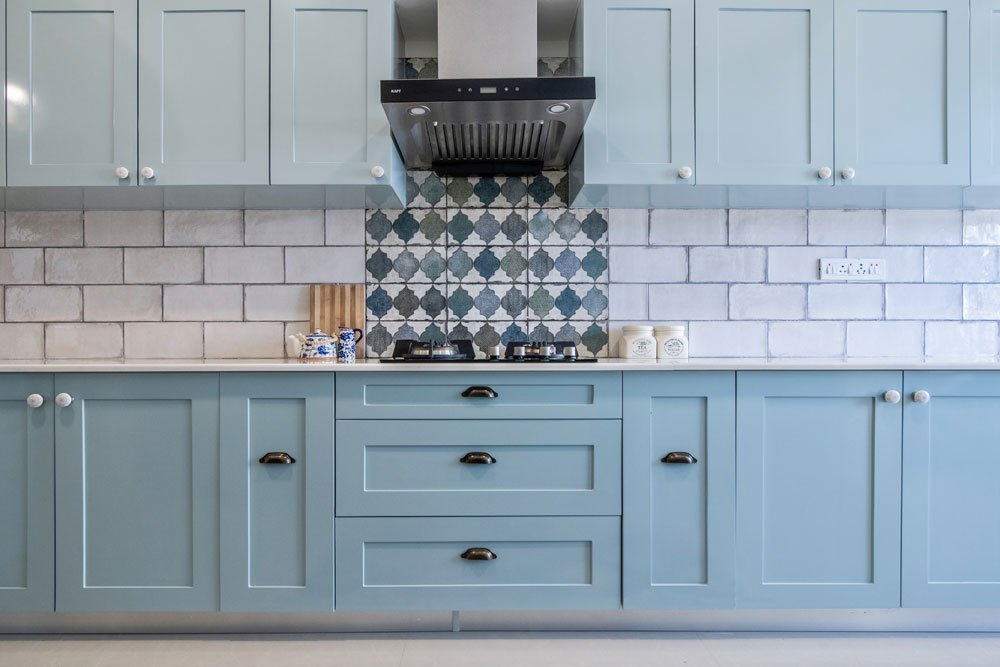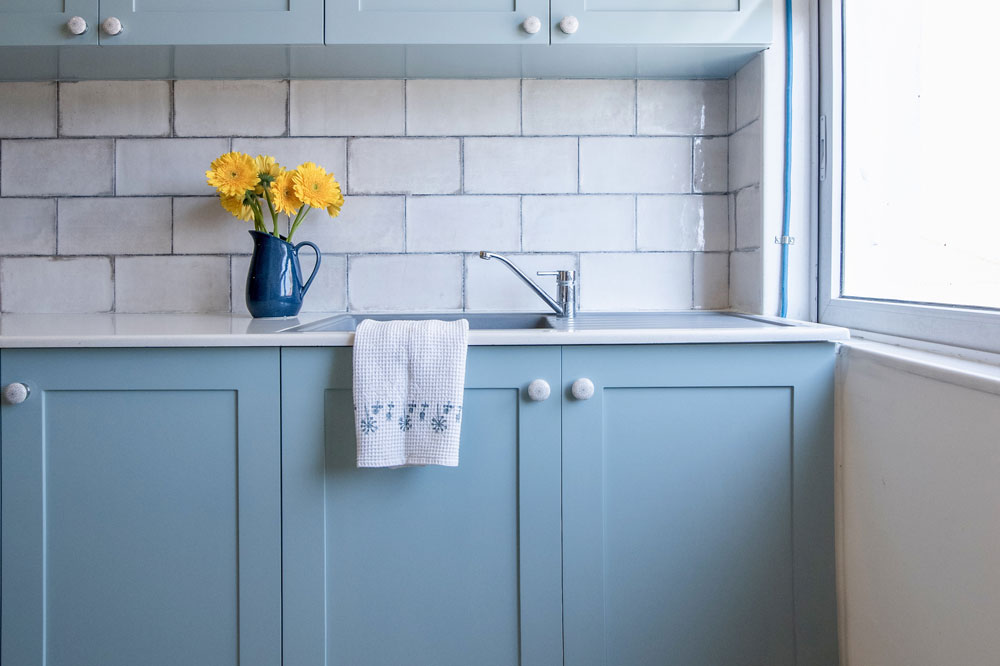 We custom made the cabinet color to work with the tiles and after many iterations of gray, green and blue, we picked this beautiful bright almost robin egg blue…it instantly lifts the space and brings in that modern Spanish casita feel!
The countertop is white quartz and the sink is a beautiful light gray granite sink! The hardware is also handpicked and the little ceramic knobs totally pretty up the kitchen.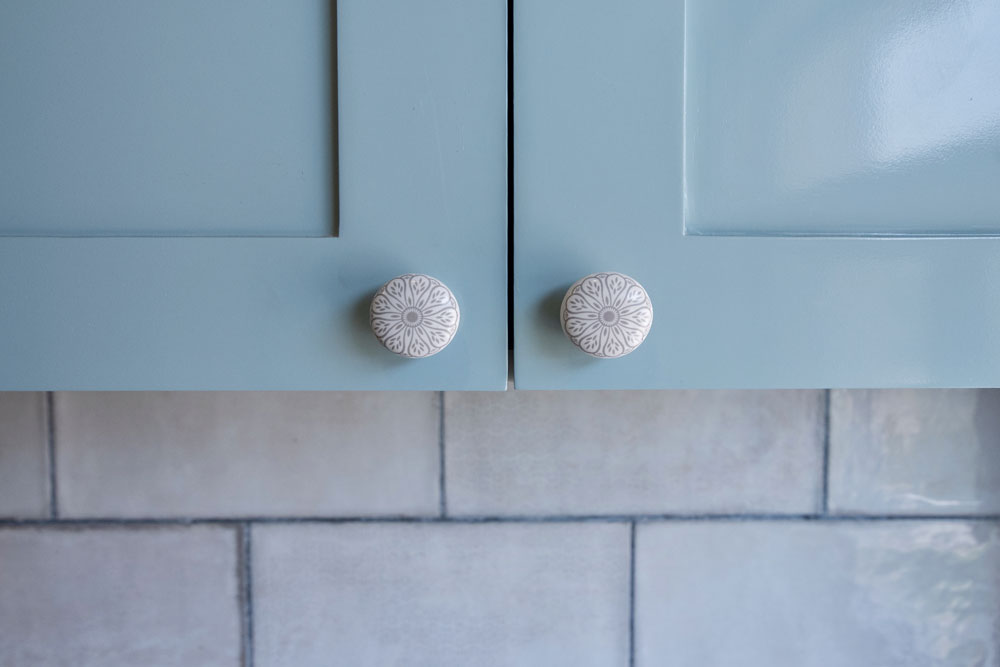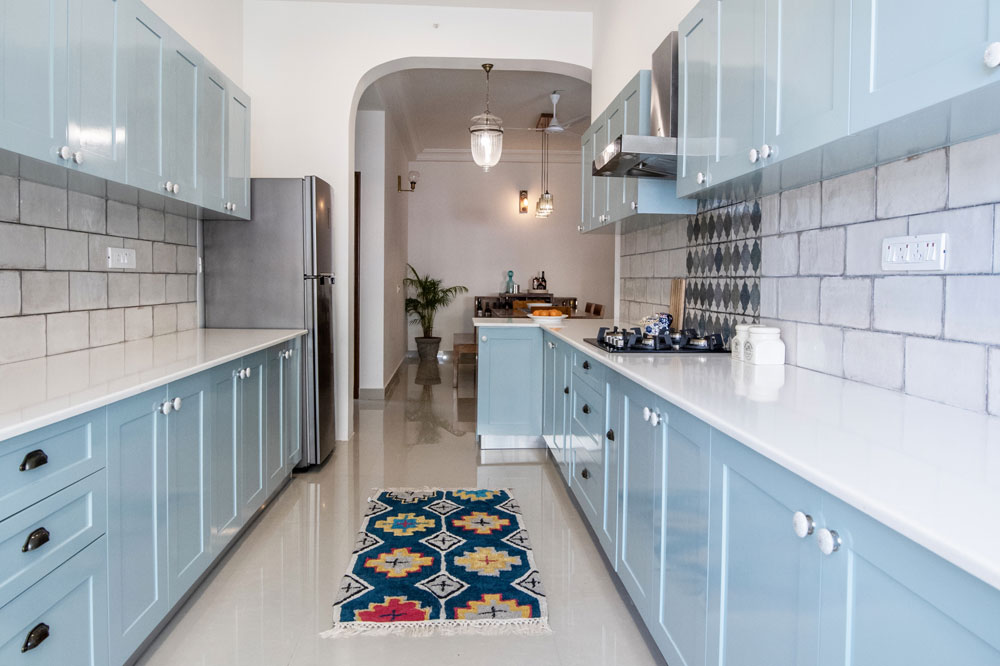 Master Bedroom
As you walk in to the right is the large master. Rich veneer covered wardrobes in a smoked oak finish and a warm gray wall anchor a beautiful wood half poster bed.
This bed was the client's choice and a great way to bring in that old world four-poster look but in a lighter more modern way!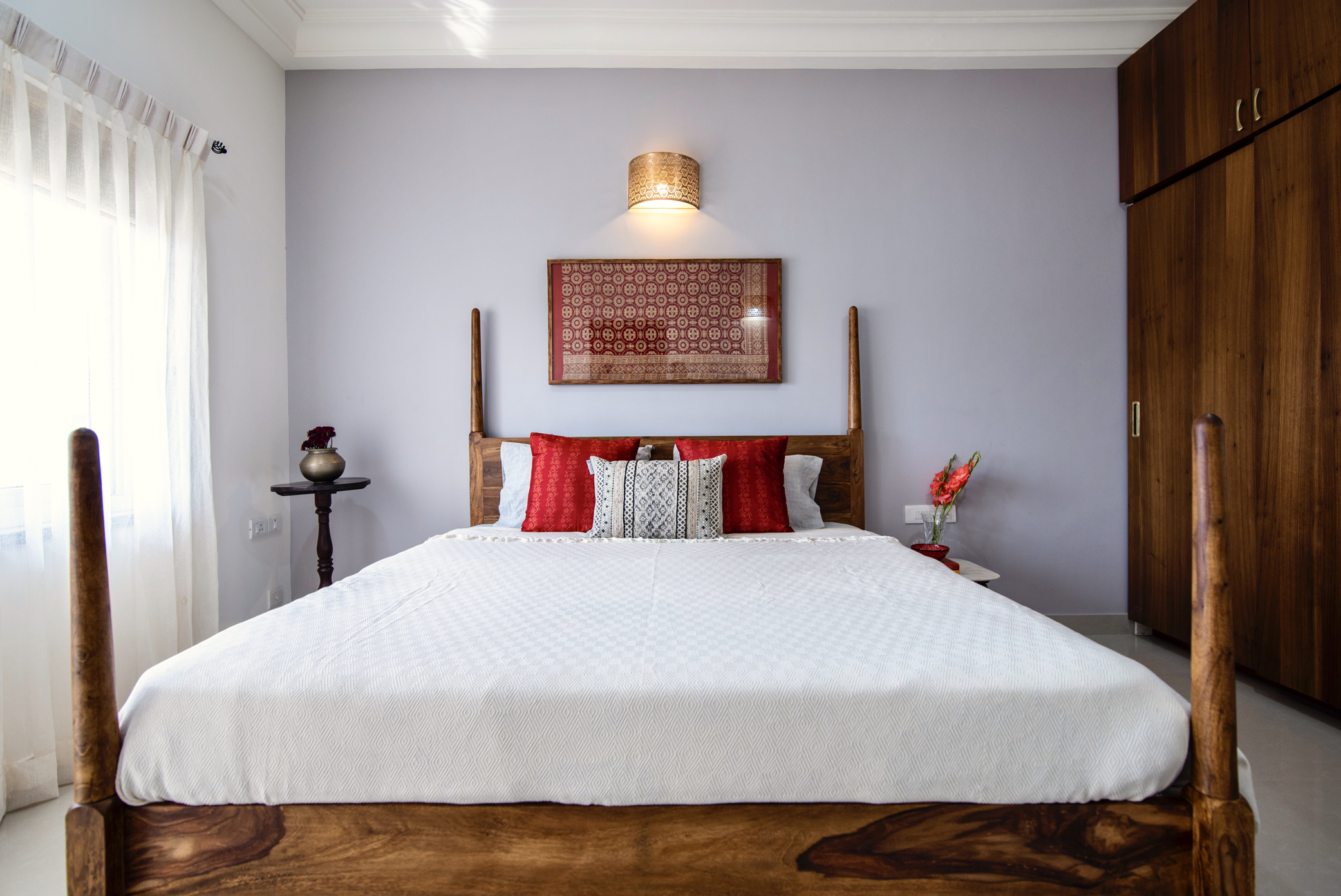 The lighting is a gold lattice wall fixture that adds to the romance of the space and the window treatments are natural fiber blinds flanked by soft white flowy curtains that tie in with that cottage feel.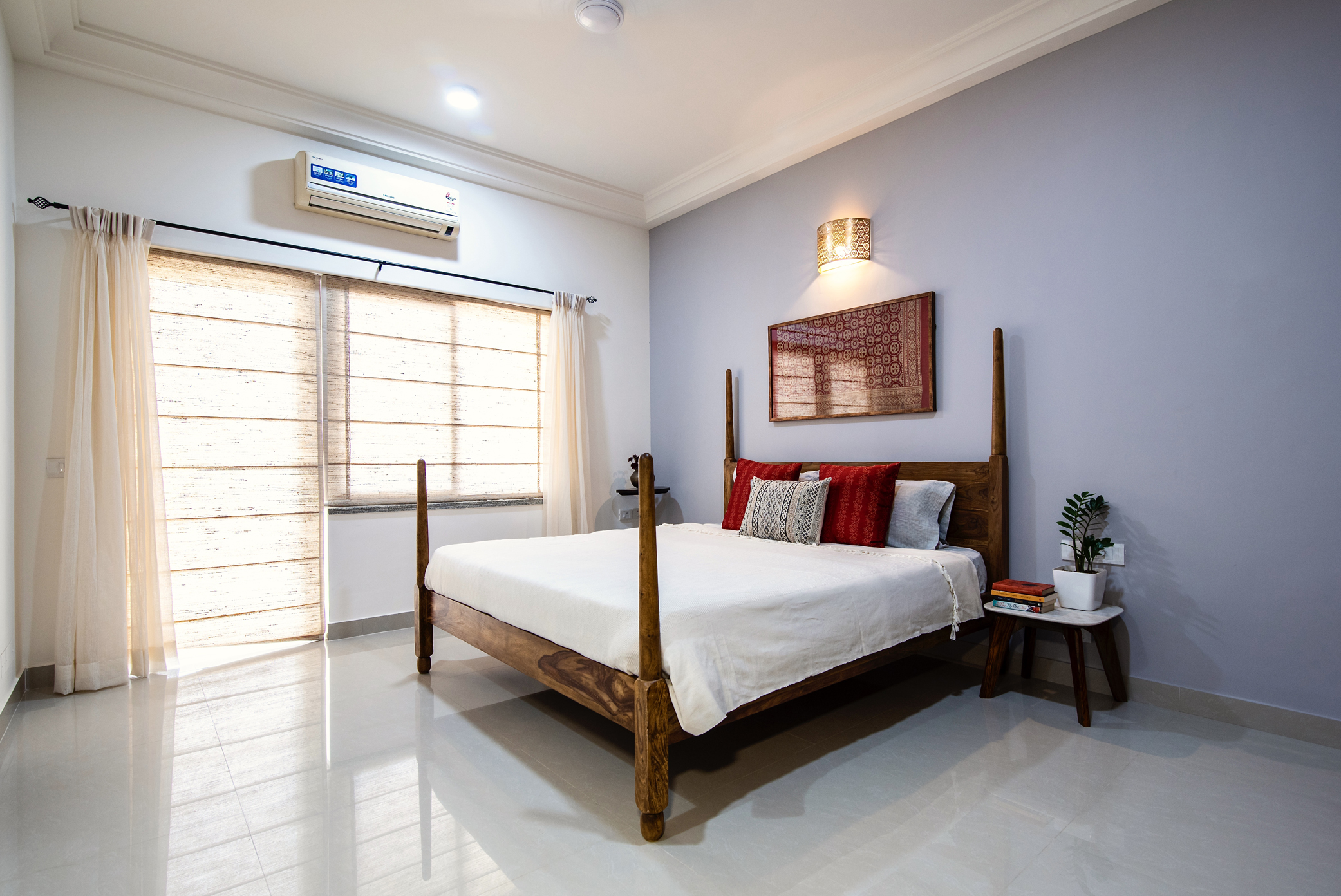 Our client wanted to use her mother's wedding saree in some way in the home and I got a piece of it framed as art to go above the headboard of the bed. Such a bold statement piece and one with so much heart and sentiment to it!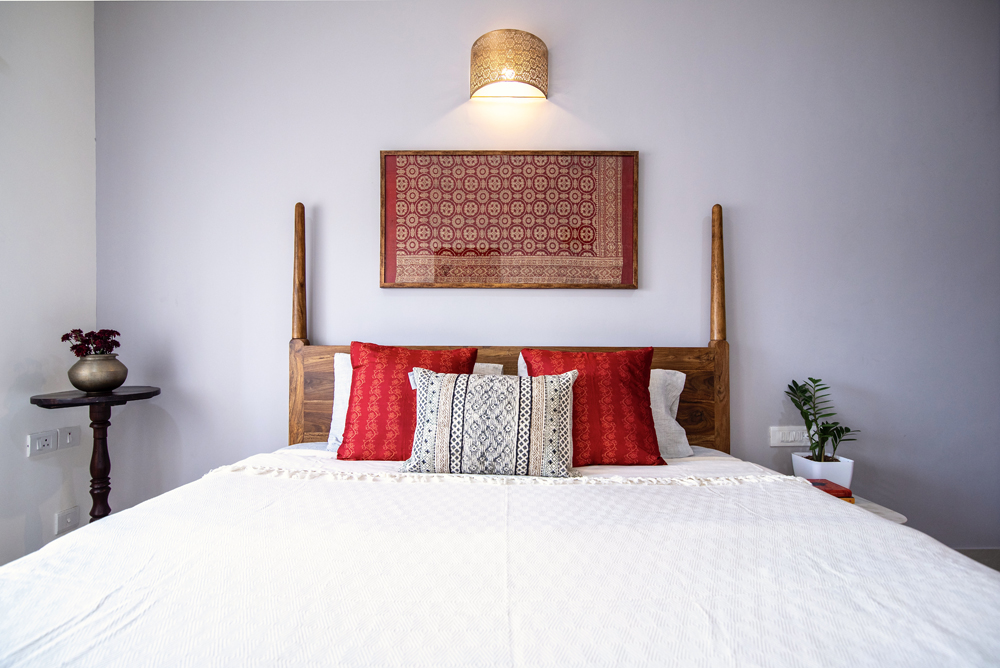 Kids Room
My second favorite space in this home! A very chic little space for a sweet little girl…a gray and white striped wall and a custom made baby blue bed totally make this space. The bed is designed like a daybed with a similar height headboard and footboard and has beautiful beaded vertical slats very reminiscent of a Jenny Lind bed that was perfect for that cottage feel we wanted.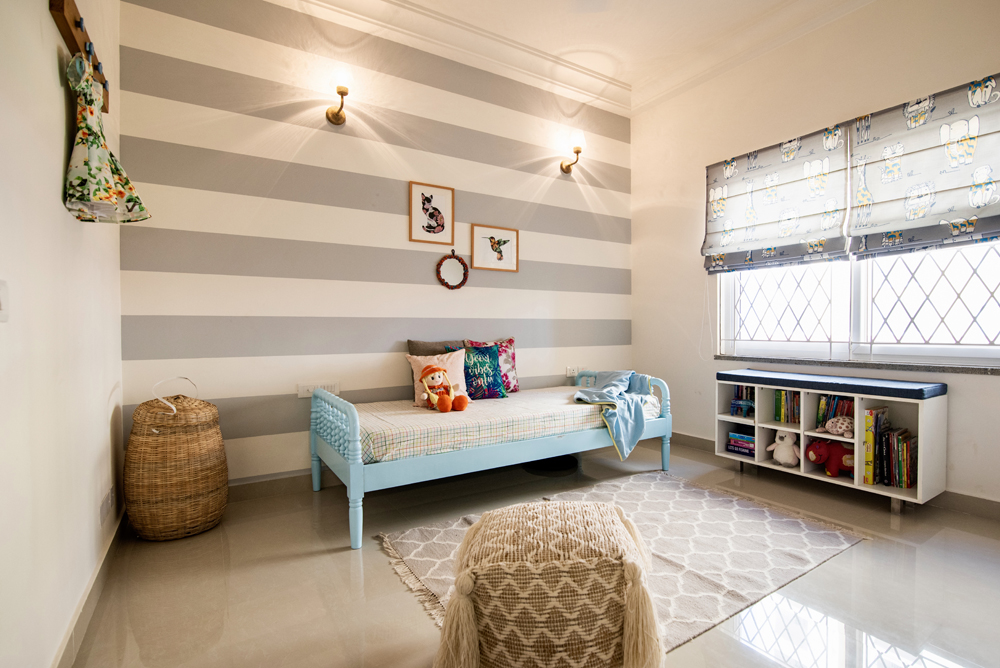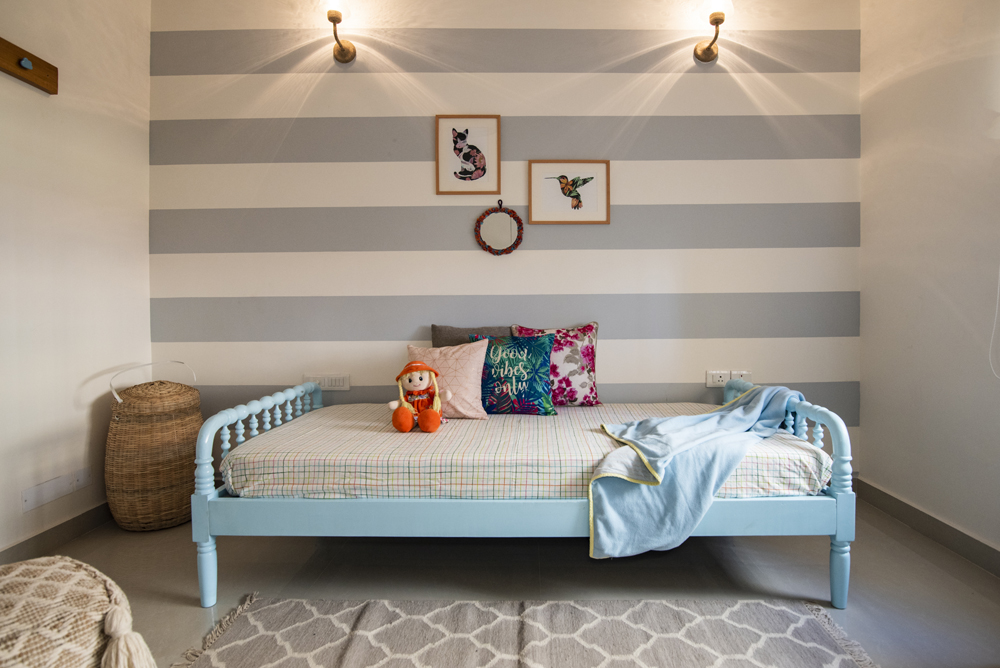 A large window has a custom made window seat with storage and fun gray and blue roman shades. The rug is a trellis pattern dhurrie in gray and white and a soft pouf adds to the playful feel of this room.
A few fun prints on the wall, a large jute basket and a custom made hanging plate for little things add pretty touches! The wardrobes are a neutral white to add to the light and bright feel of the space.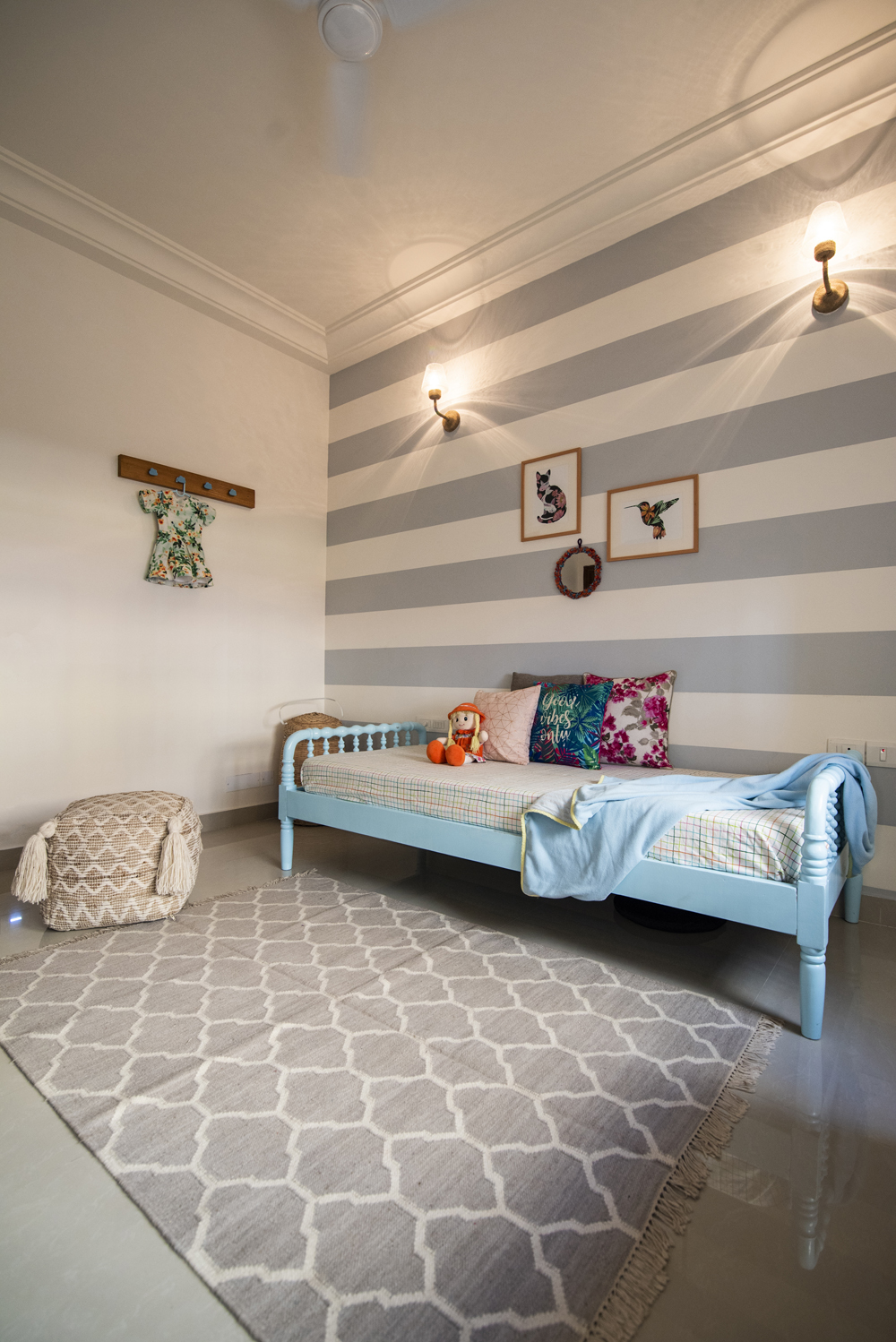 Guest Bedroom
We kept this space very simple due to the minimal use of this room. A simple white and wood bed, rope light fixtures and a medium wood tone wardrobe is all this space houses!
The window treatments are carried through from the master to unify spaces and a gold mirror adds some interest!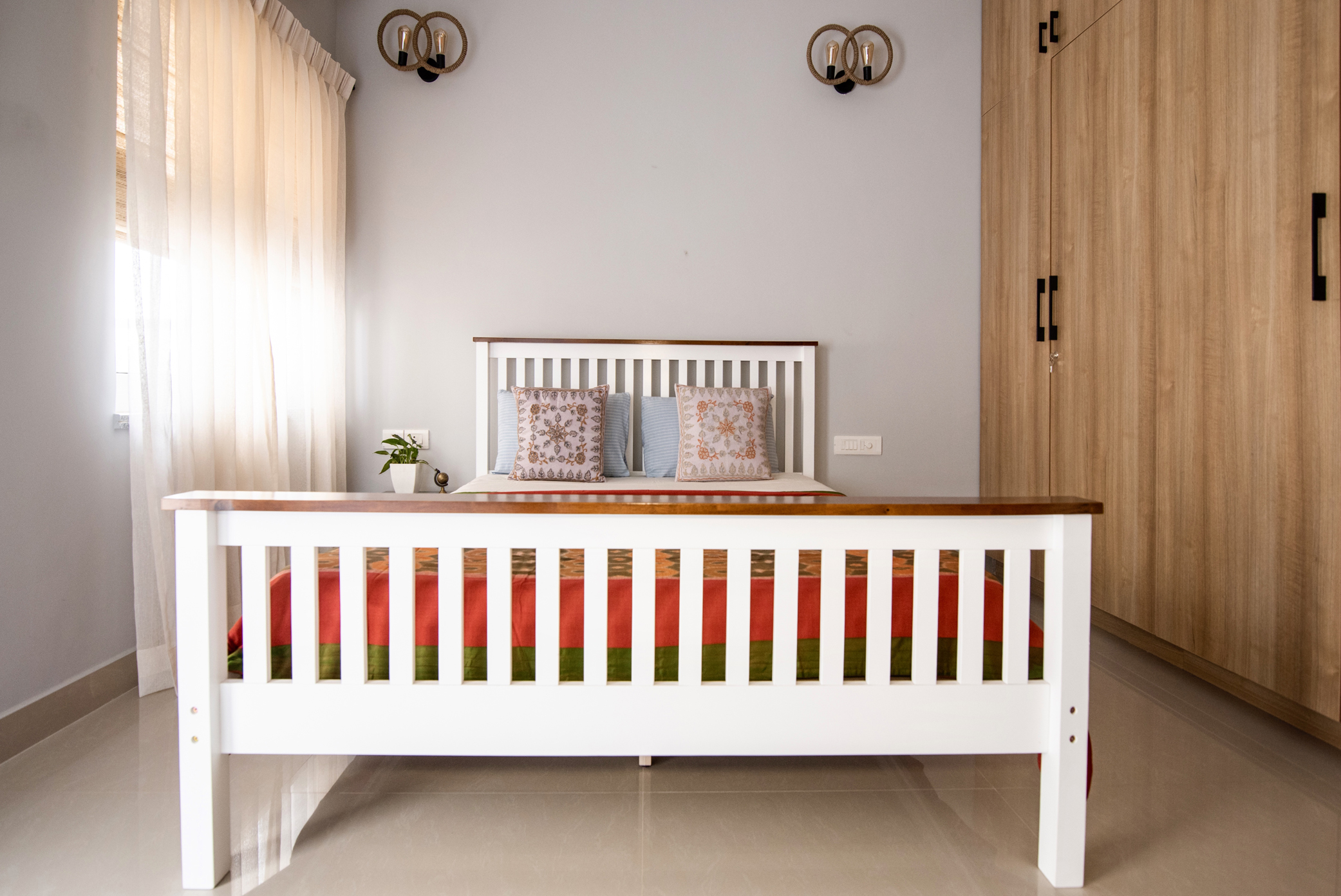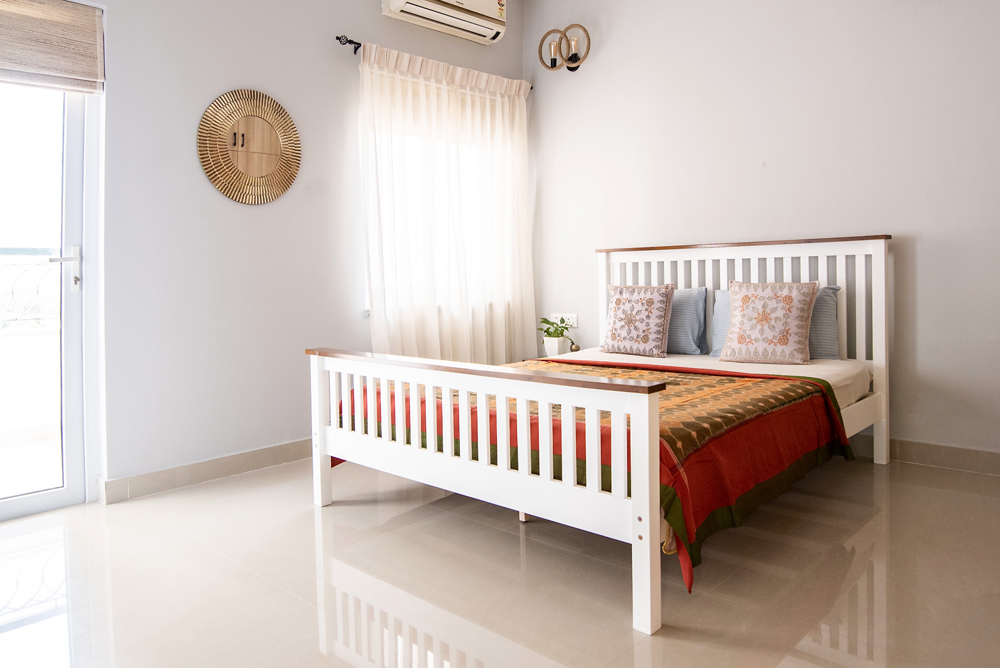 I loved this project for how different it was and how much fun we had with the custom pieces and especially putting the kitchen together.
When I walk into the space, it has that warm, inviting feel but without being too heavy or dated. Thats exactly what we were going for 🙂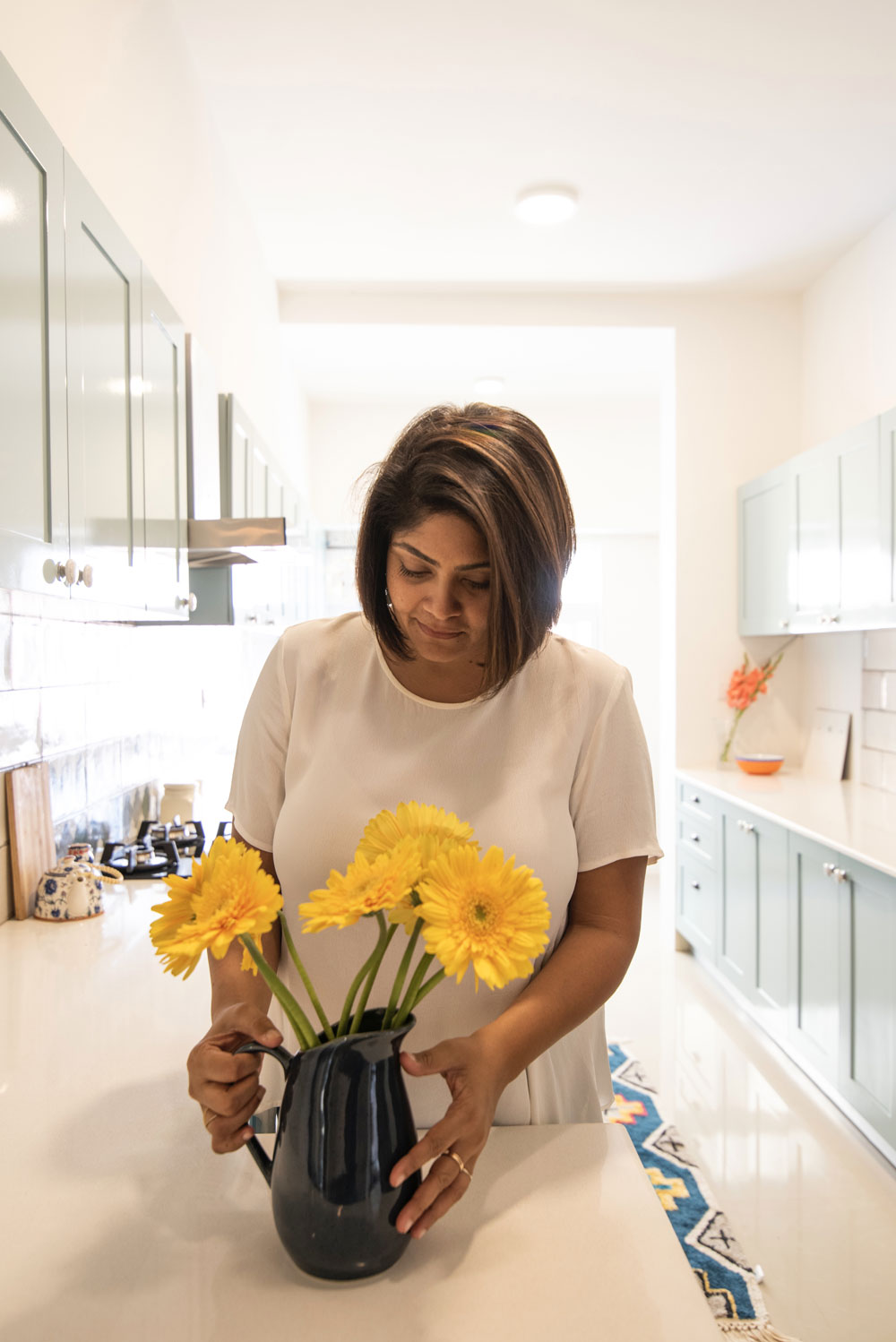 Until our next project reveal, have fun with design and decor and follow us on Instagram for more pics of this project!