Project Reveal Part III – The Modern French Country Inspired Home – Private Spaces
Created by Vinithra Amarnathan on January 22, 2021
We hope you enjoyed the pastel perfect living spaces and kitchen from this home. The private spaces are equally beautiful and carry through that subtle and calm elegance.
Master Bedroom
The master bedroom is one of my favorite spaces in this home. It's neutral in its tones but has beautiful textural elements that make it all come together.
The fluted wood paneled wall behind the bed is a favorite element. Its a refreshing updated take on shiplap and brings in so much texture and character to the space. We painted it a few coats of white but left the wood grains peeking through which bring in warmth and dimension.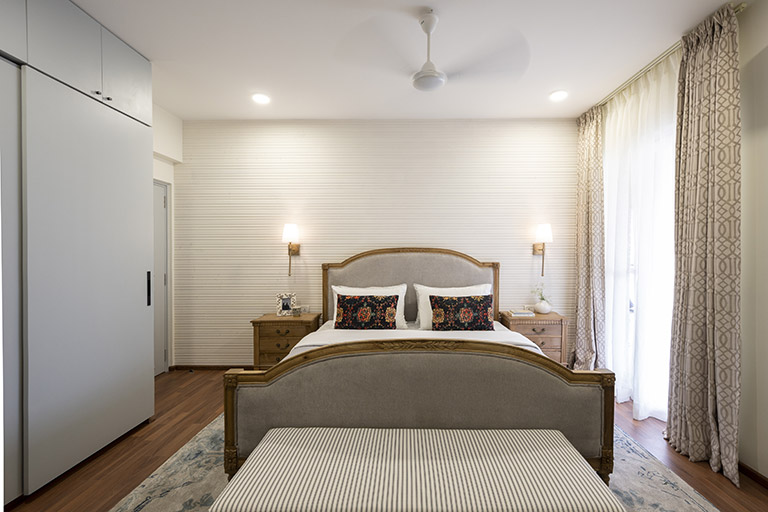 The wall is anchored by a linen upholstered classic carved French country bed and bedside tables. We used larger bedside tables here and also added a beautiful striped bench to the foot of the bed. The deceptively sleek bench packs in storage for all the bed linen and is such a functional piece!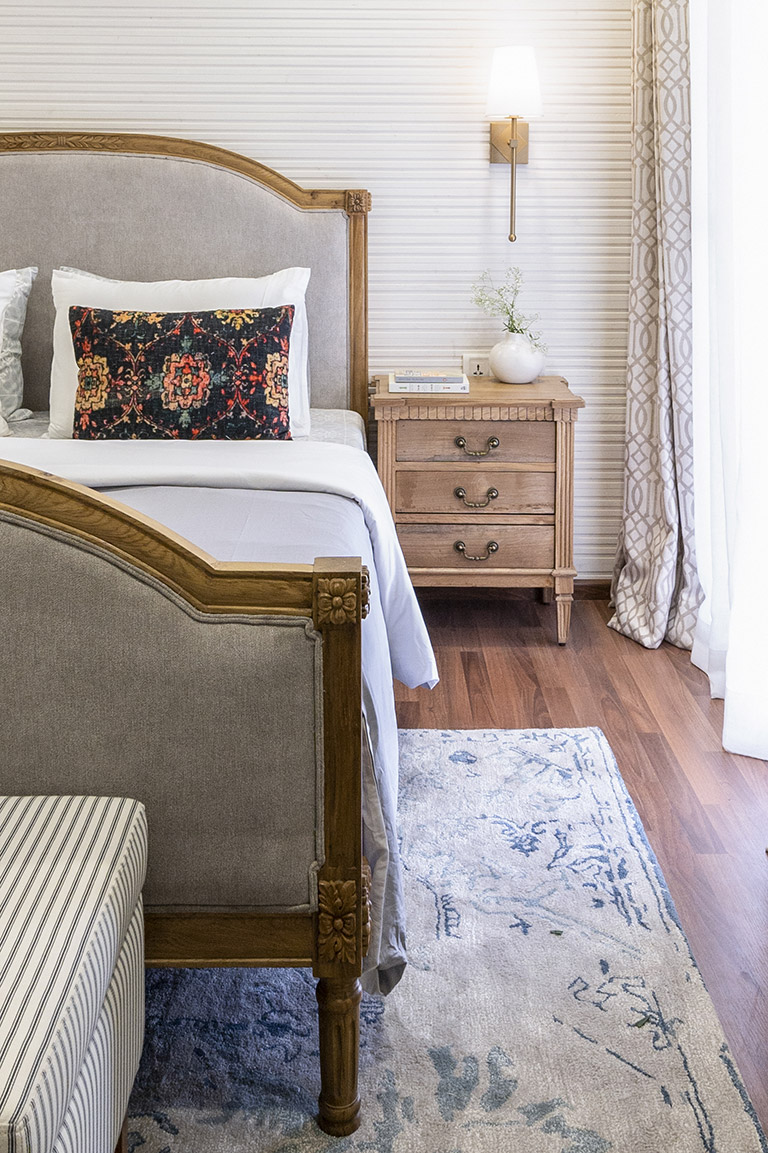 Opposite the bed we added a beautiful cane and white sideboard for additional storage. We painted the wall a dark charcoal and added beautiful black and white framed photographs that are minimal yet impactful!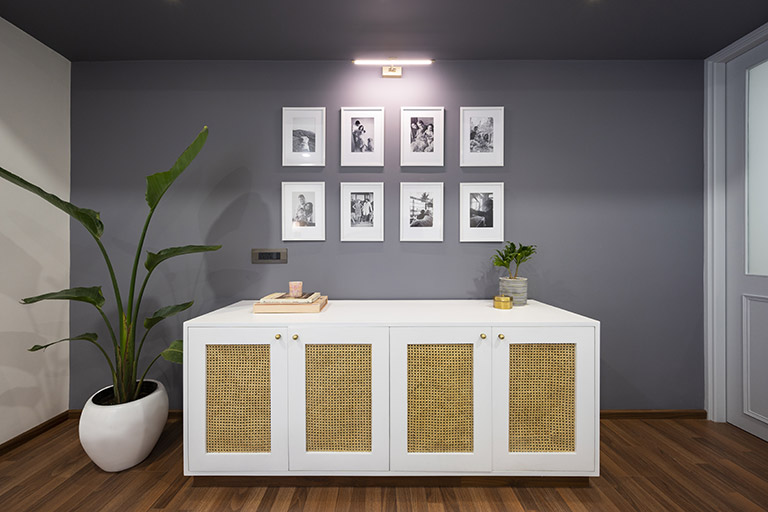 To the right of the master we converted a bathroom into a walk in closet for Pallavi and added a simple grey painted closet in the master for Tarun. The walk in closet in tones of walnut and white has ample storage and a vanity.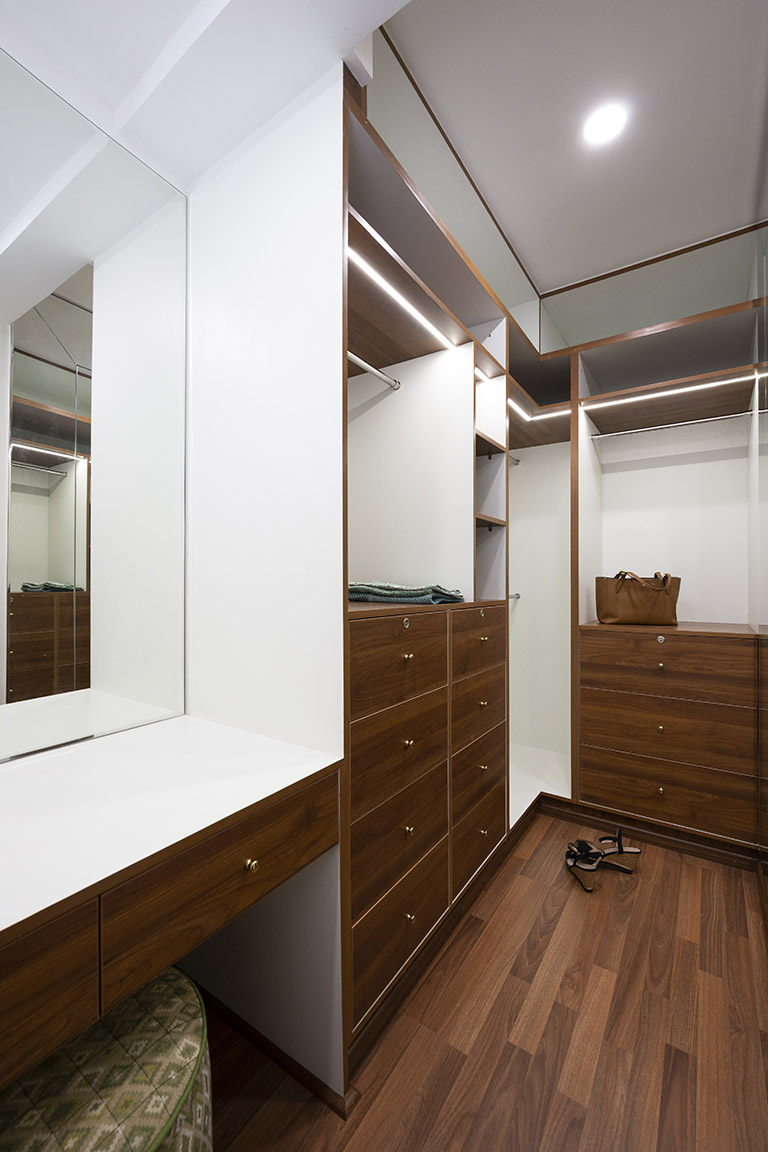 We carried the beautiful wood fluting into the master bathroom and added a wall to wall mirror with pendants to update the builder grade bathroom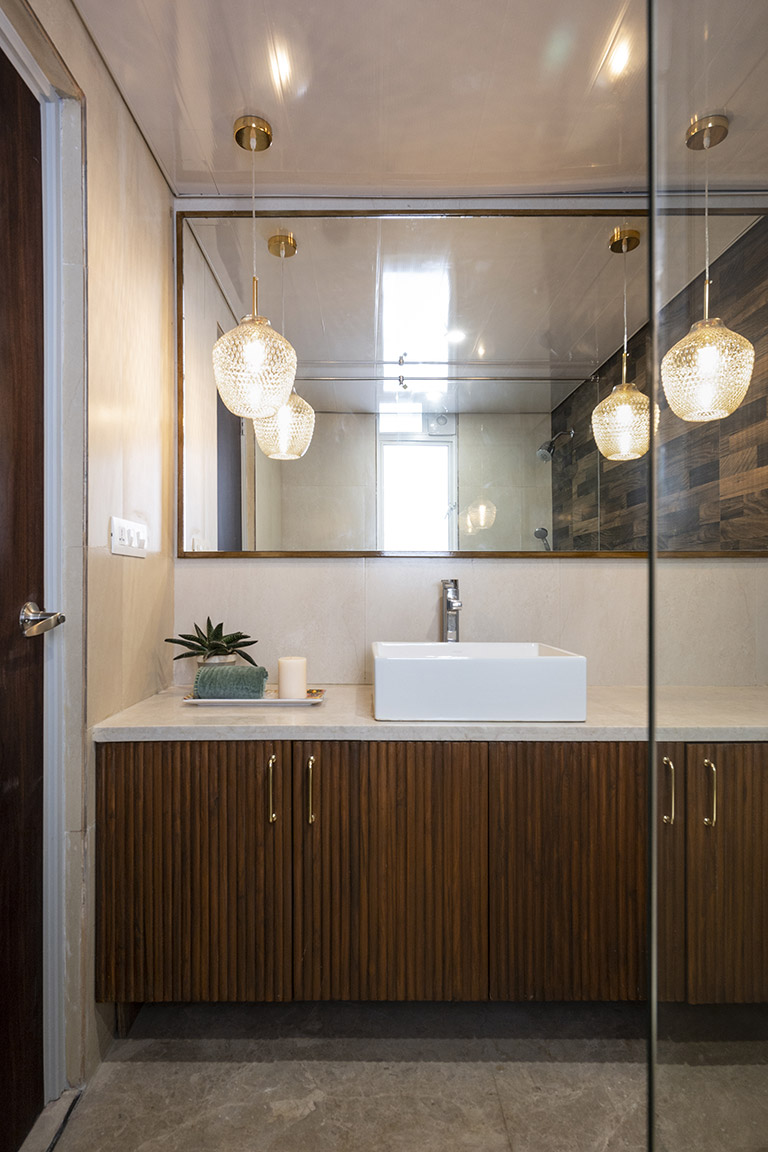 Guest Bedroom
This guest bedroom was a simple room where we kept the clients existing bed and added wardrobes and a chair. But we can't miss that beautiful moulding and the perfect blush tone we used for the walls!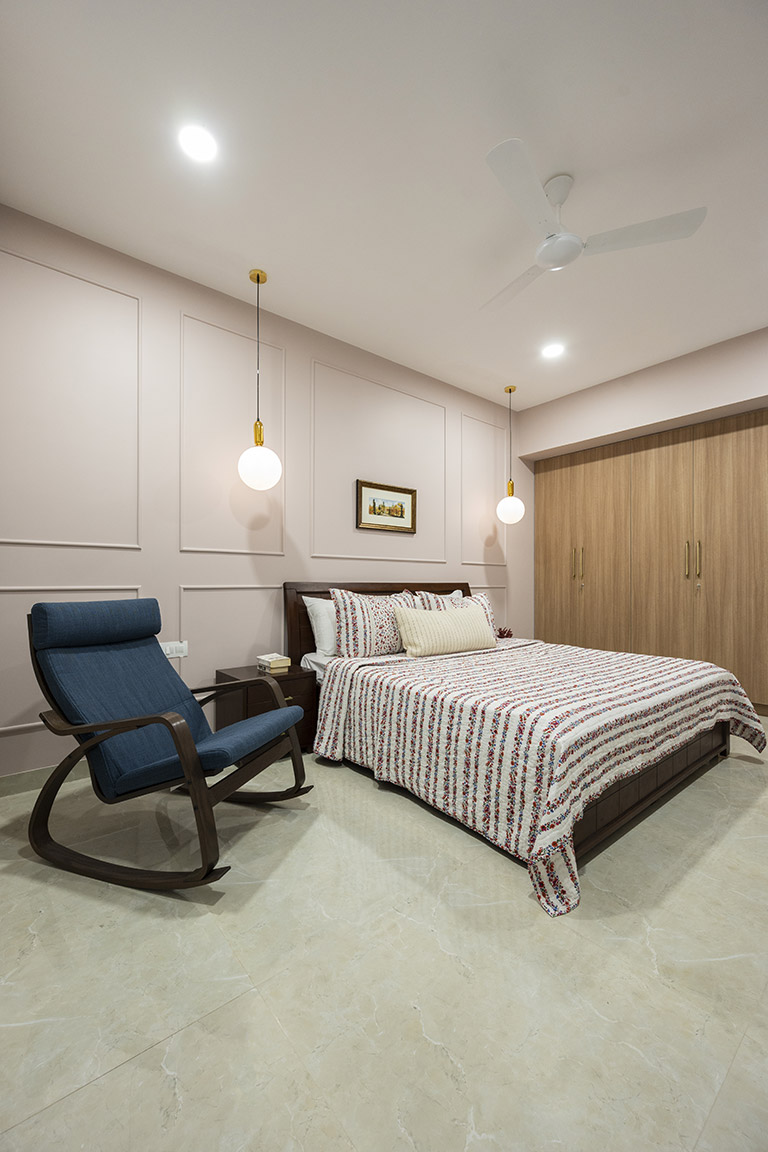 We added simple cotton floral bed linen and brass globe pendants to complete the space.
Library
This room is such a bold departure from the rest of the home and is enveloped in tones of deep teal. We knew this was a smaller room and both Pallavi and Tarun wanted the space to be a refuge and something that was set apart. They both loved reading and we imagined the space bathed in deep color and wall to wall cabinetry to bring in that dark moody library feel.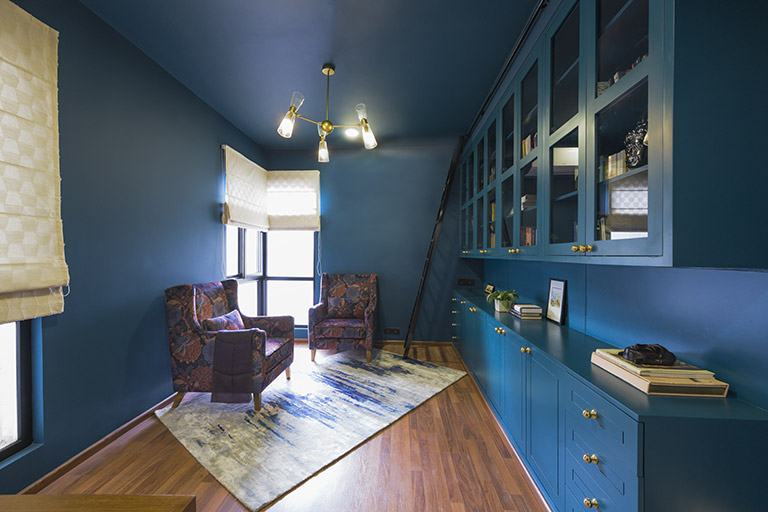 We painted the entire space ceiling included in a deep teal, added beautiful millwork across the length of the entire wall and used glass doors for the upper cabinetry to lighten the feel.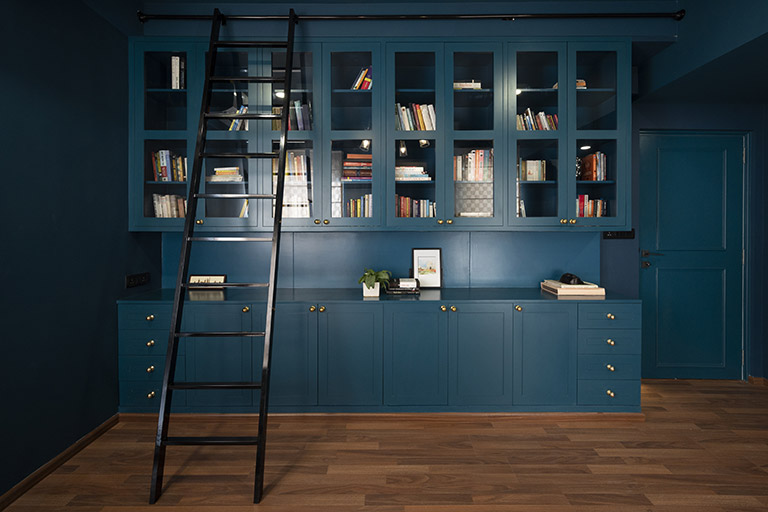 A simple brass and glass chandelier and ladder tie in the space. We painted the window frames a sharp black and added linen blinds.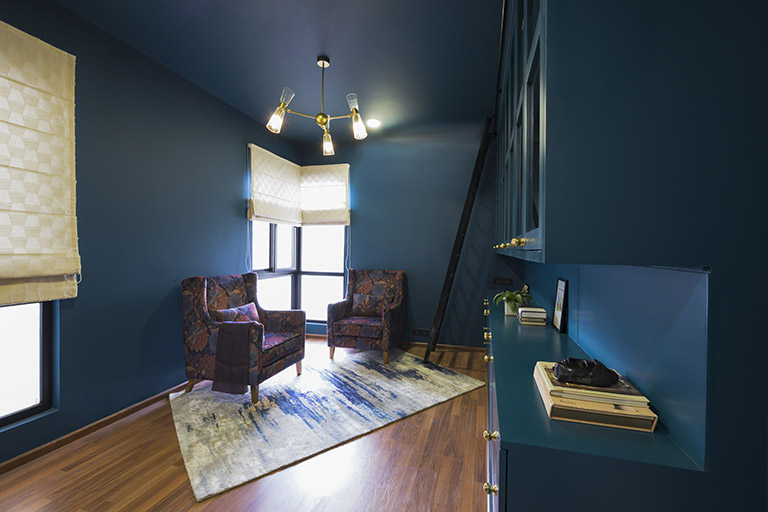 In the corner a set of large wingback club chairs upholstered in deep navy and rust tones are anchored by an abstract modern rug. On the opposite end we added a large wood desk and a vintage world map print behind the desk nook.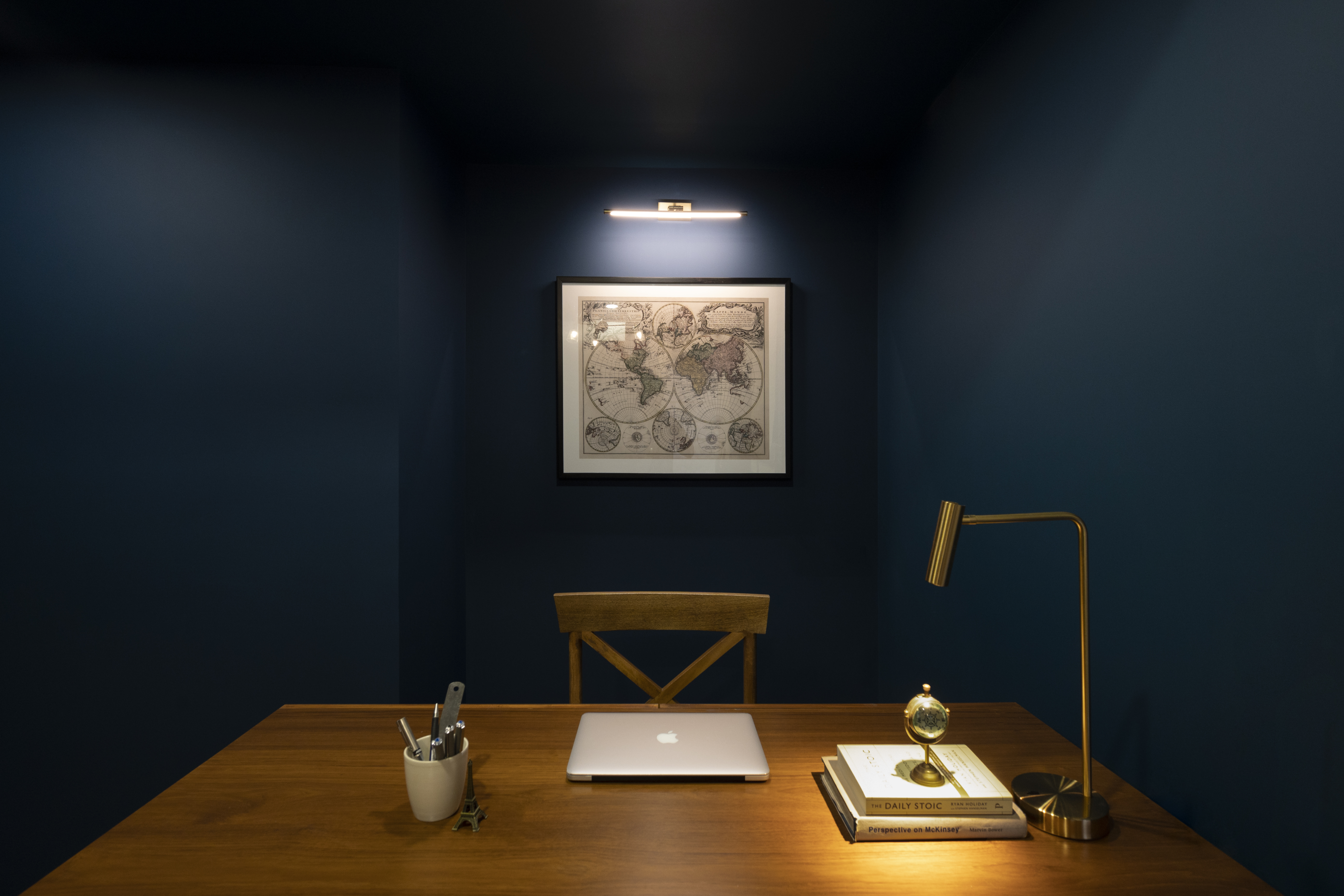 I absolutely love this space and how it came together!
And that's a wrap people on this beautiful home! I hope you enjoyed reading all about it!
All Pics by Parth Swaminath