Styling Ideas for your Bed – My favorite tips on the MLC Blog
Created by Vinithra Amarnathan on July 29, 2014
http://mlceventplanning.com/styling-ideas-bed/
Last week I wrote about some of my favorite bedding picks for your little ones. In keeping with the theme of bedding, I thought a post on styling beds would be interesting.
We've all seen the days of big bag 7 and 9 piece bedding and comforter sets on sale and beds decked with matchy matchy pillows and bedding that screams store catalog! And I'm sure you've seen enough matchy matchy crib bedding sets too!
To me matchy bedding and sets are a beautiful personal space's biggest nightmare! They take away the element of personal and box you in a category of colors and prints leaving you with a bed that looks right out of a catalog.
But how do you achieve that mixed but not matched, eclectic and cozy but not crazy, comfortable and dreamy but not bland look for your bed?
Here are my top styling tips for creating a bed that's not only comfortable and cozy but is reflective of your personal style.
1. Layering
If you live in California like me, this might be one of your favorite words and it doesn't just apply to clothes! The idea of layering your bed with different textiles is a great way to bring in bedding that can transition mild weather changes and also adds great visual interest.
Start with your favorite sheets…..you don't want to skimp here. Get the best sheets you can. 100% Cotton is best and while there is a confusing array of thread counts to choose from…I say feel the sheets and if they feel soft and comfortable to you go for it!
Next pick a duvet or a light/medium weight quilt for milder climates and reserve a heavy comforter for the winters. I love the idea of a duvet that can accommodate a lightweight insert for summers and you can switch to a heavier comforter insert for colder climes.
Pillows and throws are another way to add visual interest, color and pattern to your bed. I am personally not a fan of a sea of pillows waiting to be moved before you get comfy in bed. I prefer throwing a couple pillows in different sizes to draw the eye to an interesting color or pattern.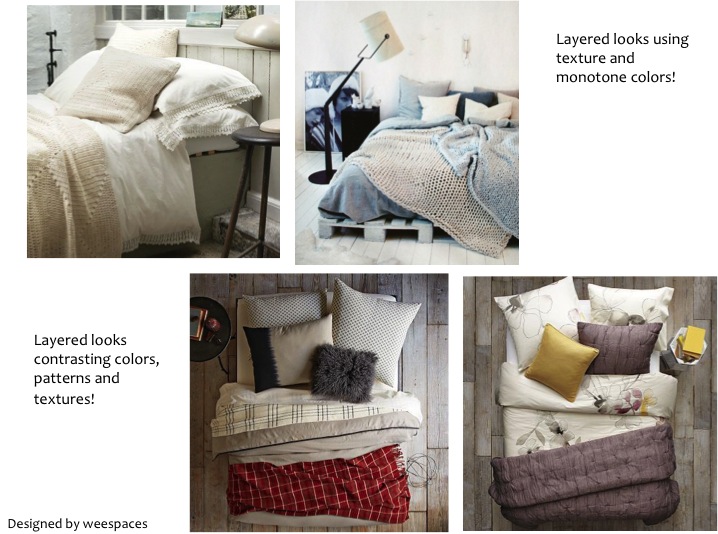 2. Mixing colors and pattern
One of the keys to creating a styled eclectic bed is finding the right mix of pattern and color.
When it comes to colors, it depends on the feel you want in your bedroom. Bold bright colors create a vibrant energetic space…think orange, fuschia, turquoise while softer colors create a more relaxing space like grays, blues, whites and greens. Whatever you choose keep in mind sticking to colors in the same family will help you create a more relaxed calming space while using colors that contrast or are opposites will create a more vibrant bold space.
Mixing patterns can be tricky. The easiest way to mix pattern is to stay within the same color family and use patterns of varying sizes. If you pick a sheet set in a small scale busy pattern, then pick a duvet in a large scale bold pattern.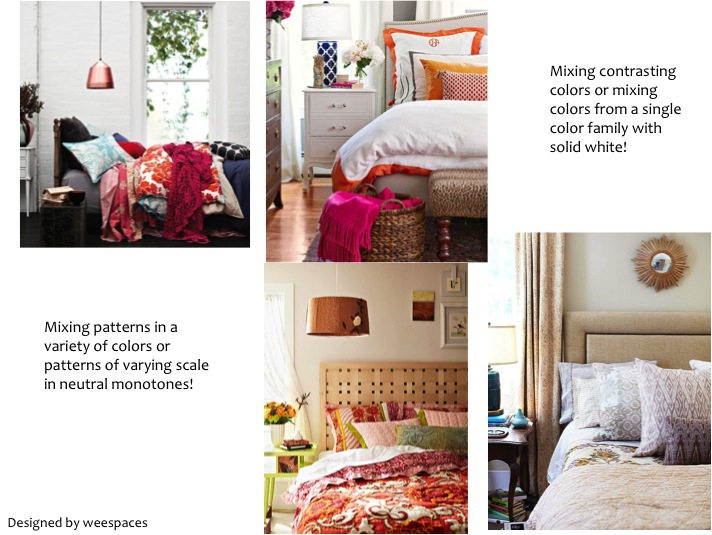 3. Comfort is Key
When creating or styling your bed keep in mind comfort is key. It's important to pick the right fabrics, right weight comforters and quilts and the right amount of layer to make sure you stay comfortable.
Its important to not have too many layers that add bulk like a fitted sheet, flat sheet, duvet, quilt and a throw on one bed. Not only can it be hard to maintain, it can also make for a rather uncomfortable sleeping experience. So find the right mix that works for you.
Similarly while a beautiful vintage throw can add that drama to your bed, coupled with a bunch of throw pillows and a coverlet, it can make for a rather painful process of making your bed every morning!
So keep it simple. A few pieces that are easy to play around with and create a bed that looks great and is easy to make.
4. When in doubt
Lastly when in doubt, here are a few tips for that never go wrong fail proof look!
– White sheets – You can never go wrong with a set of crisp white cotton sheets! Or a neutral shade of gray or linen! They act as the perfect canvas for that bold patterned duvet or that vintage quilt.
– Solid sheets and patterned duvet/comforter or patterned sheets and solid duvet/comforter are safer ways to bring in pattern without overwhelming the space.
– Stick with colors closer to each other to create a calming relaxed look and use texture to define your bedding layers.
– Bring in colors that contrast with different patterns to create a bold eclectic look. Unify through similar scale patterns and texture.