Design on a budget – One Room Two Budgets!
Created by Vinithra Amarnathan on August 19, 2015
One of the most common things I hear from clients is…'I have a tight budget or don't have much to spend!'
And I say you can still have a chic beautiful space!
So today's post is dedicated to creating a beautiful living room – on 2 budgets!
Room 1 – Budget Rs.50000
Lets say Rs.50000 is all you have to spend on your living room. What can it get you?
Here's a living room designed on a budget of Rs.50000. (Pardon me for not accounting for taxes, VAT and sales going away or coupons ending….I never said I'm good at accounting :))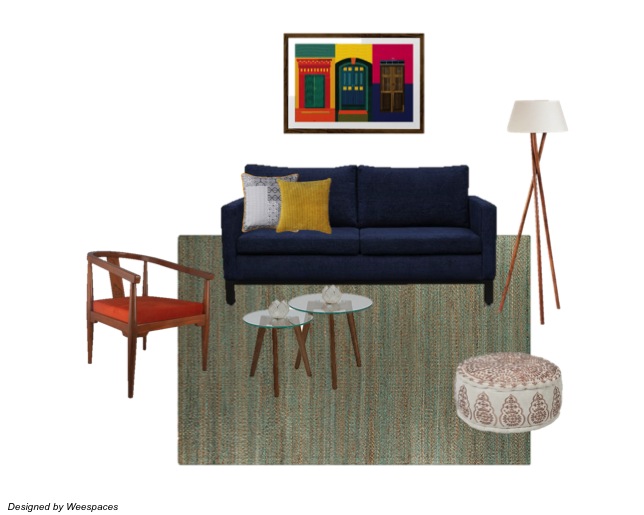 Shopping List (click on item to buy)
Sofa – Rs. 20,719
Chair – Rs. 5600
Rug – Rs. 4000
Nesting Tables – Rs. 5000
Pouf – Rs. 2800
Floor Lamp – Rs. 7600
Wall Art – Rs. 2795
Throw Pillow 1 – Rs. 300
Throw Pillow 2 – Rs. 150
Grand Total – Rs. 48,964
Room 2 – Budget Rs.100,000
A budget of Rs. 100,000 to spend on your living room….Here's what it can look like!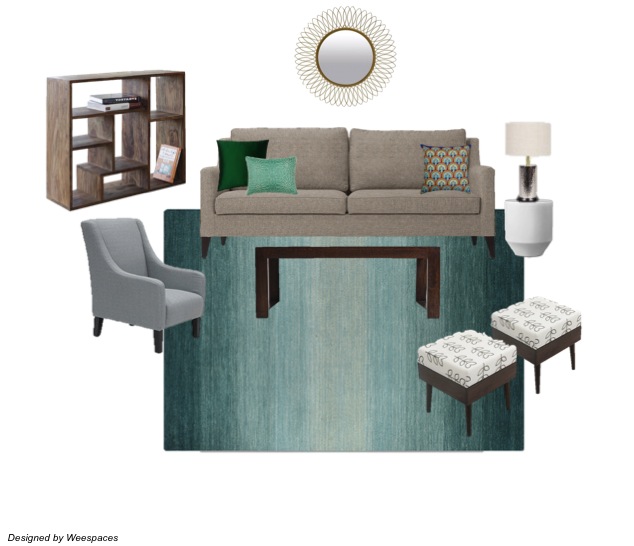 Shopping List (click on item to buy)
Sofa – Rs. 43,000
Chair – Rs. 14,000
Rug – Rs. 7500
Stools – Rs. 5000 (2)
Coffee Table – Rs. 5000
Shelving unit – Rs.8400
Side Table – Rs. 6000
Table Lamp – Rs. 3800
Mirror – Rs. 2490
Throw Pillow 1 – Rs. 300
Throw Pillow 2 – Rs. 900
Throw Pillow 3 – Rs. 600
Grand Total – Rs. 96,990
It IS possible to design a beautiful space on a tight budget and still make it look chic! We can make it happen☺