Splurge or Save!
Created by Vinithra Amarnathan on September 29, 2015
One of the biggest dilemmas of working within a budget is what to spend on and where to save! More often than not I see a space created with sub optimal use of resources and one that could have looked far better for the money spent.
So here are my tips on what to splurge on and what to save on!
Splurge
Sofa – Always always consider buying the best sofa / couch your money can buy! It's a key piece in defining your living space and your style. Also it will likely be the most used piece of furniture and you want one that's not only comfortable and classy, but also one that has great bones!
A Statement Piece – Oversized art, that beautiful chandelier, the silk upholstered accent chair…make room for at least one such statement piece in your space! They bring in the wow factor and make things stand out! Like they say go bold or go home 🙂
Mattress & Sheets – We spend a third of our life sleeping…it only makes sense to splurge on the most used item in your home! Buy the best mattress your money can buy and the best sheets your money can buy. Simple white sheets softest to touch when in doubt 🙂
Dining table – A solid functional table can live for years and double up as a work space, spot for kids to work on, long family gatherings and chatter!
Save
Rugs – Area rugs are predominantly a decorative accessory and while there's a place for that beautiful oriental silk carpet or a vintage beni ourain…..rugs in family spaces tend to wear out in a few years. Here is something you want to save on…what with all the beautiful budget options these days – dhurries, cotton flatweaves and beautiful outdoor rugs!
Accessories – This is a great place to save and still be on trend! Pillow covers, throws, curios /objets de art are a great way to bring in new color, trends and an element of change to a space.
Small furniture – Save on the less used accent furniture like the side tables, accent chairs, shelving units and task lighting! These are pieces where it is form over function…and with the choices available you wont have to look too far.
Hardware – Drapery fittings, faucets, cabinet handles, door knobs are all areas to save. There are numerous budget options that are great on the eye to pick from. I might even go a step further and say tiles and simple cabinets are also areas where you can save!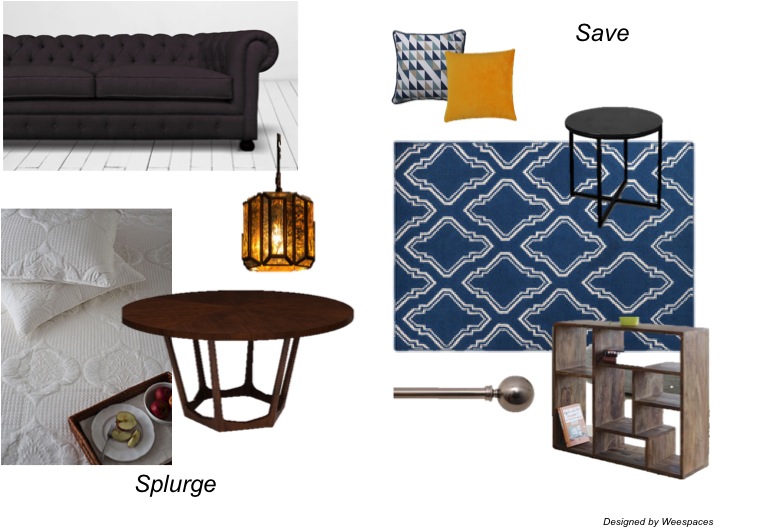 Happy decorating 🙂