The making of a home out west – My first full scale outstation project!
Created by Vinithra Amarnathan on October 25, 2018
We started somewhere in April with a very aggressive move in date of May 27th! I shuddered, then took a leap of faith….and jumped right in!
Did we make it on May 27th? No. Of course not!
Did we build a beautiful home? Yes, of course ☺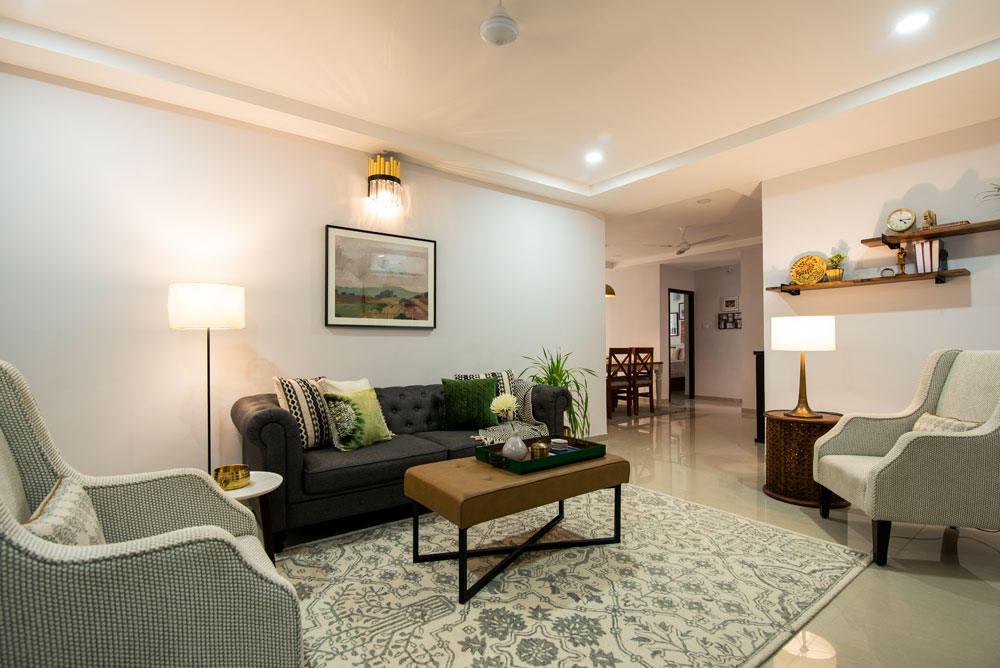 I wondered if I should take the usual route of blogging in detail about my projects like I have in the past or take a simpler crisper route of sharing new pictures to the portfolio!
But hell…what about the stories! And the details and the people and the fun of the process! So here we go ☺
P.S. If you want to see pics, I promise I wont disappoint you'll 😉
We had a unique situation where my clients were living abroad and when they approached me it was to bring together this home for their parents who were leaving their own ancestral home in kerala behind to move to this newly purchased apartment in Coimbatore! So we had my clients who wanted a modern updated feel to the space but then their parents who wanted to live in a space that was also relatable to their sentiments.
And it was a tough journey with so many diverging points of view and a whole lot of back and forth on almost every other decision we made. But in the end when I walk into the home, I see a little bit of everyone!
When we started the house was already under civil work to take in the balcony area in the dining and one of the bedrooms and small extension of the wall to expand the kitchen! Here's a detailed walk through of the home.
Kitchen
As we started the kitchen was broken down to expand it from a very narrow U shaped kitchen to a larger kitchen with an equal space on the other side, giving it some much needed room!
Our effort in the kitchen was to create a separate wet and dry side and give it a clean modern uninterrupted look! The layout has the sink, worktop and cooktop on one side and the additional storage, refrigerator, pantry and worktop for coffee etc on the other. We were also lucky to have a fair sized utility that hosts a double sink and the laundry area with a tall unit to hold all the mops and brooms.
One of the things we did differently in this kitchen was to use metal fabricated shutters in powder coated black with glass to bring that clean modern look and a light warm wood tone laminate to complement the sharpness of it. The tile is a glossy beveled white to keep the palette clean and simple but striking! We added a blockprint valance and a graphic rug for some interest.
Before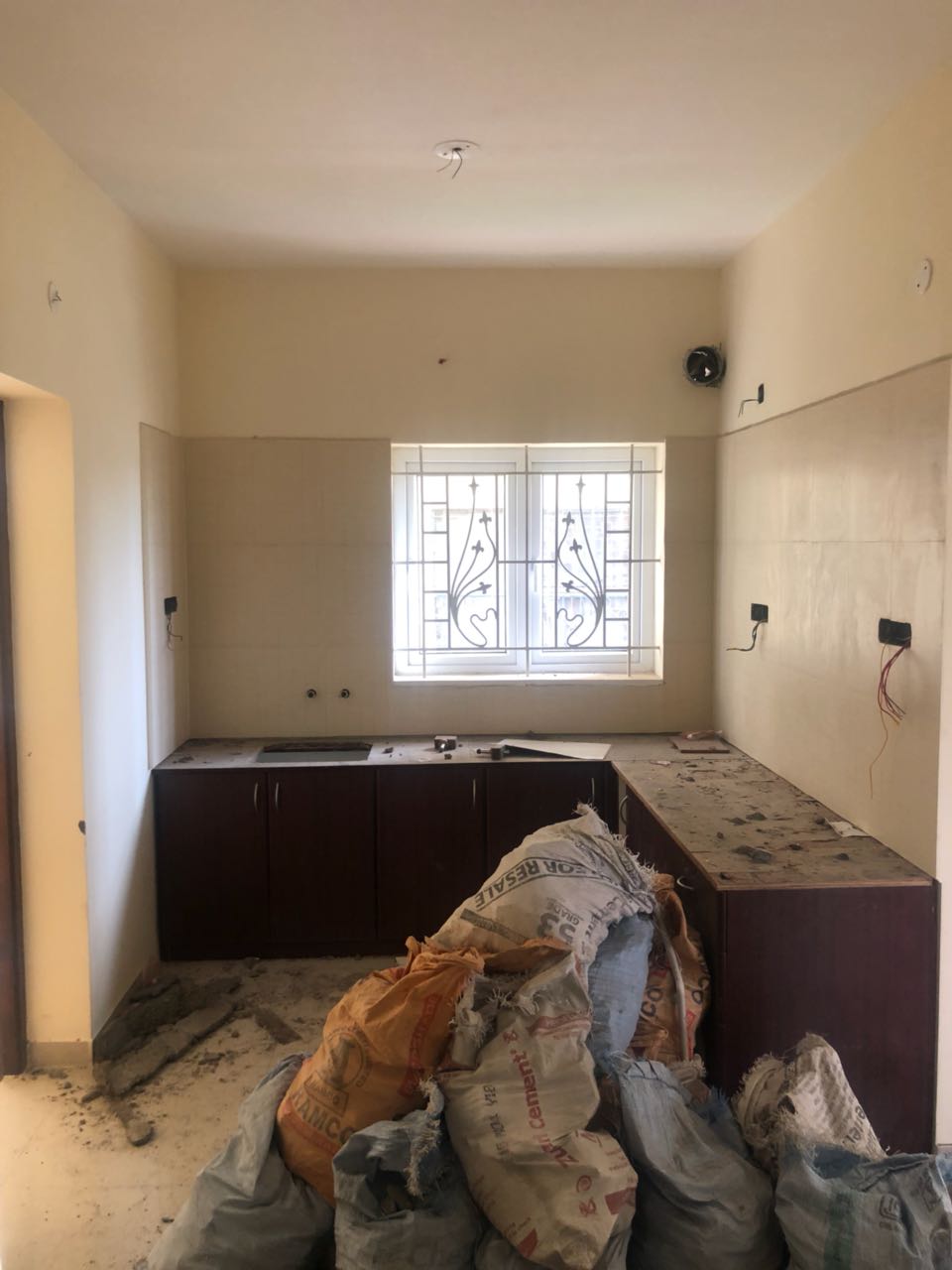 After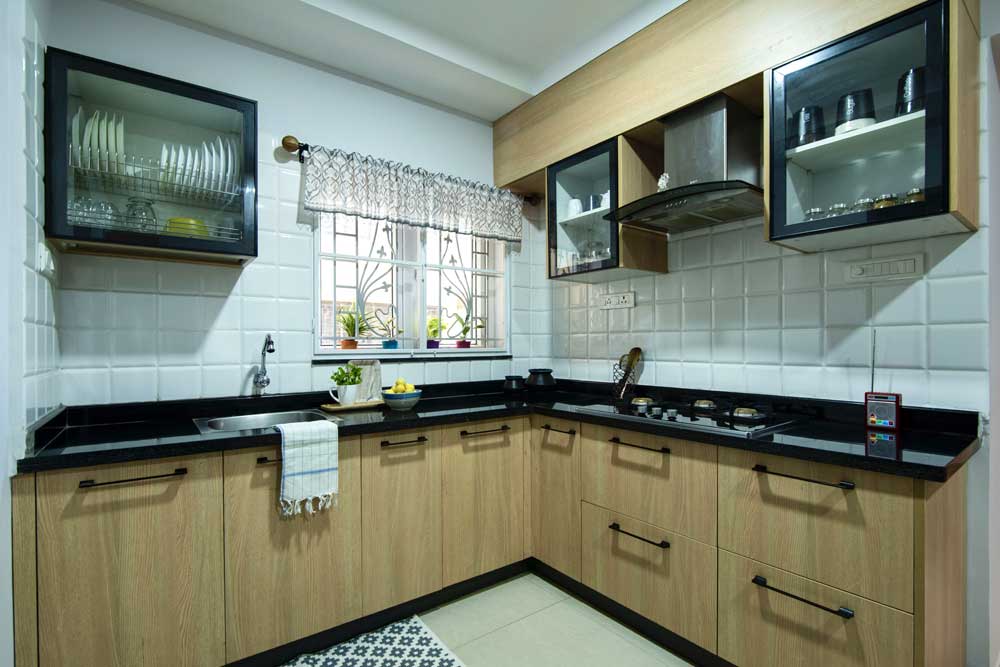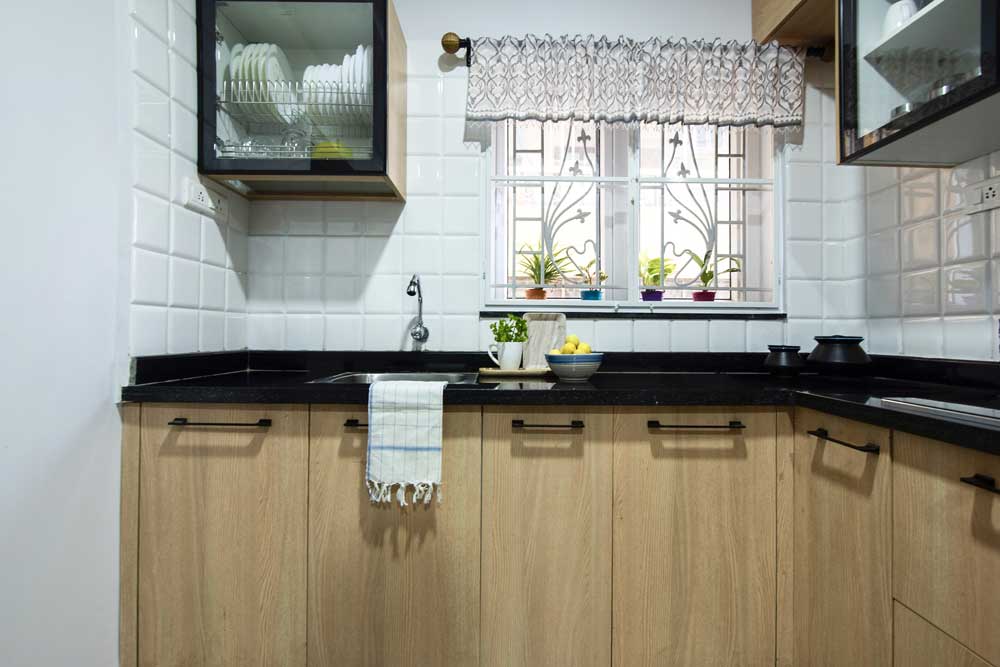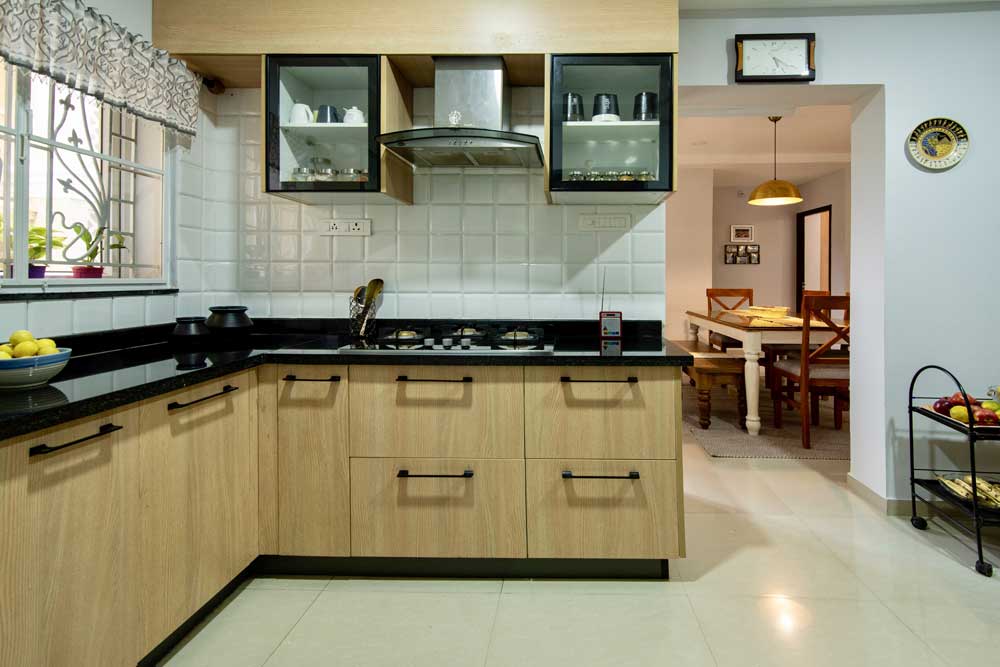 Living
This was such a tight and difficult space to design. We had no natural light with just one small window that has no view really and a very small entryway before we walk directly into the living.
The entryway has a beautiful ethnic Kerala painting anchored by a simple natural wood console.
Entryway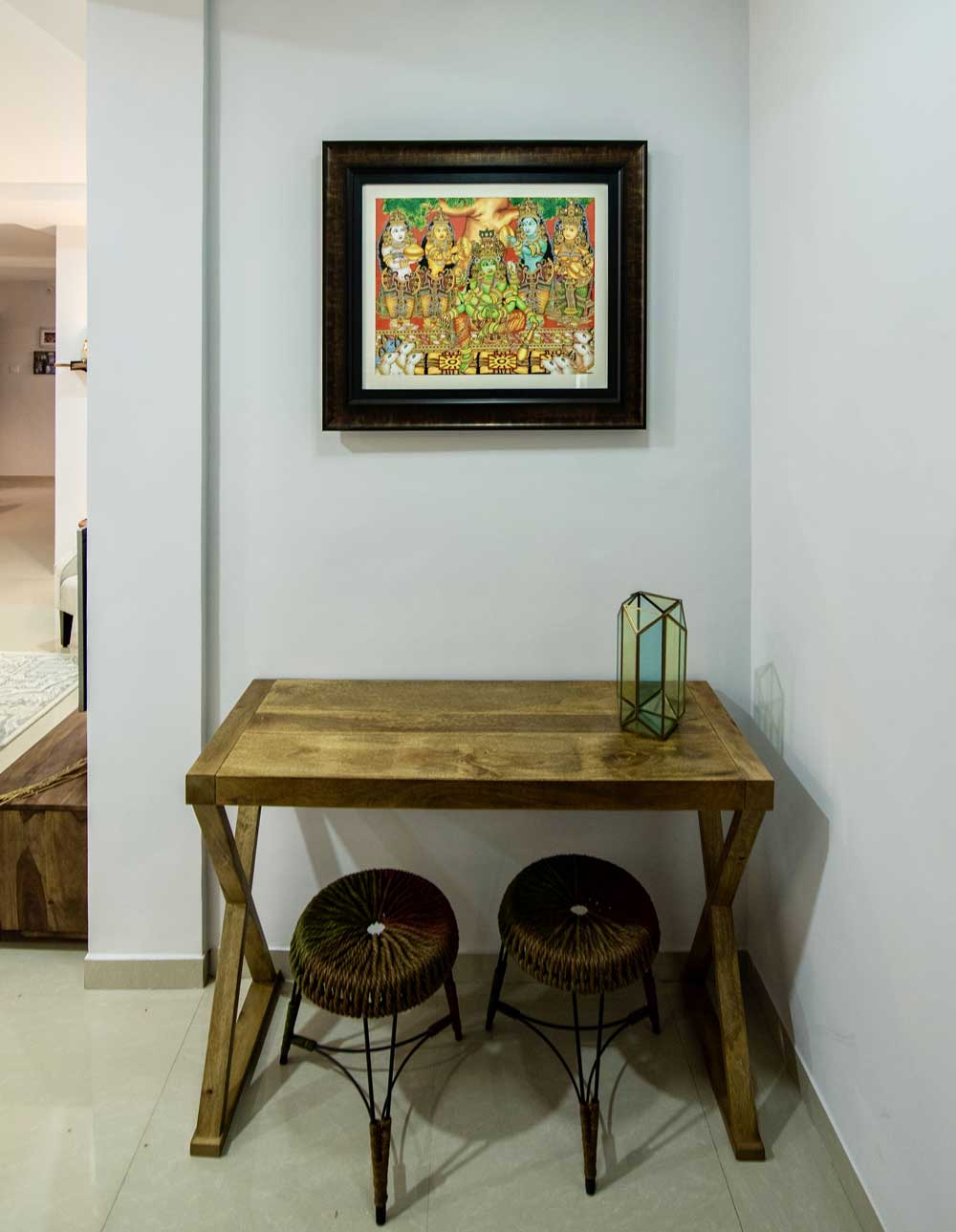 In the living area we kept the colors very clean and the palette was ivory and muted grays with a pop of emerald that we added later. We kept the furniture fewer and full sized to give the space a larger feel. The fabric chesterfield adds a hint of vintage to the modern farmhouse feel and is complemented by two custom made wing chairs in ivory.
Before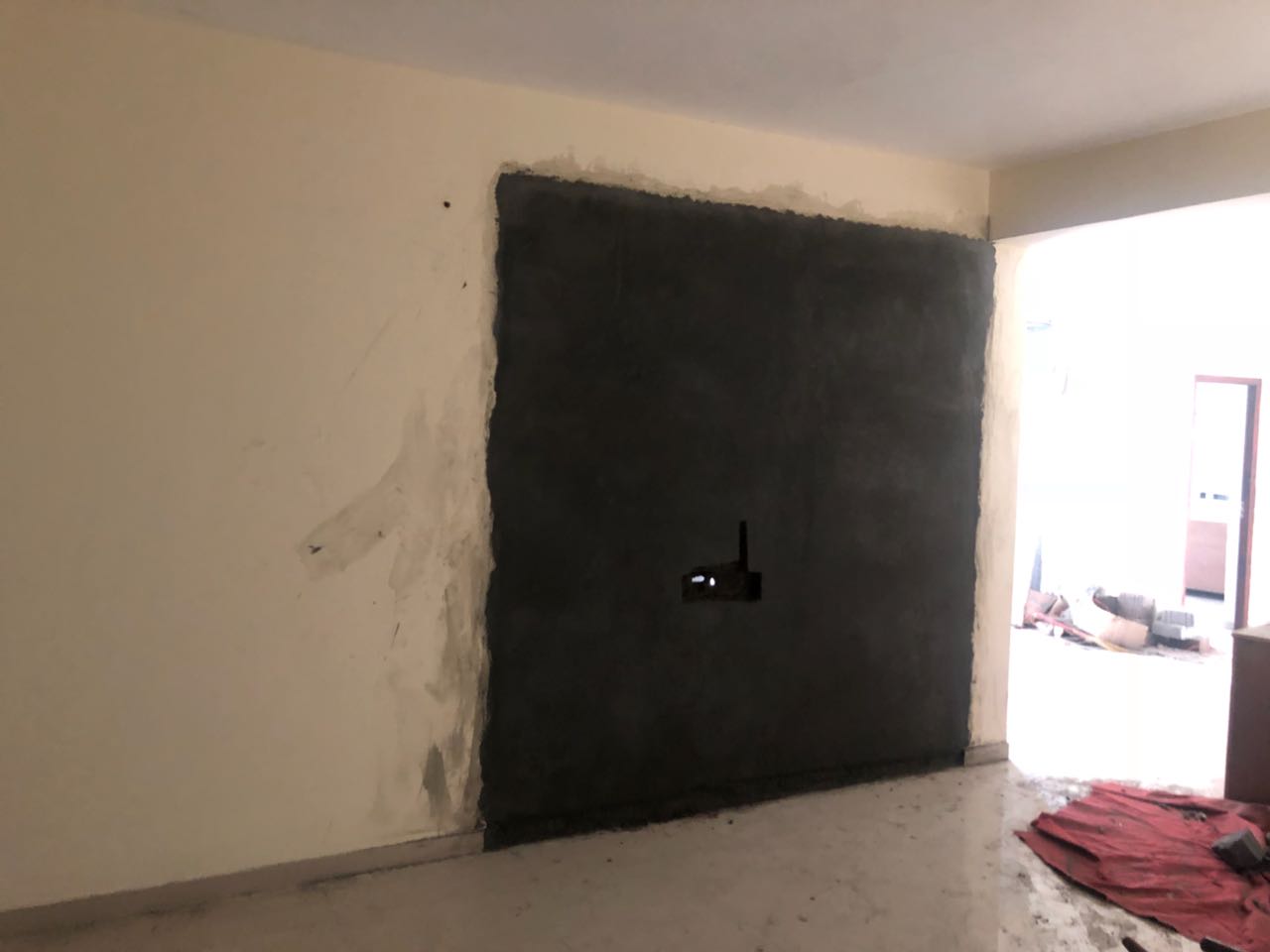 After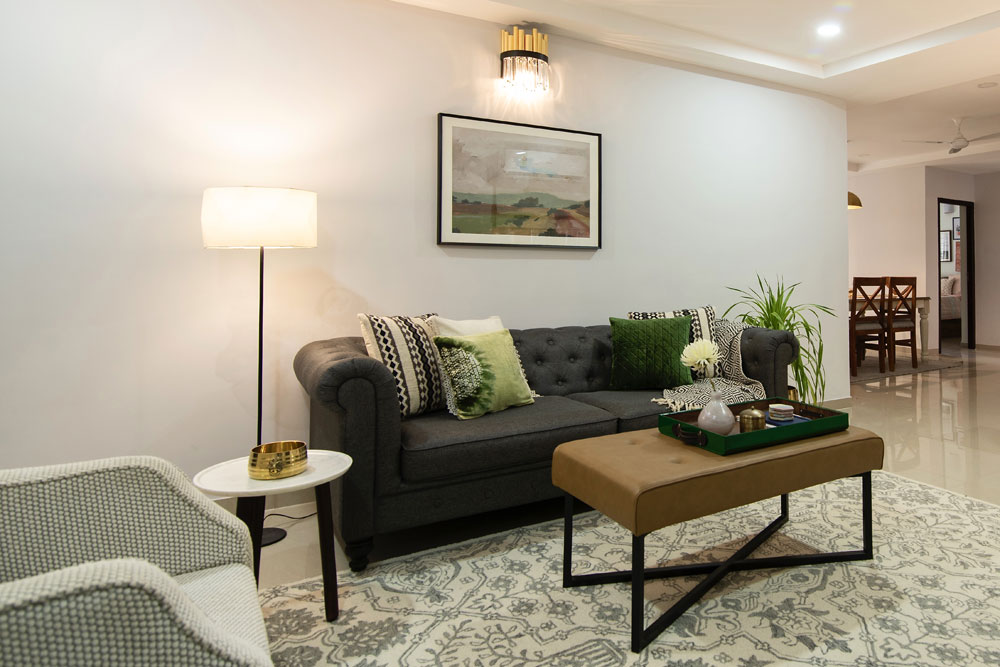 Lighting in this space was crucial because it didn't have much natural light on its own. So we added a false ceiling to create recessed lighting and some beautiful vintage inspired wall lights that add so much drama to the space!
The brass flute lamp is another piece that adds to the vintage charm of the space but has a classic streamlined shape that works beautifully!
Before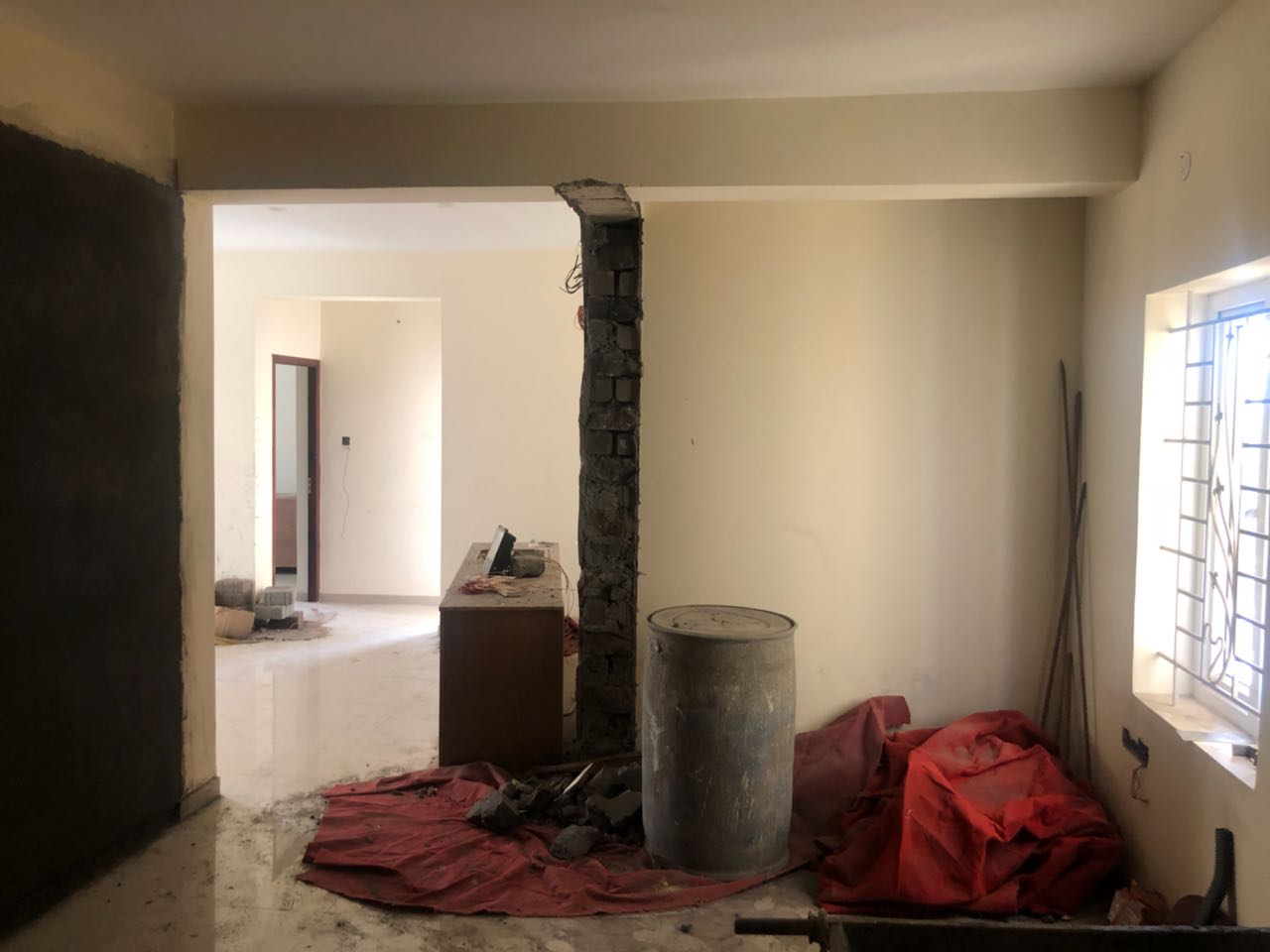 After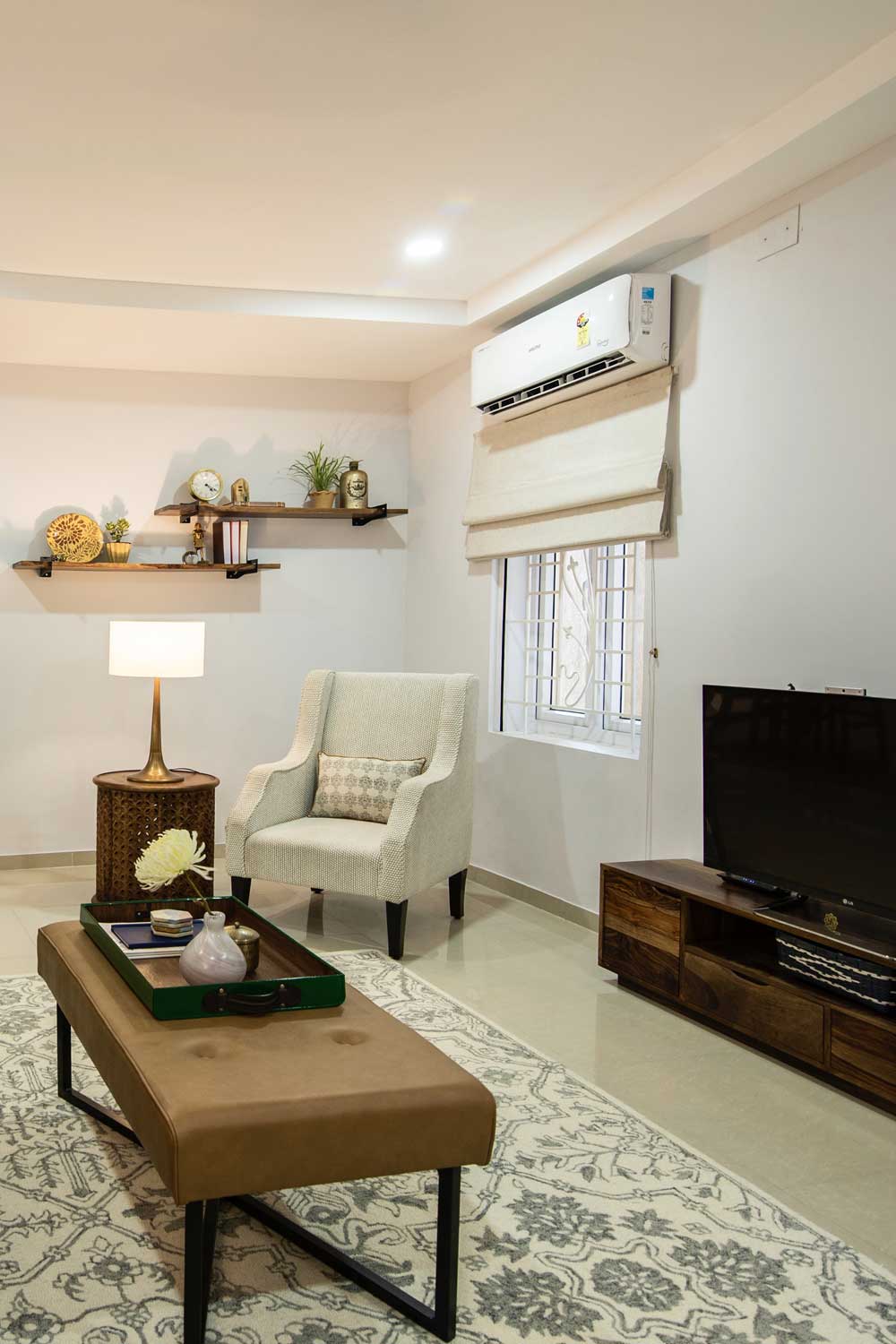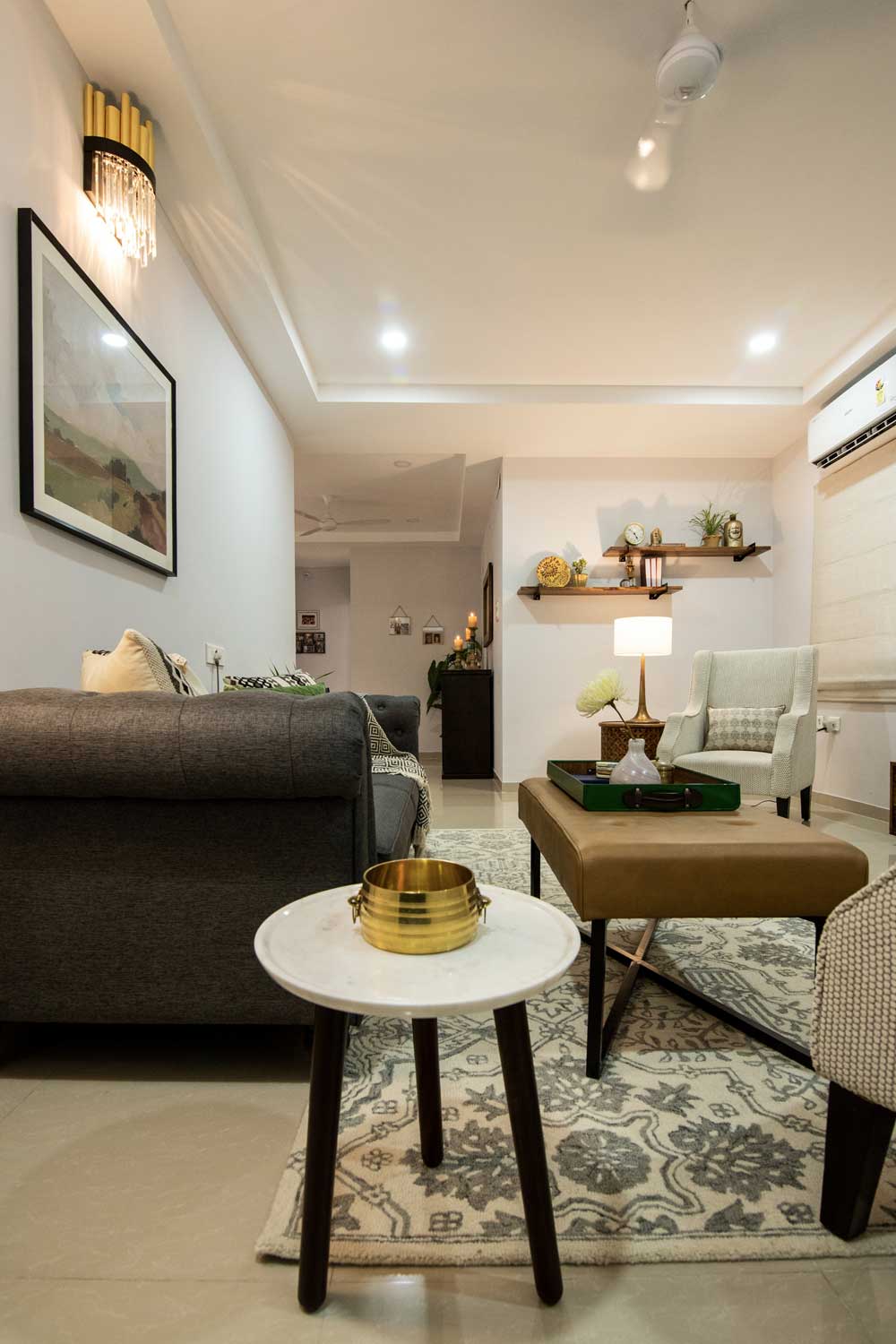 Lets talk about the rug! Striking yet simple, the intricate pattern is so beautiful and adds so much charm to this space, completely pulling the space together. A modern take on a Persian rug, this has to be one of my favorite pieces in the room!
And my other favorite is the lovely landscape art! It has a simple abstract modern feel but the pastel shades balance the muted palette of the room so well….hands down makes the whole room come alive ☺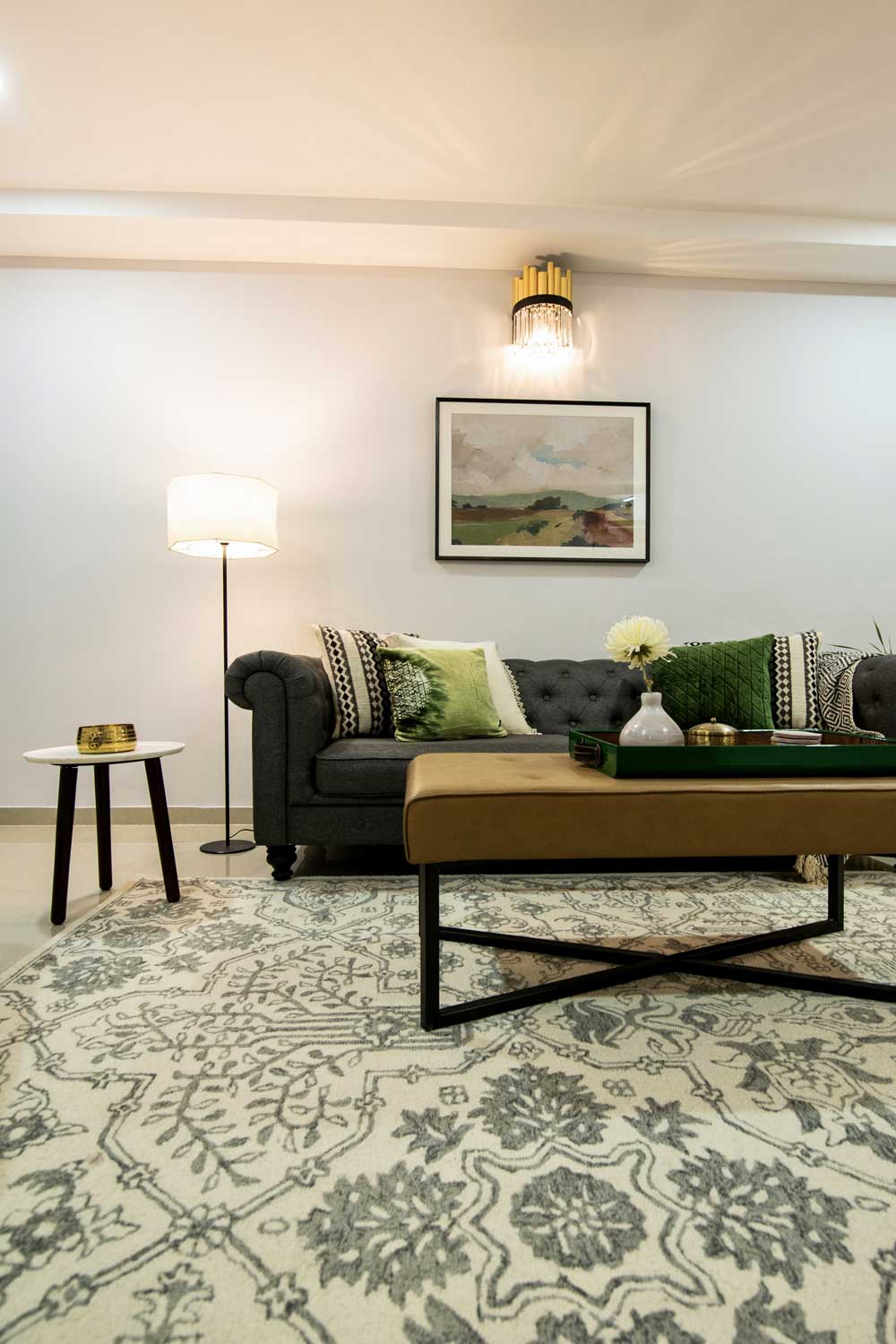 We added a marble top table on one side and a beautiful wood lattice table on the other. A sleek leather top ottoman on a metal frame rounds off the space beautifully! We also added some wall shelves on the wall behind the chair and their horizontal length visually extends the wall and adds height!
An emerald enamel tray with leather straps and some pillows in black, white and grays with pops of emerald bring in some color. I also loved adding small hints of brass through the entire space from the large traditional kerala lamp, to the lighting to the planter!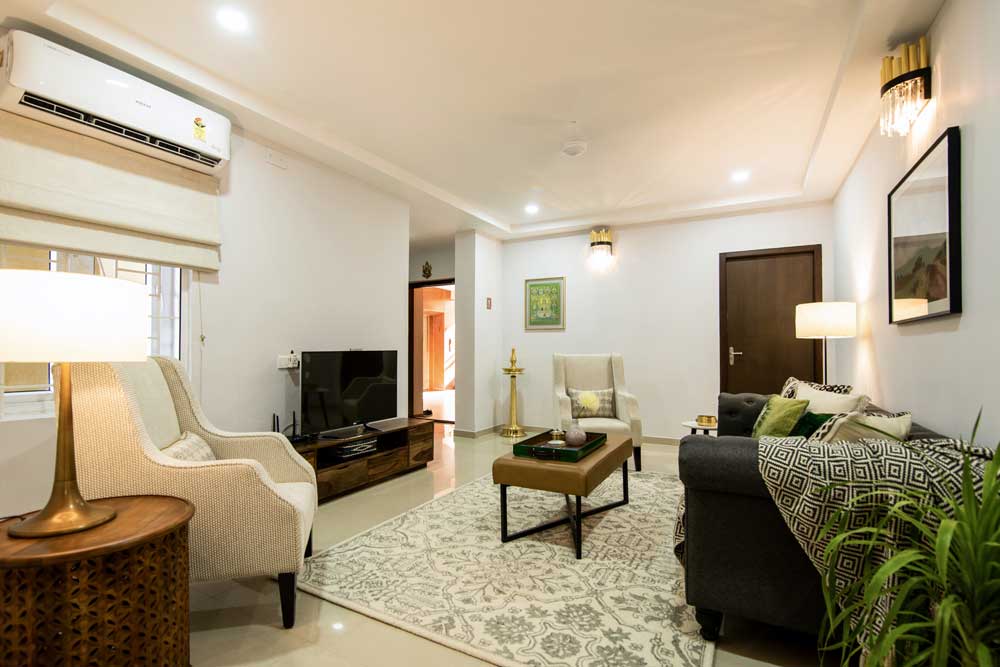 Dining
We knew we wanted a wood table reminiscent of a farmhouse table and comfortable chairs and a bench for this area. But we all loved the contrast of having white legs against warm wood and we custom made this simple modern farmhouse dining table with a teak finish top and white legs. Simple cross back chairs with a gray upholstered seat and a bench complements it beautifully.
One of my favorite elements in this space is the brass pendant over the dining table that's simple and also ties together with the brass accents in the living space!
Before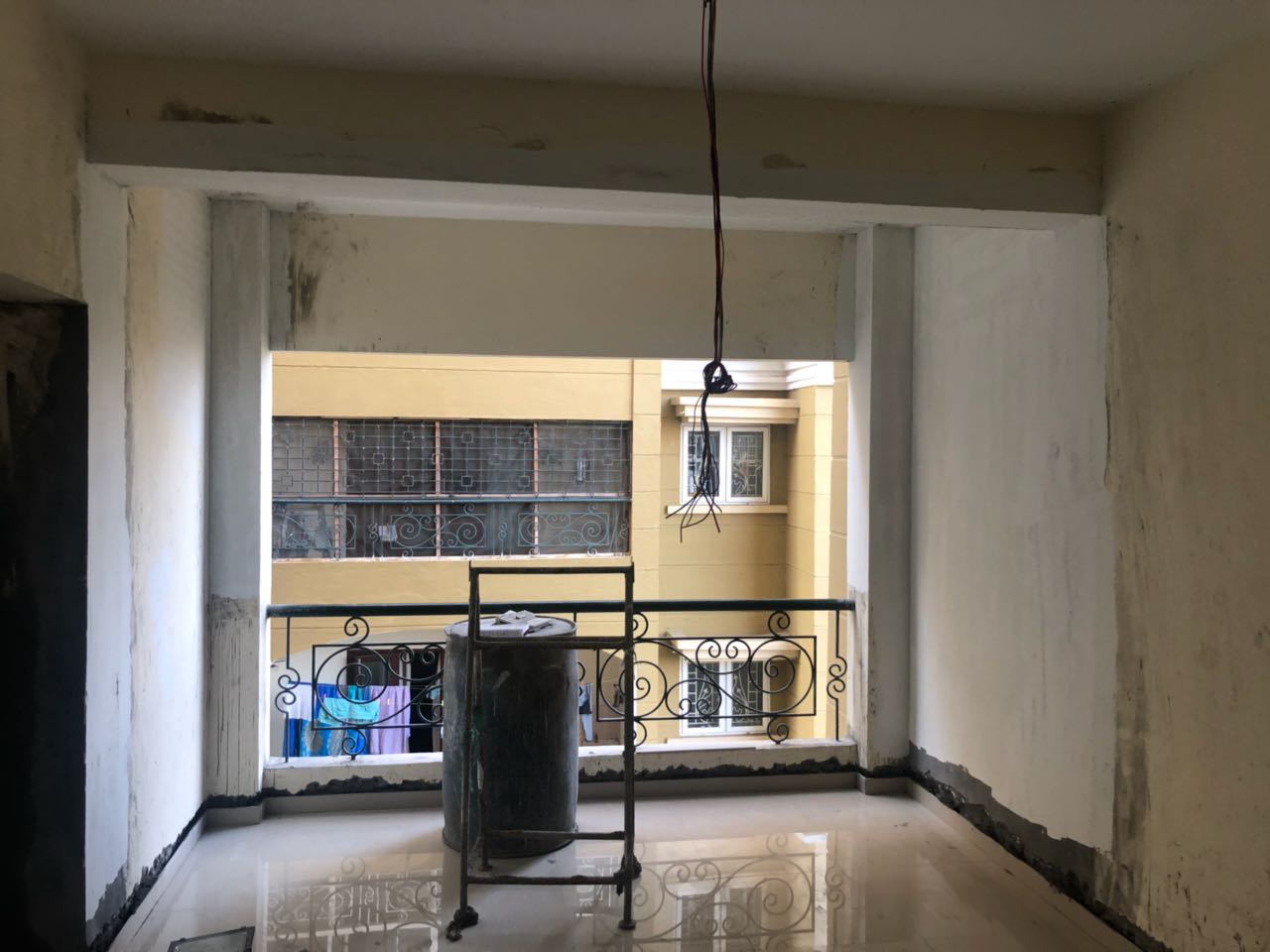 After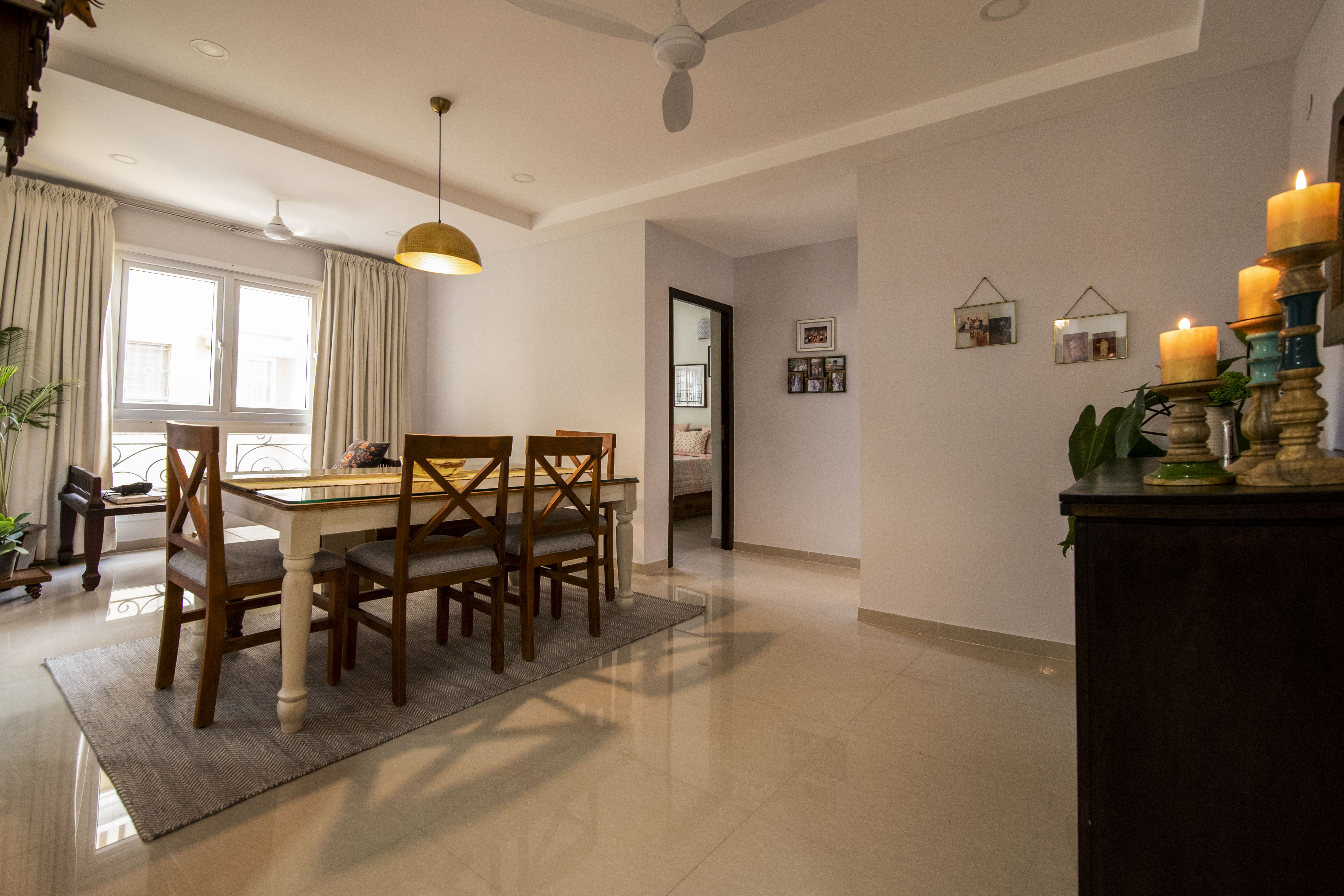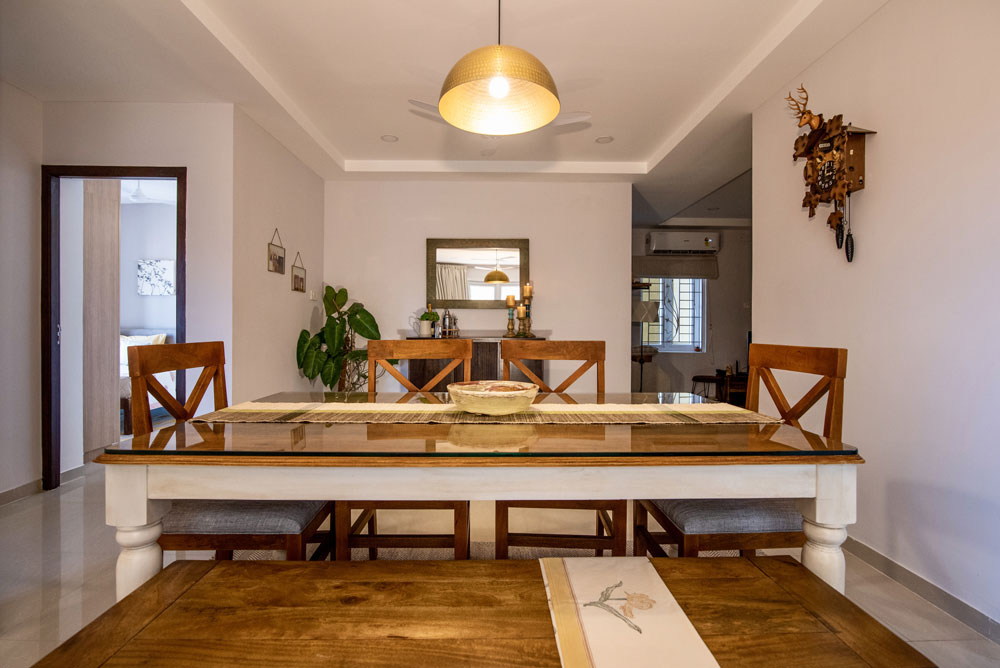 We knew we wanted to add a bar in this space and we wanted to originally build a custom bar that unfortunately couldn't be made possible because this being an outstation project we were dependent on others for execution and I wish this had turned out differently ☹
We made do with a bar unit in dark wood which makes for a good contrast to the medium wood tones and sets apart the space beautifully! A large mirror with a carved green frame anchors this bar. We added some family photos and a brass frames with old photographs for a vintage feel.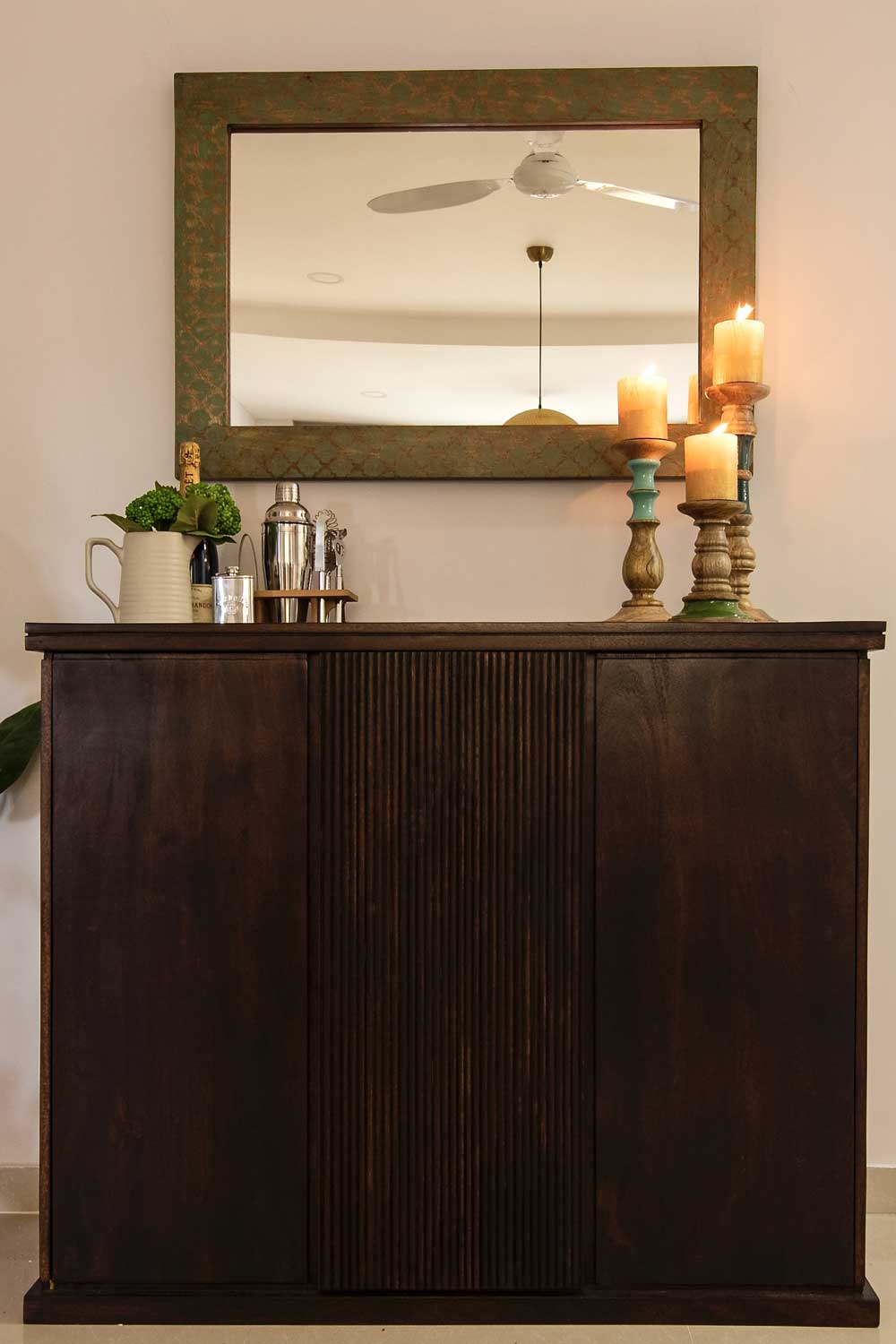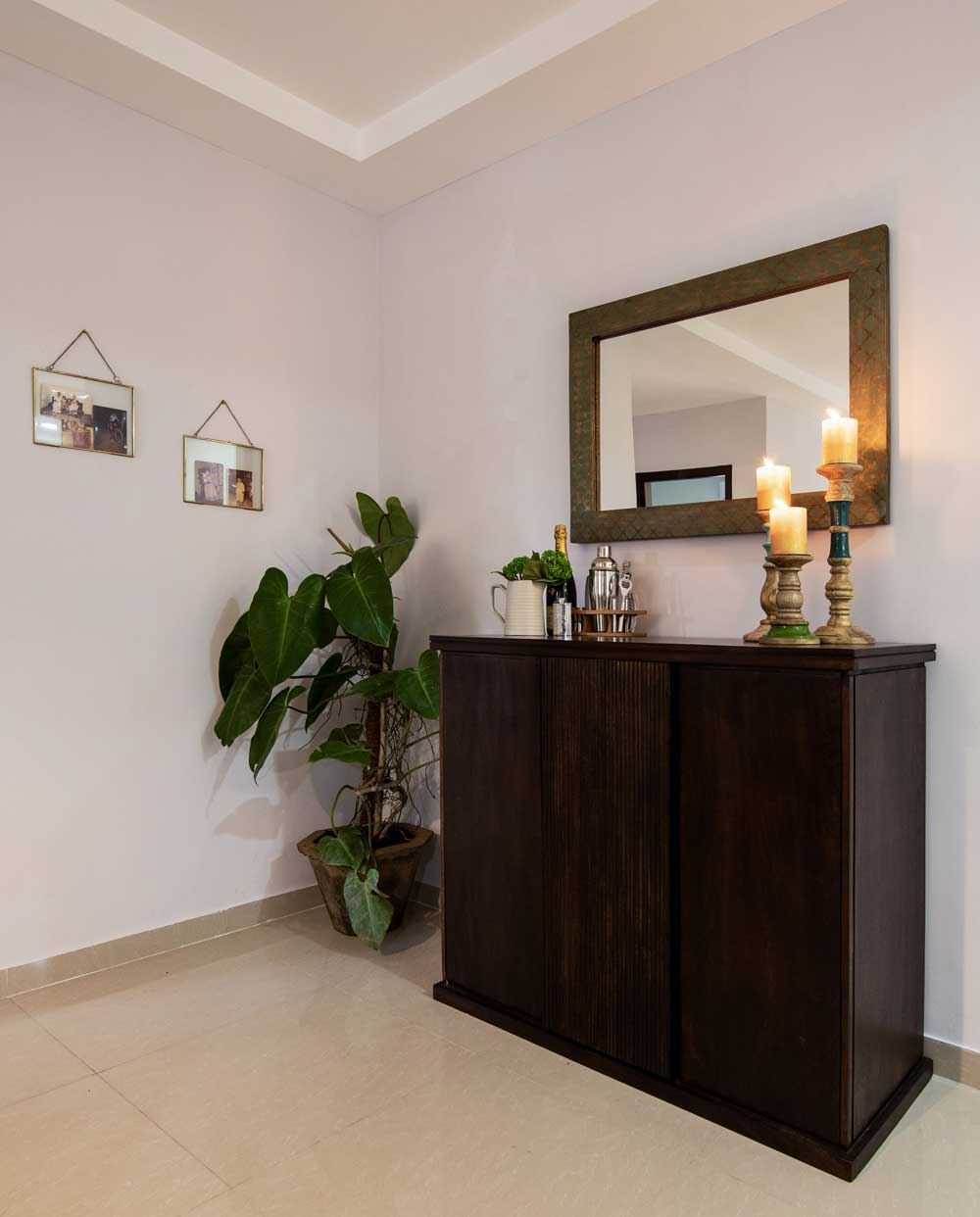 On the far end of the room we have an antique cane woven daybed that's a family heirloom and adds so much charm and character to this entire space. Perfect for a family gathering and entertaining!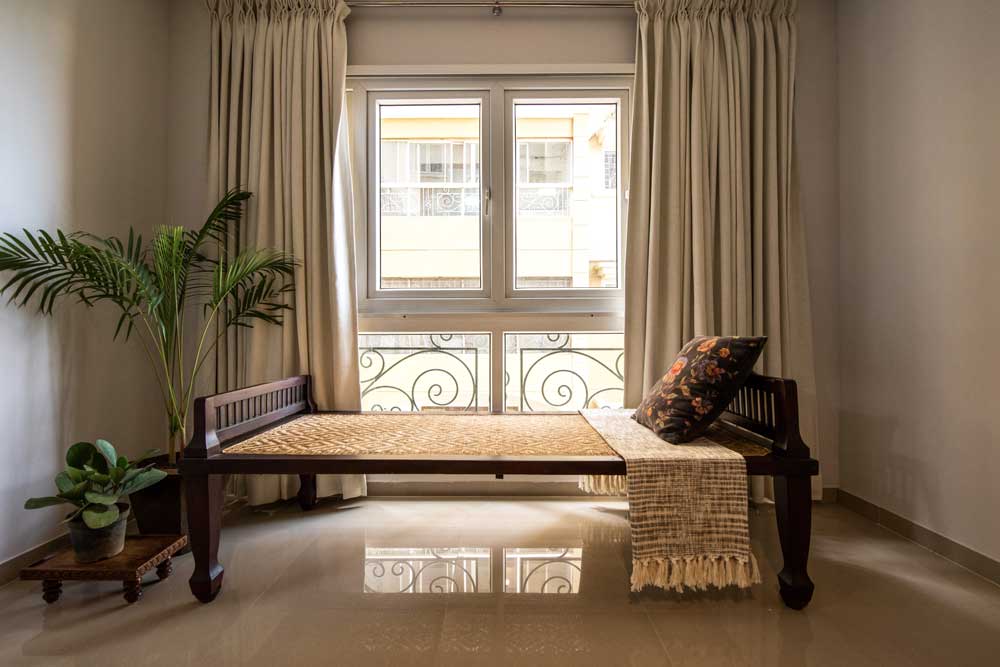 Master
This bedroom was to be the parents room so we wanted to have a large comfortable king bed. We had the king bed custom made with storage and in a dark mahogany color. The bed is high and comfortable with a tall backrest. I added marble top nightstands to cut the dark wood tones in the room. The wall light fixtures are also marble and the little lotus lamps though not too big add a little vintage ethnic charm to the nightstands that I thought the parents would appreciate.
The wardrobes are a rich tone of walnut and we added a simple desk and chair next to the window.
We chose a pastel blue paint to complement the deep browns and mahogany tones in the space and kept the rest of the décor like bed linens etc light and simple in tones of beige and pastel blue.
I love the vintage bird prints we added above the headboard!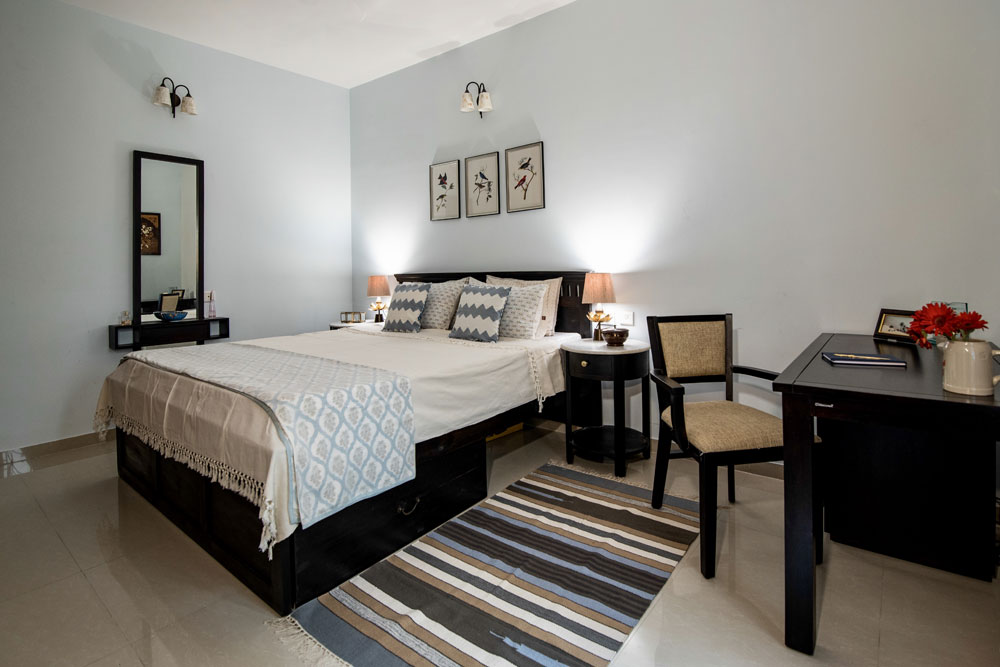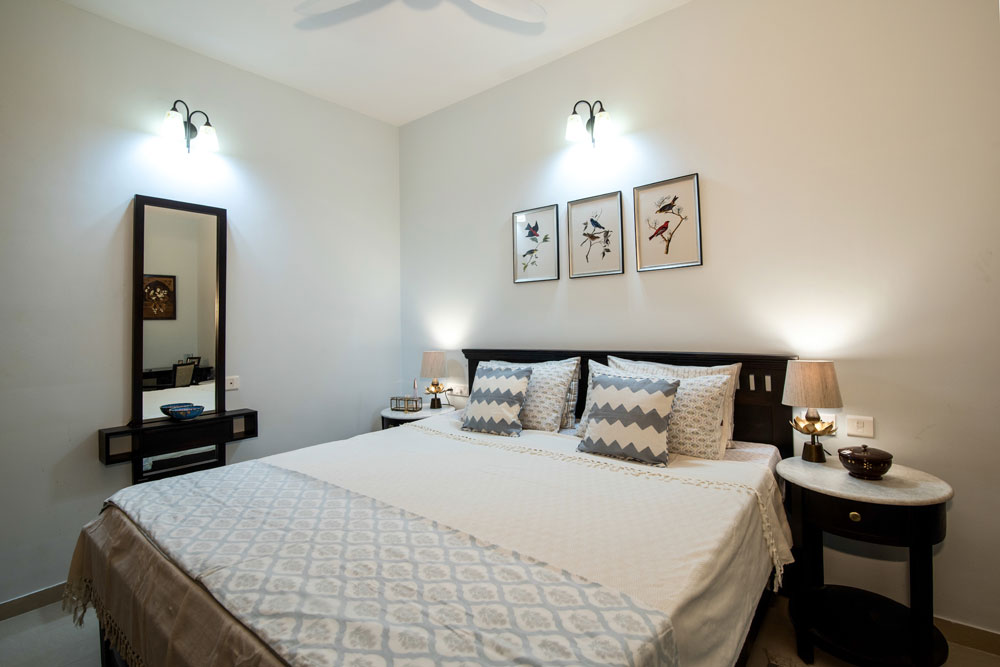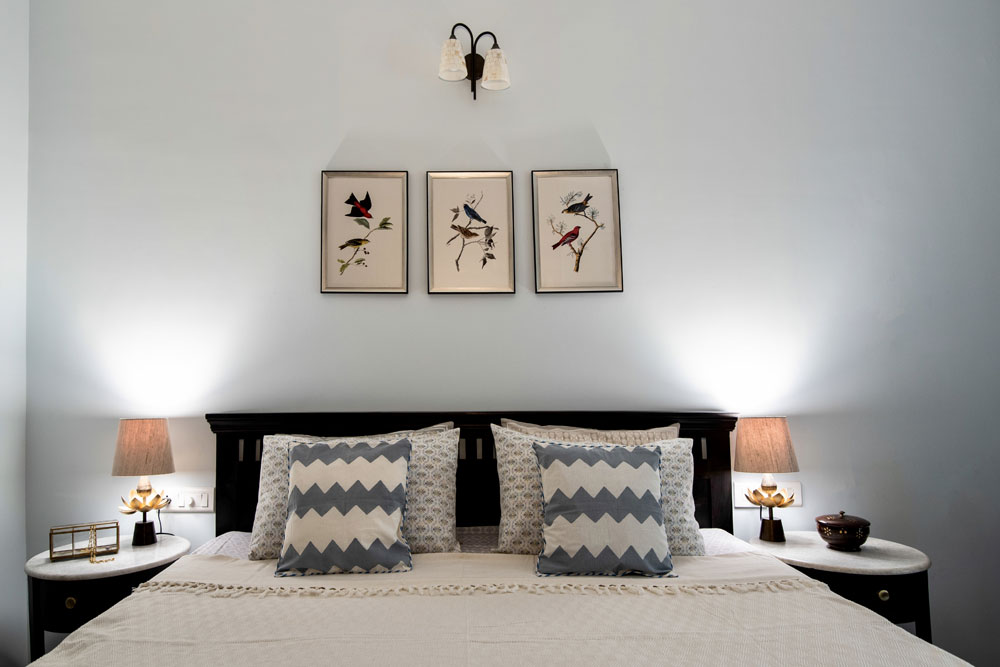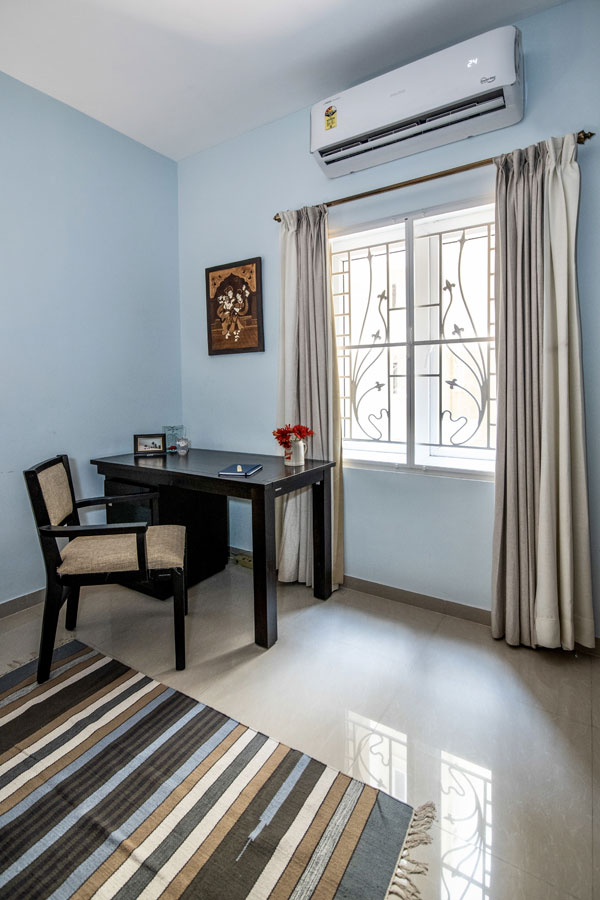 Guest Room 1
This was the smallest room in the apartment and though it was a tight space it had good natural light from a large window. We kept the wardrobes white here to keep the space feeling light and bright. The light wood handles are a simple but striking addition. The bed is a storage bed in teak finish that we custom made and is just right for the space.
The sage green pastel paint and the embroidered curtains are beautiful elements that elevate this little space to something else.
I love the earthy yet light feel of this bedroom. We used simple bedding in stripes offset by a block print cotton quilt and blush pillows. The art is a lovely composition of pinks and green and the small gallery wall adds so much interest to this small space!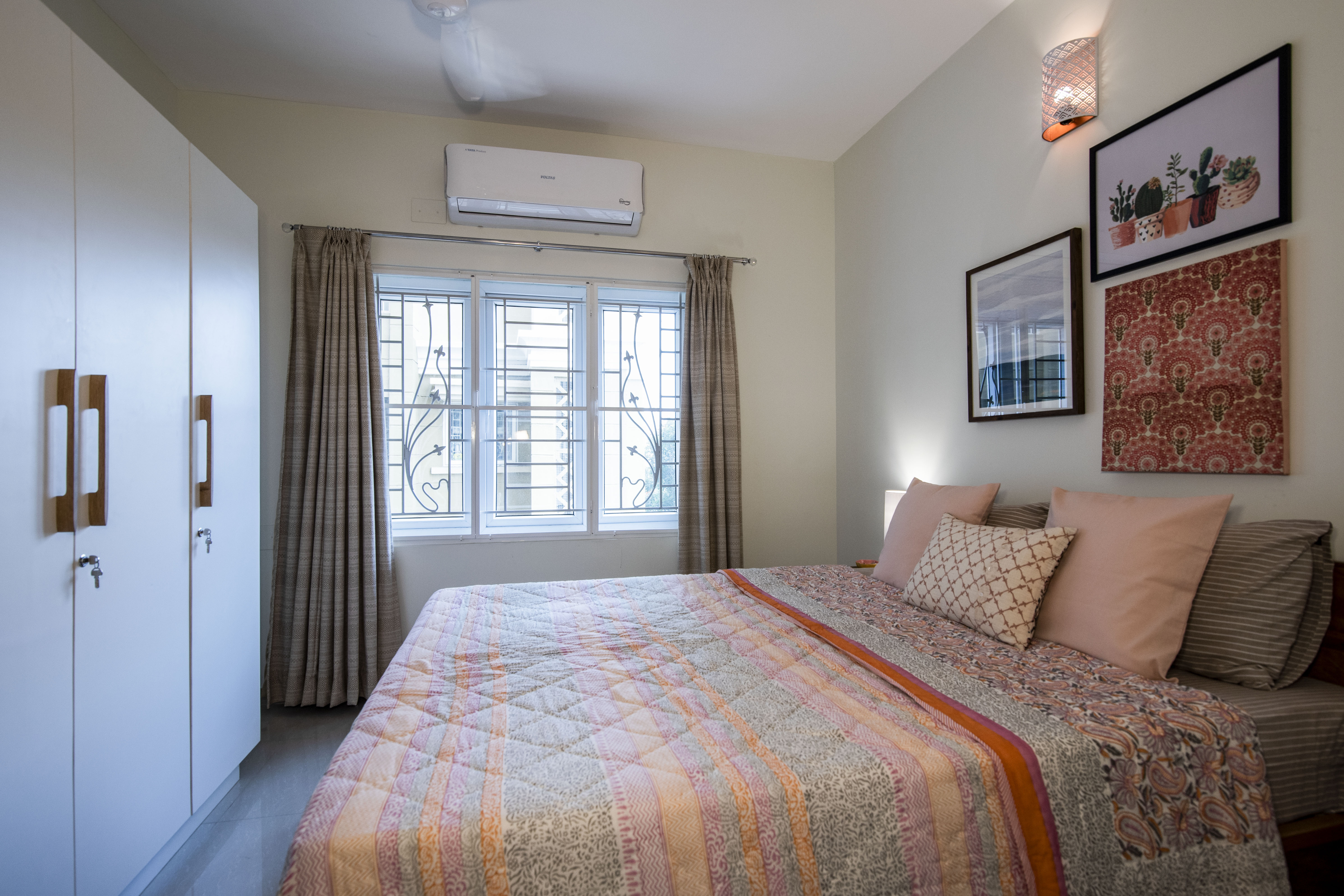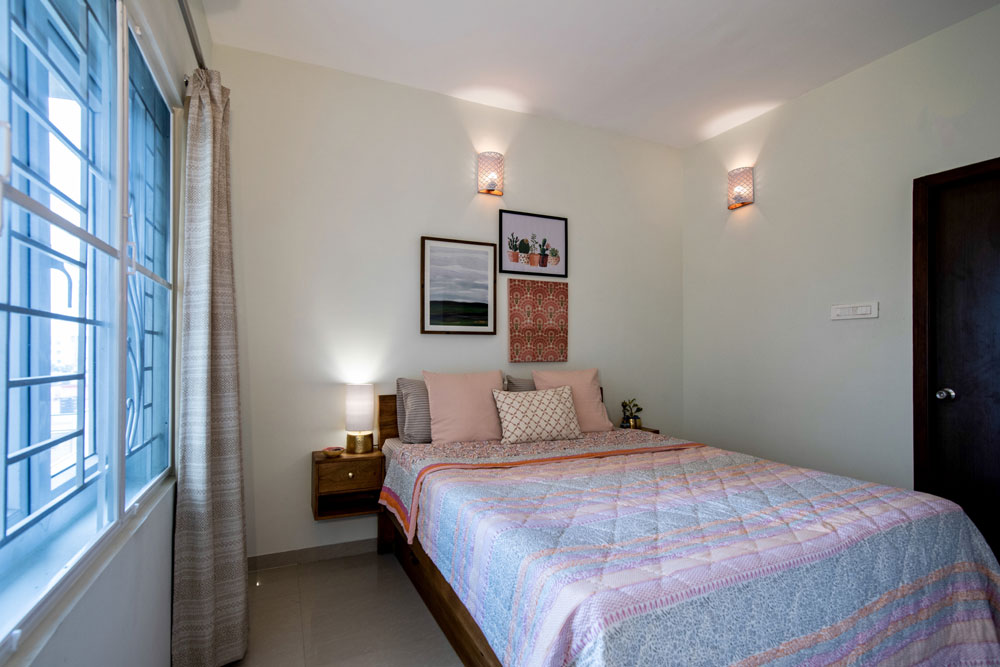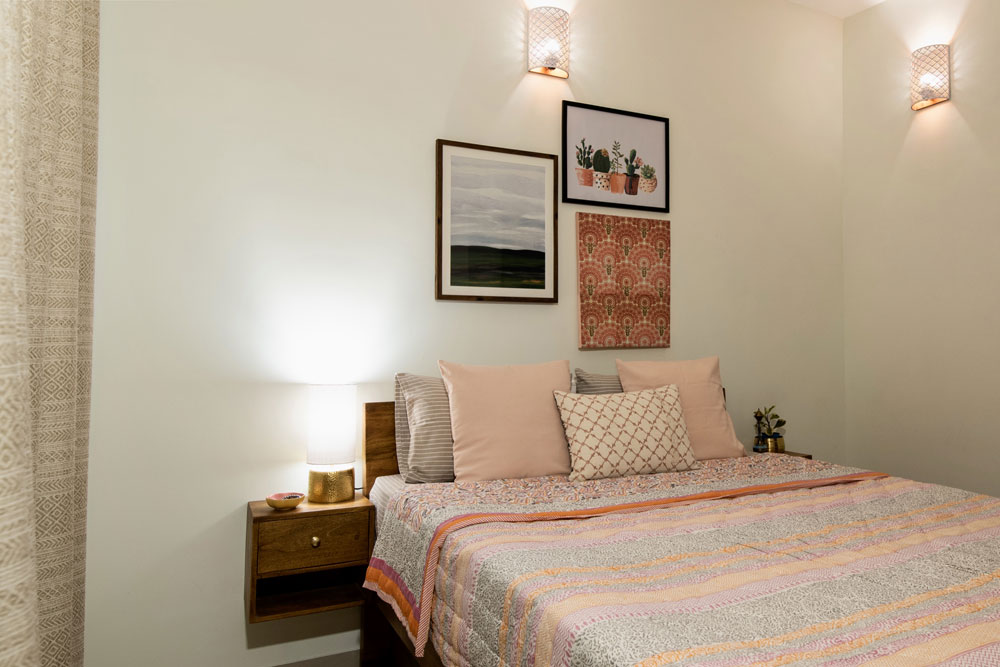 Guest Room 2
This was one of the larger rooms and has the more modern vibe that my clients were after and as you see this space distinctly stands out in its look and feel yet not so that it doesn't fit in with the rest of the home.
Working with a predominantly gray and mustard palette, we did an upholstered gray bed and painted the wall behind the headboard a shade darker in gray. The room being tight, we were left with little space after a king bed and added only one bedside table. The hanging pendant light above the bedside table in jute and black and the simple wall fixture in glass keep the modern look intact.
We used an embroidered fabric in white and mustard for the window blinds and added a beautiful custom rug in gray and mustard. The curtains on the large window are light gray and add texture and warmth. The warm yet light wood tones of the wardrobe complement the palette beautifully and the vertical grains add height to the space!
The art is a graphic black and white floral and the bedding is textural in shades of beige and mustard.
Before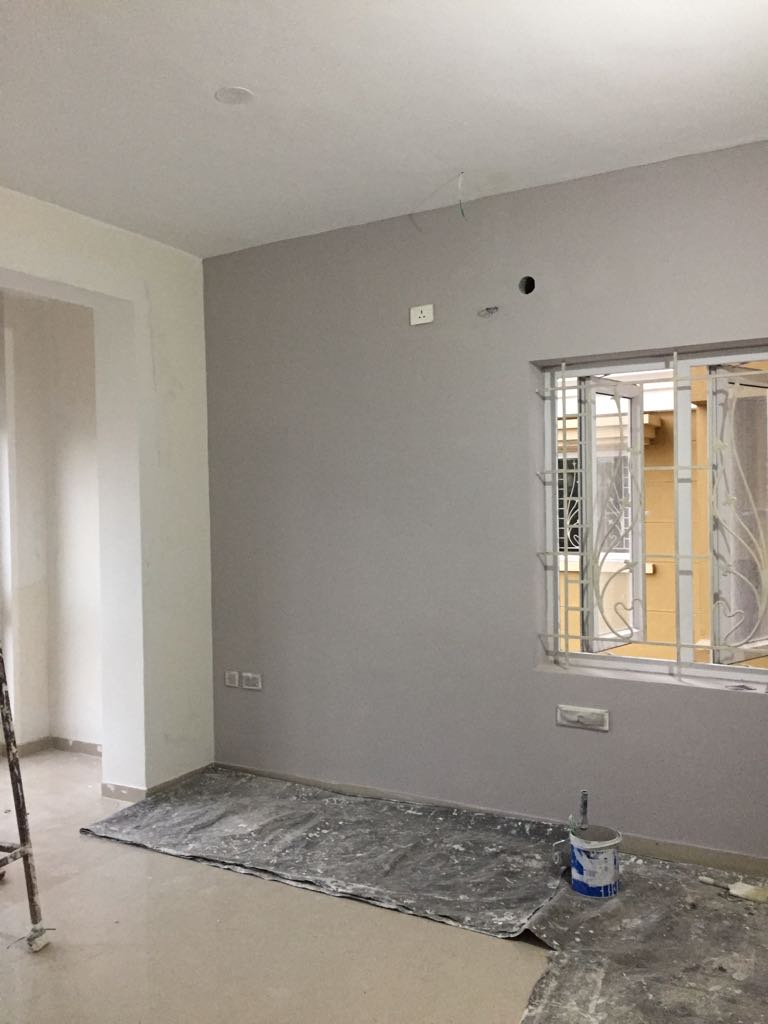 After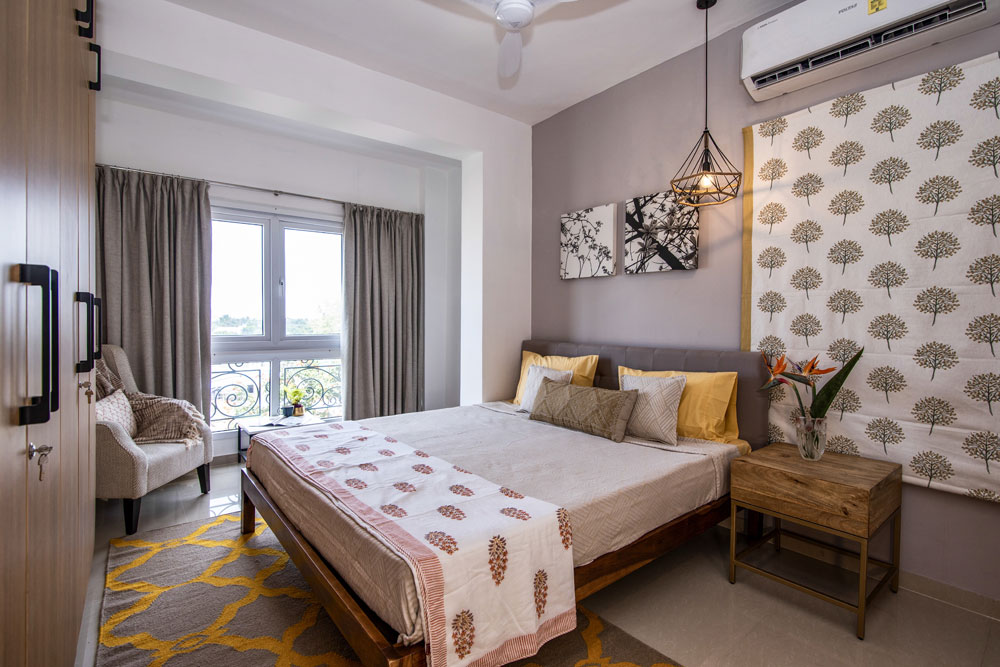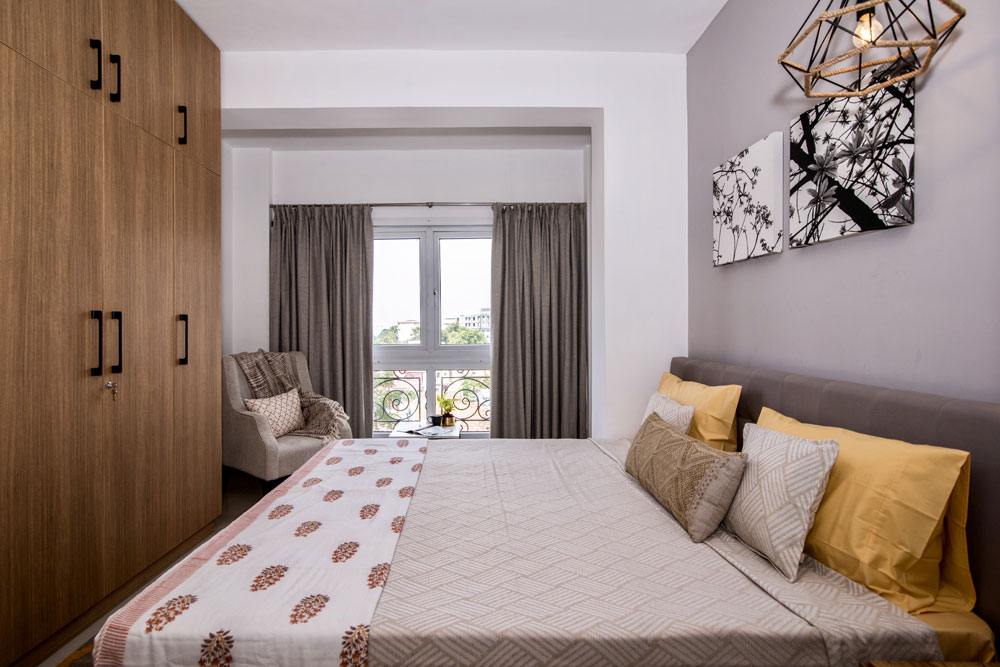 Before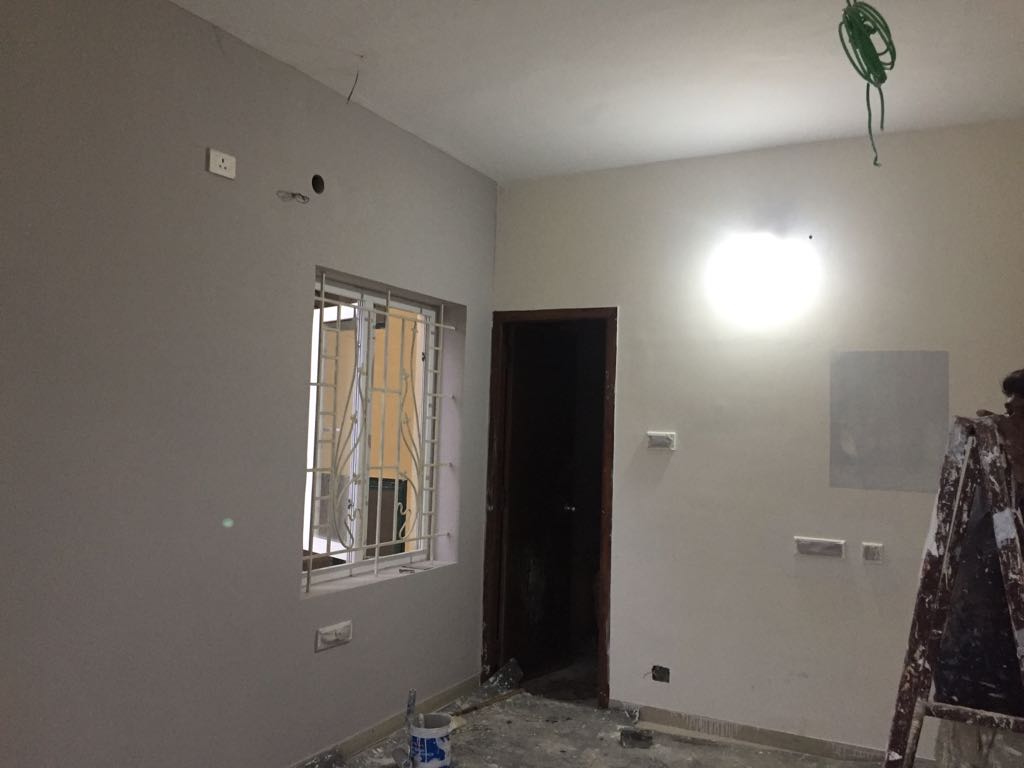 After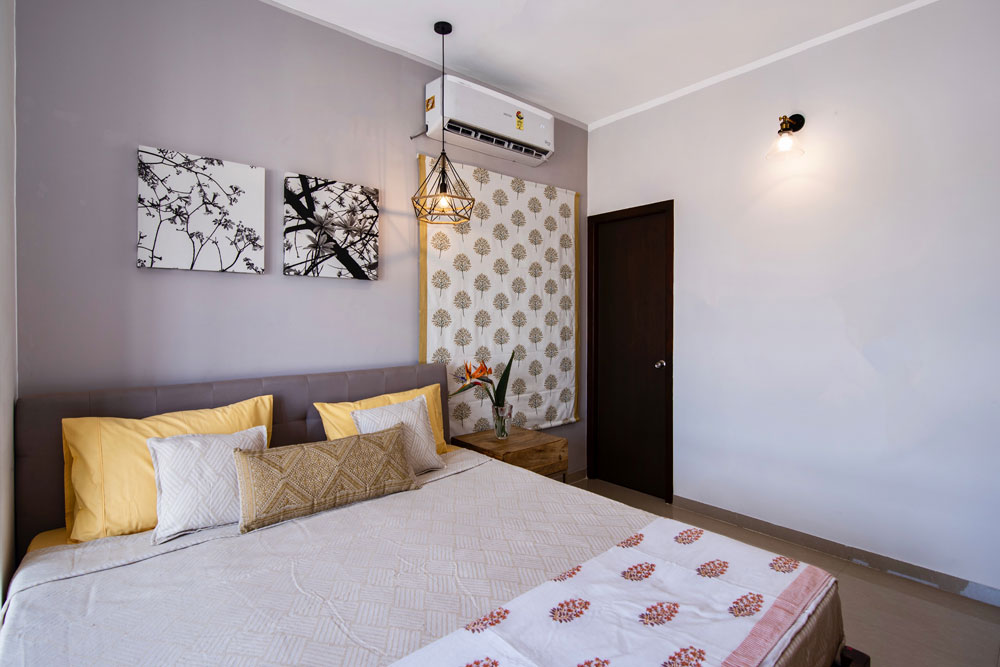 I hope you enjoyed the walk through of this home as much as I enjoyed working on putting this home together ☺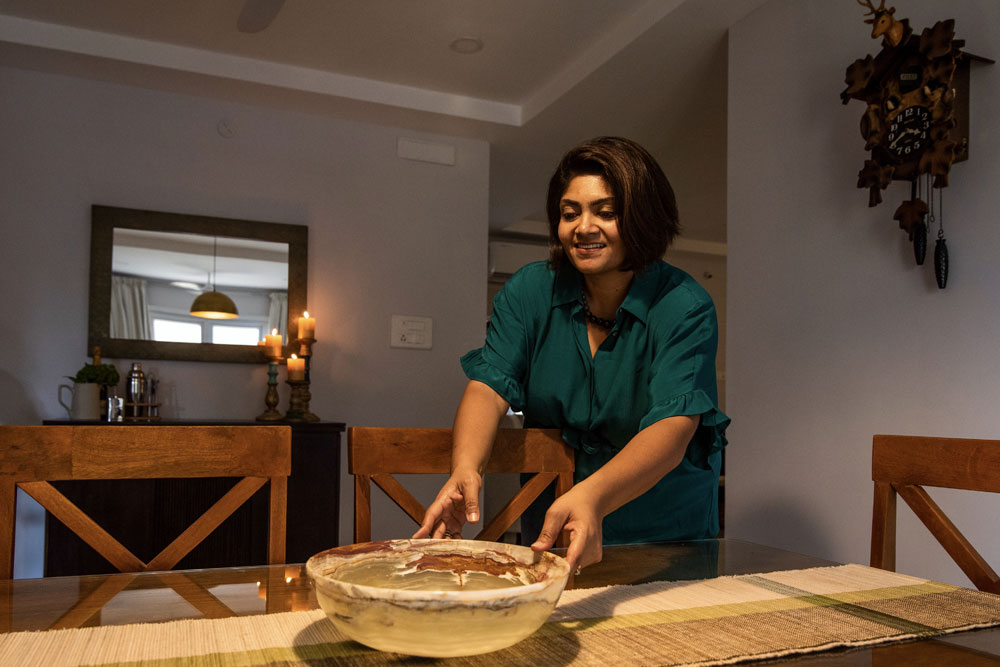 For more pictures follow us on Instagram and Facebook.
All pictures shot by Parth Swaminath.