The Contemporary Craftsman Apartment
Created by Vinithra Amarnathan on March 28, 2023
A 1400 sq ft apartment in a busy Bangalore suburb and a young family that was seeking a classic home for a refuge. Saini and Sampath are self-declared home bodies and they wanted a home that was comfortable, cozy, inspired by a traditional craftsman style within the trappings of a small city apartment.
We came in with a very clear brief and very engaged and very involved clients and what ensued was a design process filled with the best kind of collaborative energy and a shared vision to create something that felt transportive in nature.
Saini loved the classic and traditional feel of American Craftsman Homes and wanted to see those details interpreted in an updated way apt for modern day living with a young family! And we loved the idea of creating a warm cozy space for three!
The entire home is grounded with warm wood floors – a classic walnut tone herringbone for the main living areas and plank styled floors in oak and walnut tones through rest of the home.
Living/ Dining
The living room mimics a classic fireplace clad in red brick to create a warm focal point, crown moulding runs through the ceiling and a traditional English roll arm sofa and tufted back chairs frame the layout.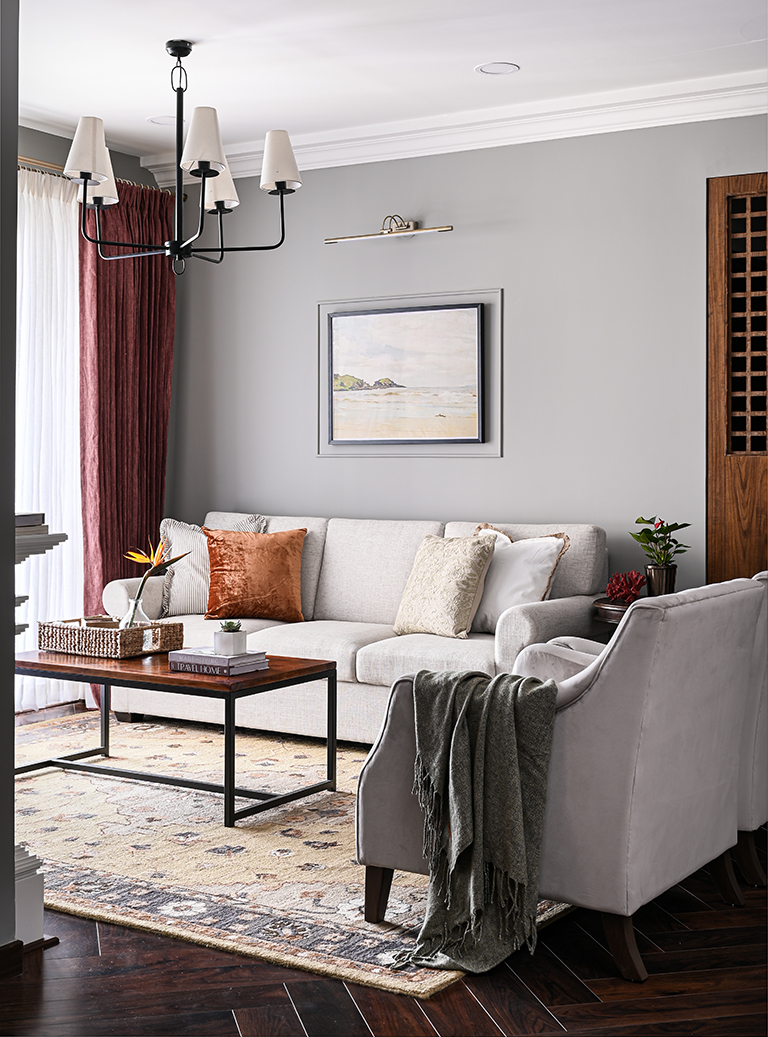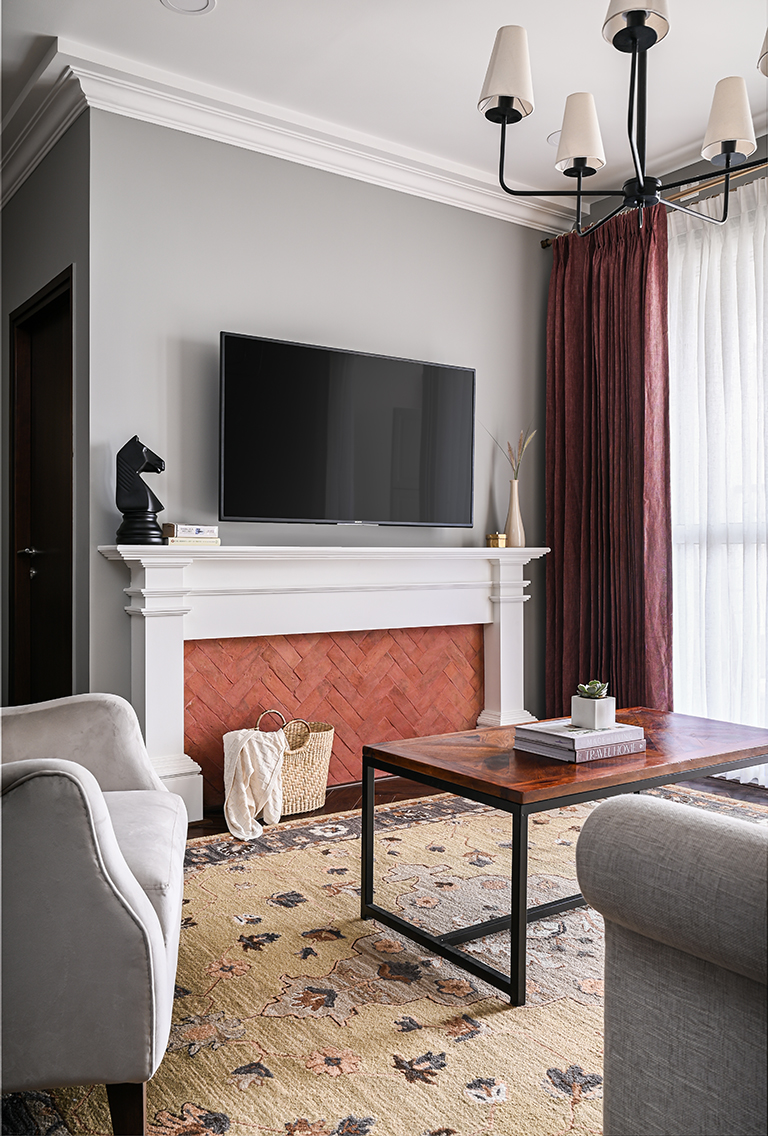 A lattice wood door conceals a cleverly placed laundry area next to the guest bathroom.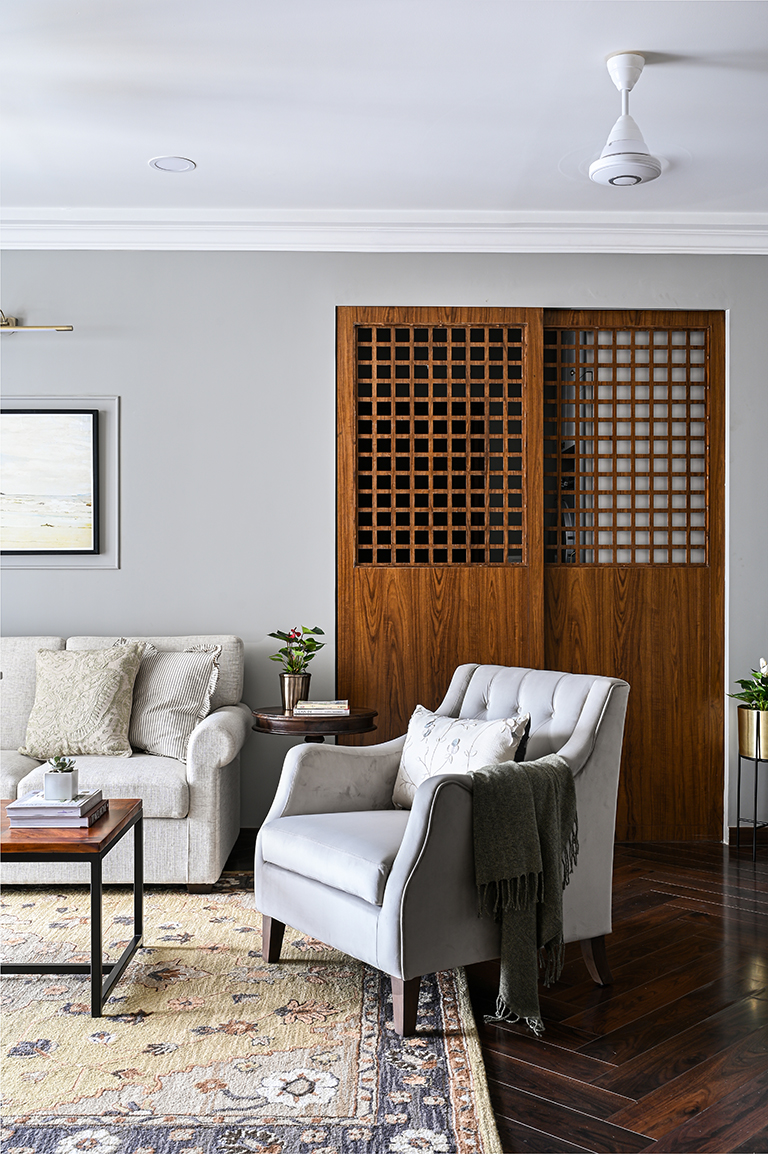 A board and batten wall runs the length of the wall from the entryway into the dining to create a beautiful banquet seat…. something that Saini wanted from the get go and one of my favorite features in the home in how it embodies the classic aesthetic and is also extremely functional in how it utilizes the space.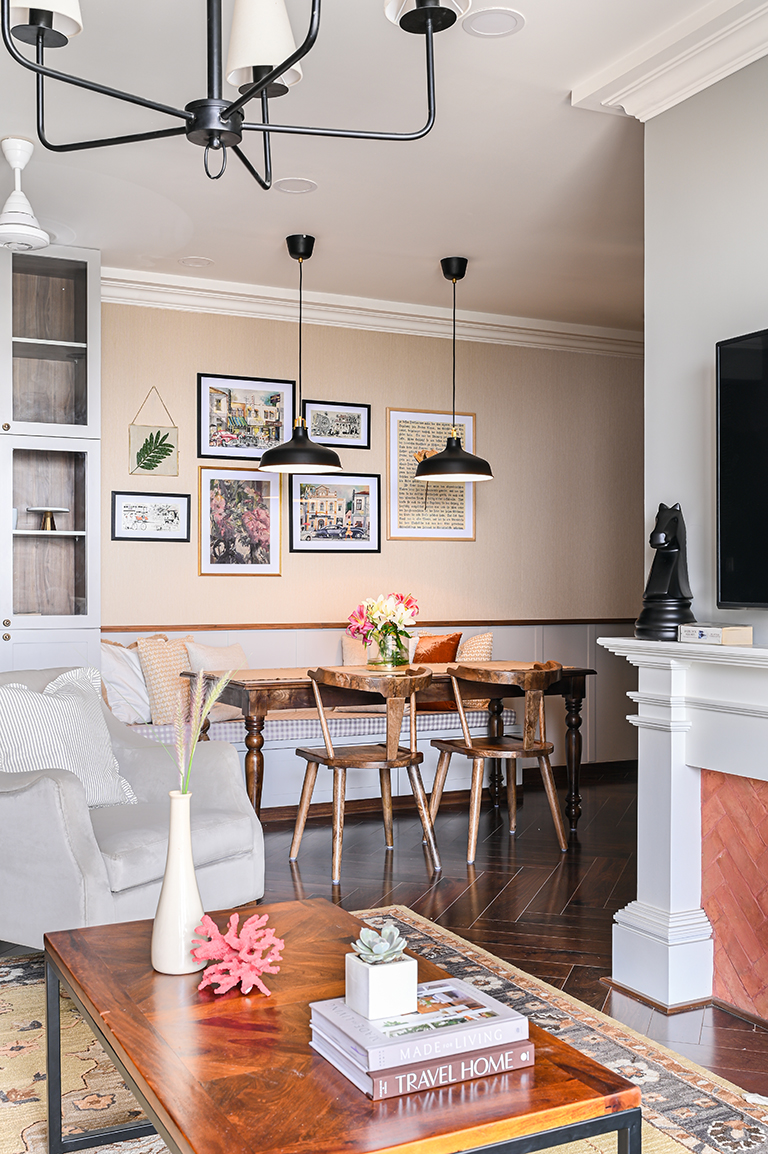 The banquet seat is flanked by a tall crockery cabinet for storage and a gallery wall atop grasscloth wallpaper that lines the wall!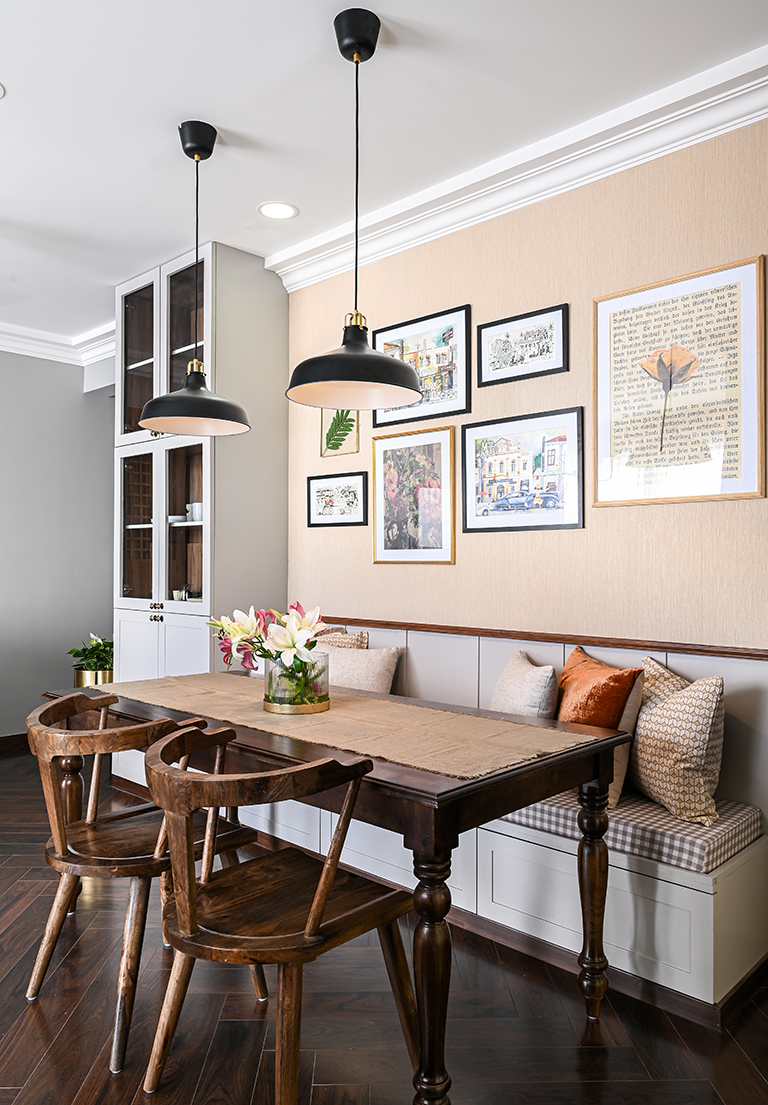 Kitchen
The kitchen is possibly my favorite space in this home. In a very small footprint this kitchen needed to not just be uber functional for someone like Saini who loved to cook and bake, it also needed to be light and stylish!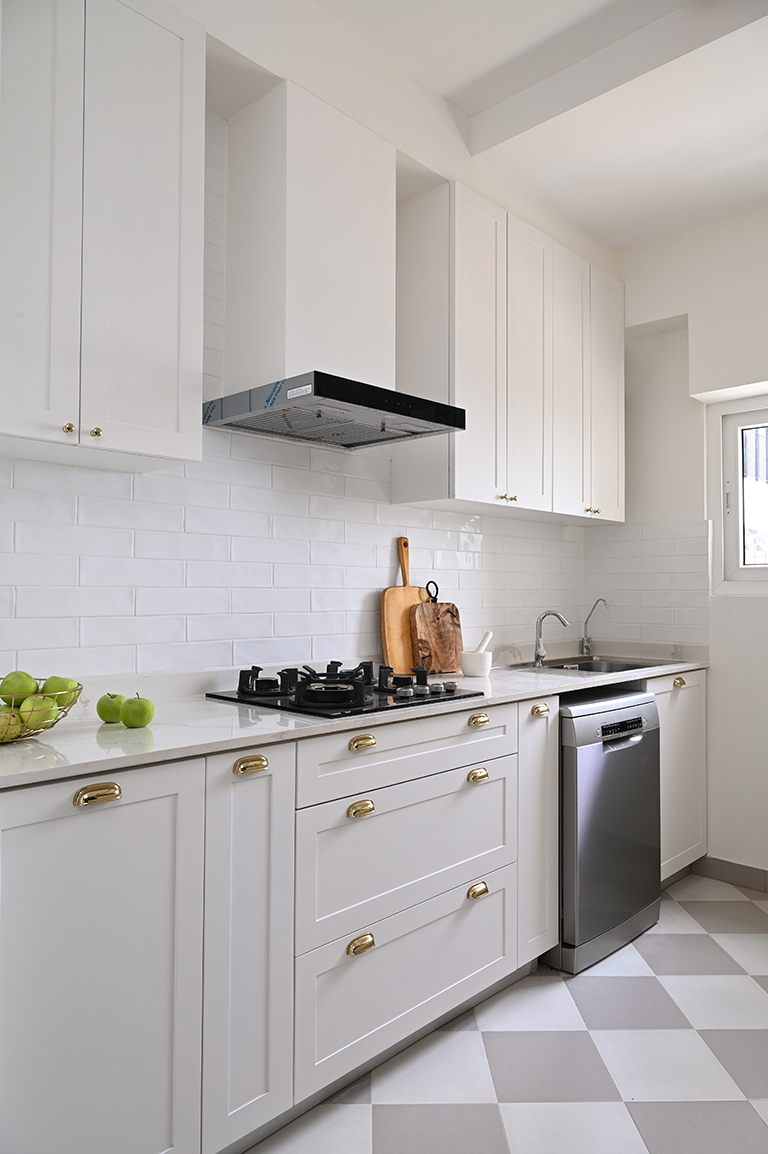 A beautiful gray and white classic harlequin floor and soft ivory cabinets bring this classic kitchen to life. We designed it as a galley kitchen with one side functioning as a dry section complete with drawers and warm wood shelves for both storage and ample counter space for prepping!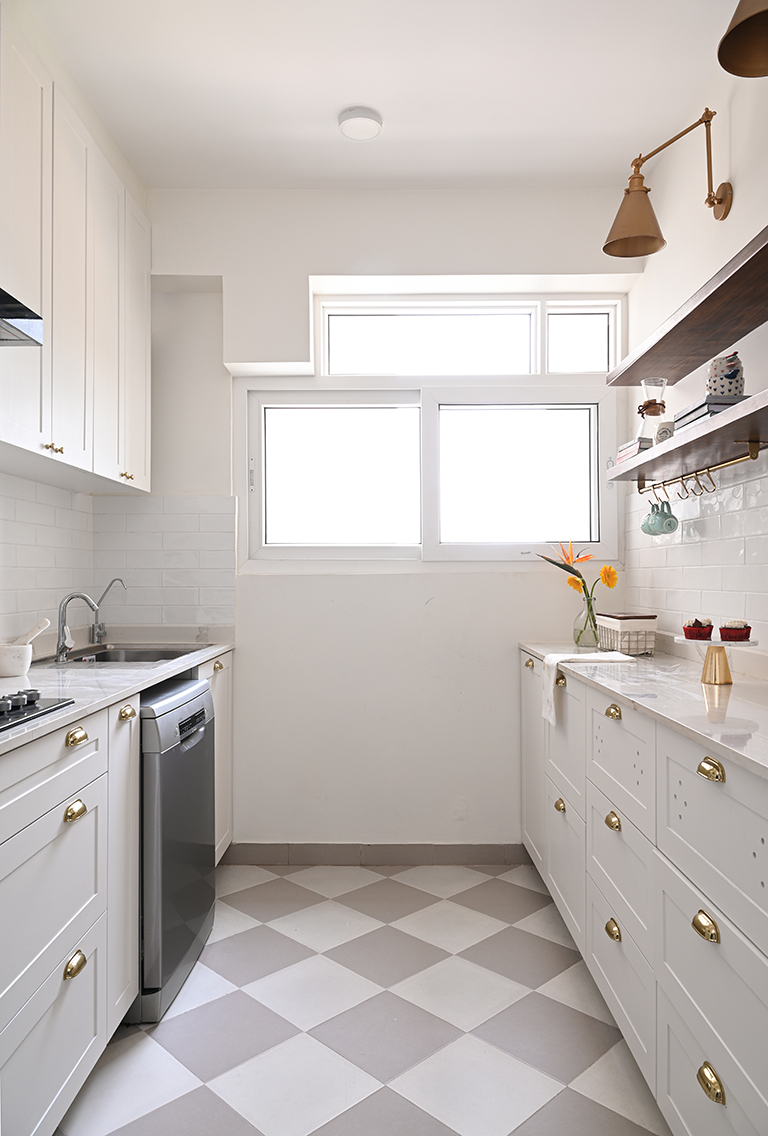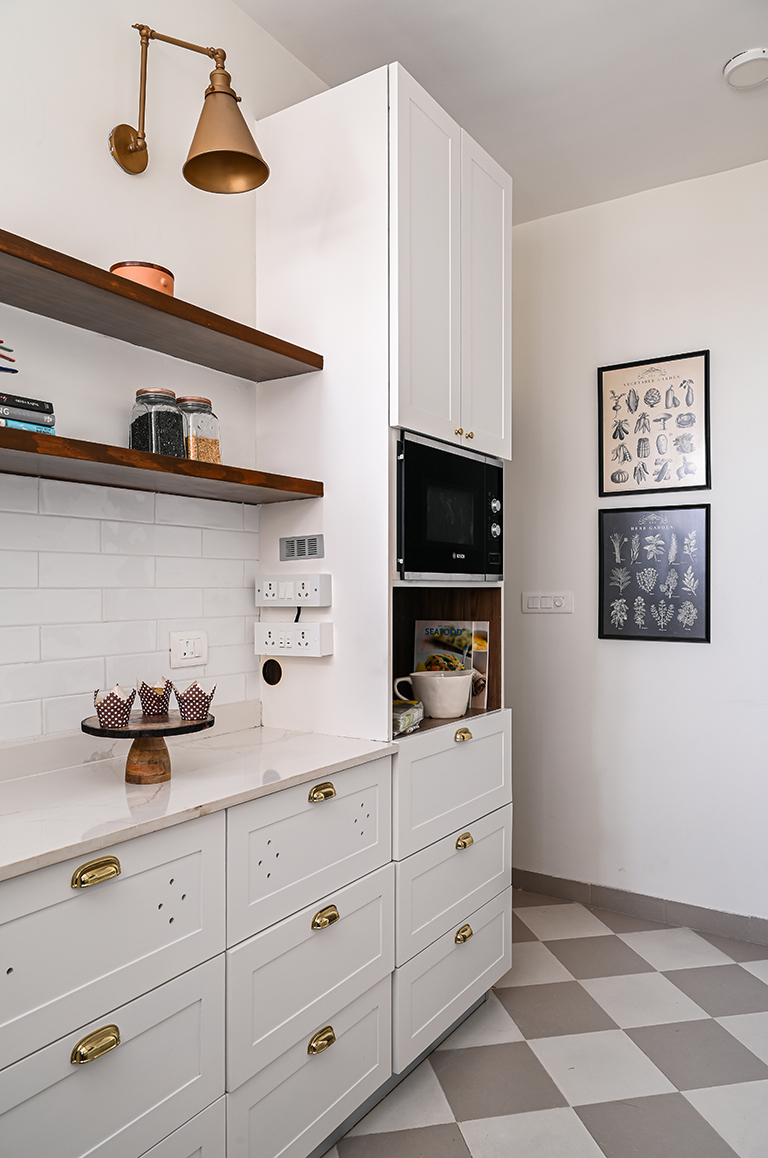 Master Bedroom & Bathroom
The master bedroom and bathroom are decked in tones of grey and beige complemented with beautiful walnut veneer wardrobes and a vanity. A classic tufted back bed framed by vintage botanicals creates a calm serene vibe.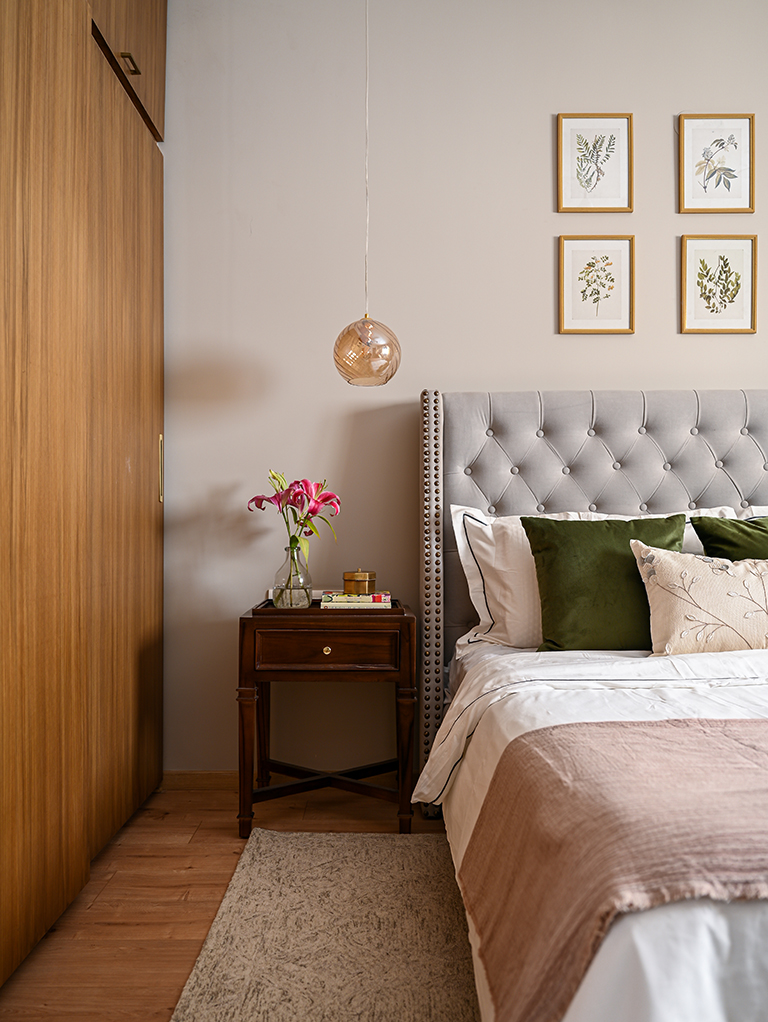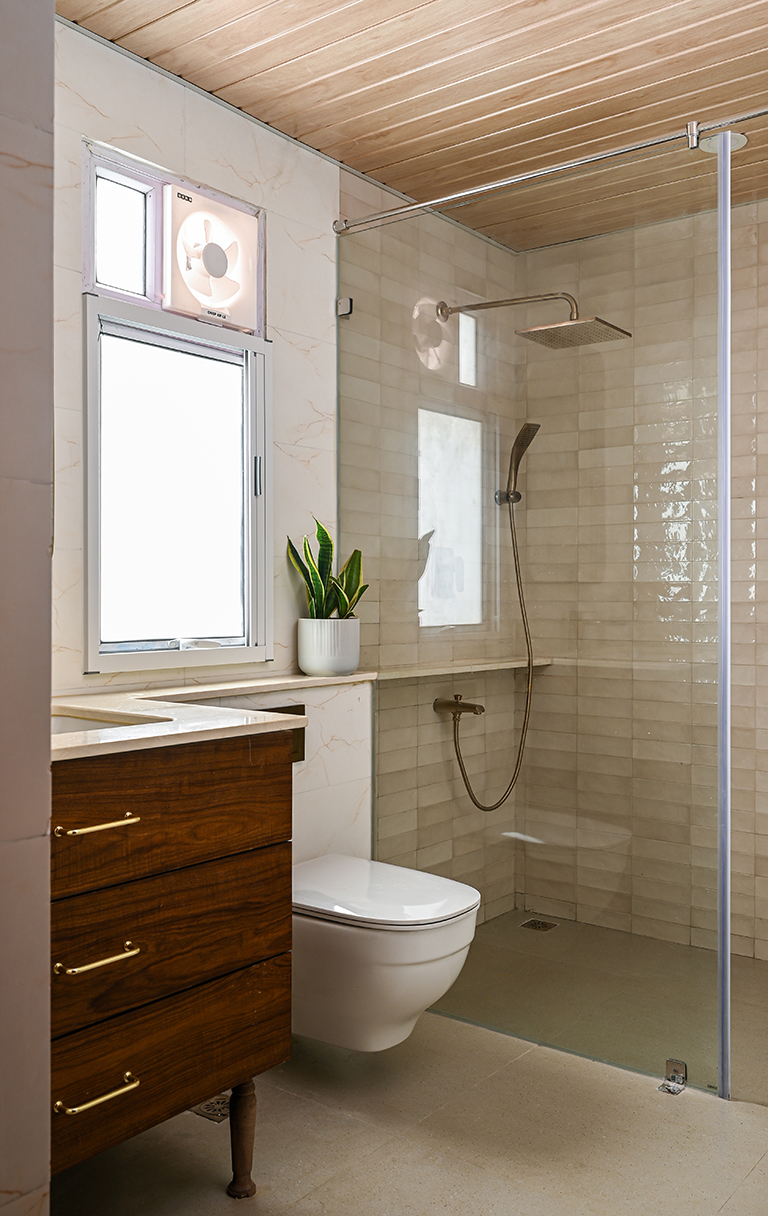 Study
The small study is wrapped in a warm shade of terracotta all over and creates a cozy inviting space for work and after hours.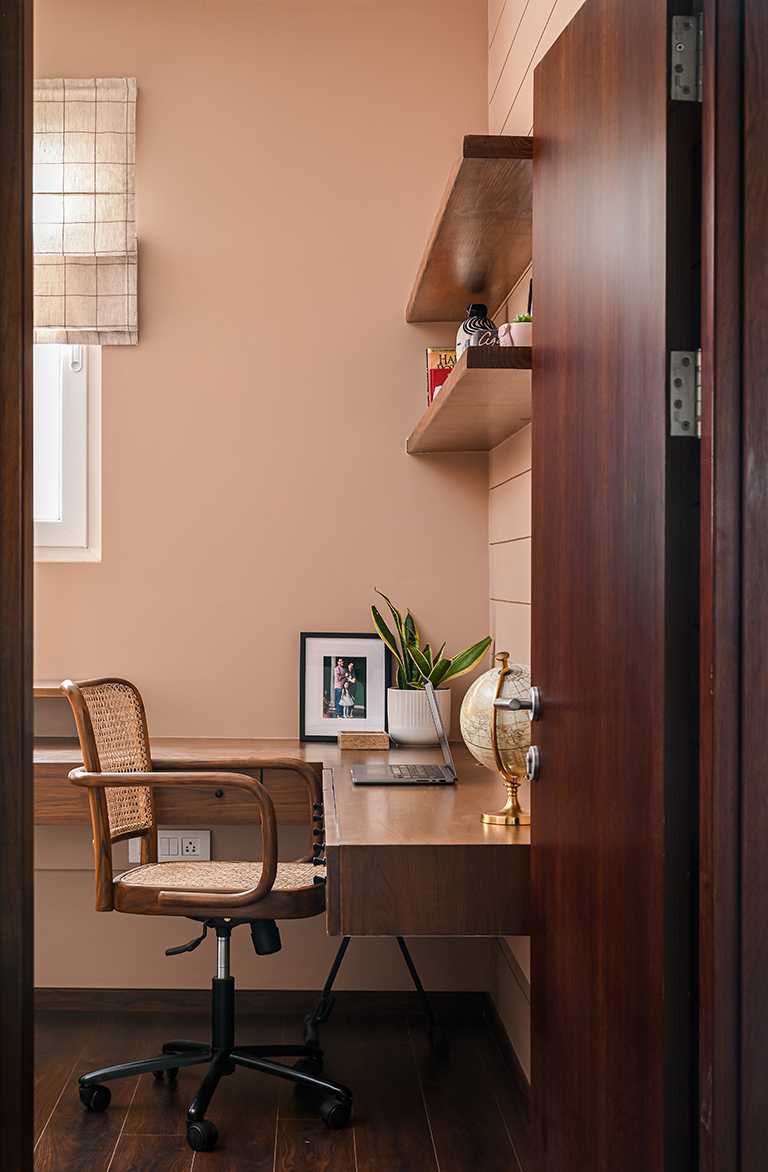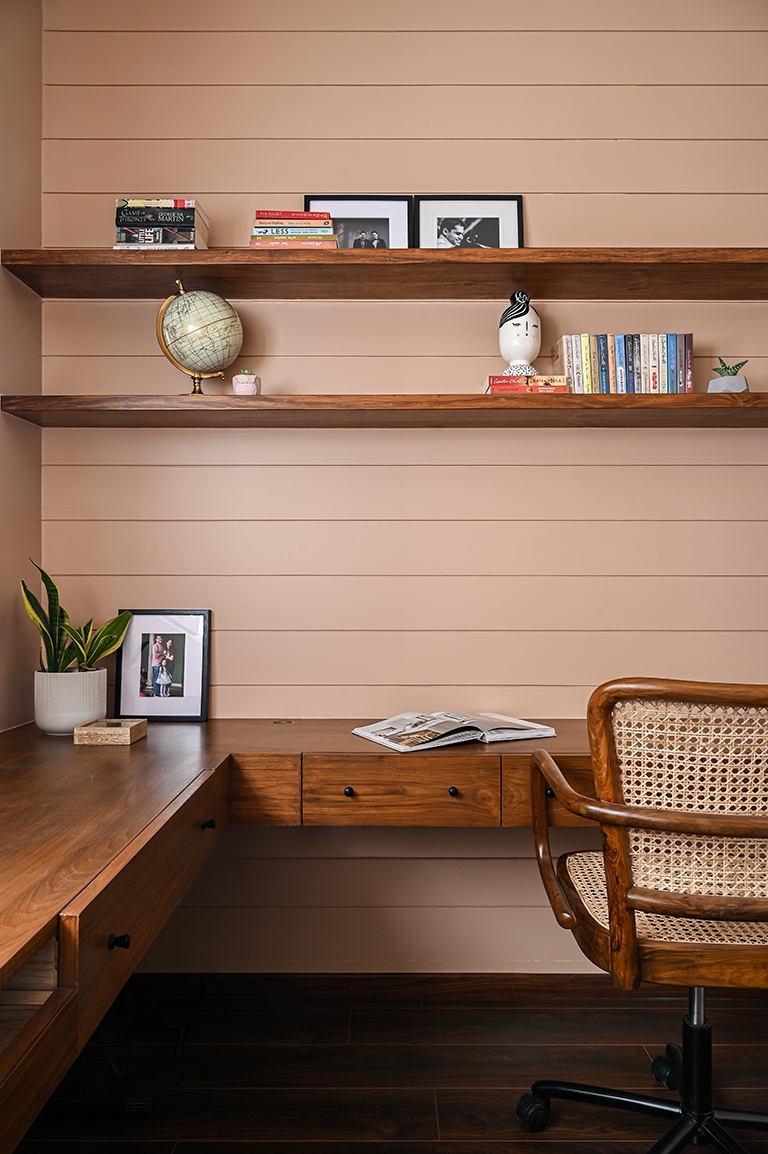 Kidsroom
The kids room is bright airy and has soft details like a polka dot wallpaper behind the wardrobe, a painted arch background that frames a bench seat to create a small reading nook!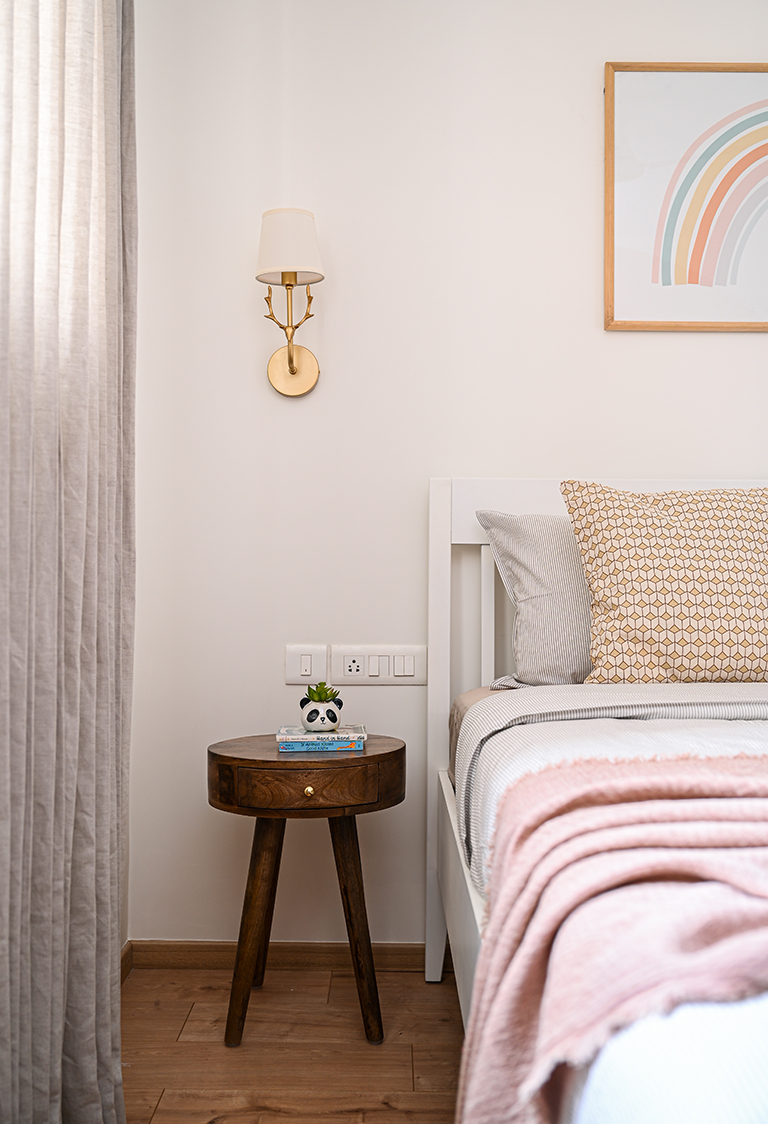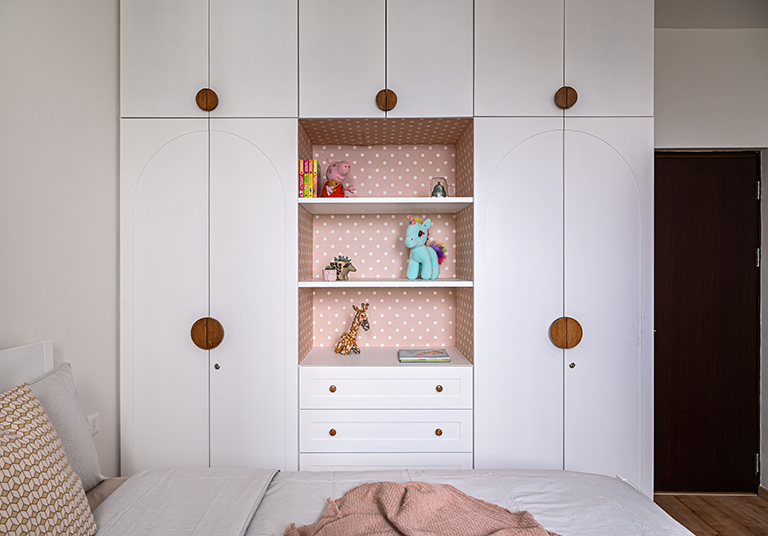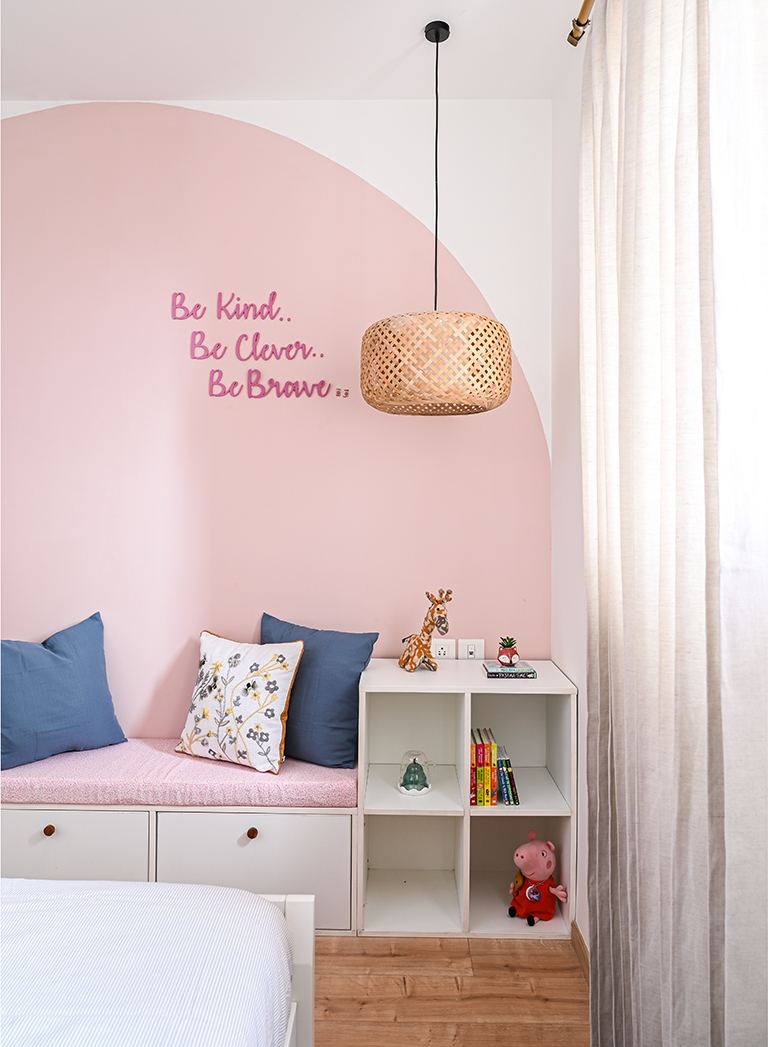 This home is such a warm classic space with every small nook thought through to fit the clients lifestyle and personalities.
We hope you enjoyed walking through this home!
All pictures shot by Nayan Soni.