It's All in The Accent!
Created by Vinithra Amarnathan on August 6, 2019
How many times have you stared at that blank wall and wondered what you could do to give the space more character? Or how many times have you caught yourself feeling like your room lacks a focal point and needs a revamp? With this blog post, we've worked with Berger Paints to bring to you the simplest Accent Wall hacks that can transform your spaces in a quick, cost-effective and impactful way! 😊
The idea of creating an accent wall is a simple way to bring personality to a space. An accent wall in a room will have attention drawn to itself effortlessly (and for the right reasons 😉) and will act as that perfect conversation-starter. We hope that with this detailed post, we'll be able to help you find your perfect accent wall design match!
Before we get into details about the various ways in which you can create an accent wall in your room be it the living area, dining space, bedroom or just any space you want to freshen up the look in, let's answer the more pressing question.
Which type of wall can be turned into an Accent Wall?
This step is probably the most important one and also confusing for most! Start with picking out a clean wall that has preferably no breaks or structural elements like doors, windows etc. The wall picked could be the one behind the bed or the one behind the couch or even a wall where you want to highlight a focal point like a large piece of art or a gallery wall! Keep your focus on picking a wall that does not have to compete for attention with something already present on the wall surface in the form of a structural or a feature element.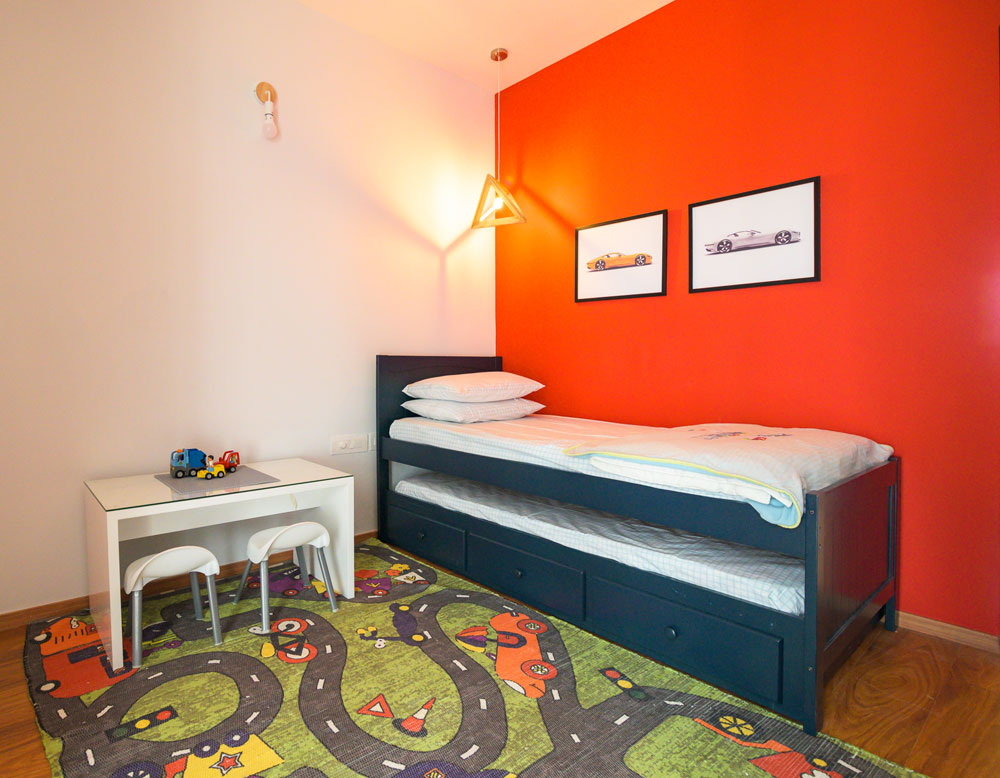 You can pick a wall that has a dominant presence in the space and then introduce elements that will complement the accent wall. Against the accent wall feature, you can get creative and decide on what type of décor items, furniture or focal pieces may go with the statement wall. A bright couch, a gallery wall or just an iconic piece of art can all be options that anchor the wall visually!
A key element to keep in mind is natural light. A wall that receives a good amount of light is a good candidate for an accent wall. Accent walls are also a great tool to visually create dimension in a space. For example, painting a wall on the far end of a long or large room a dark/bold color, visually brings the wall closer and reduces the length.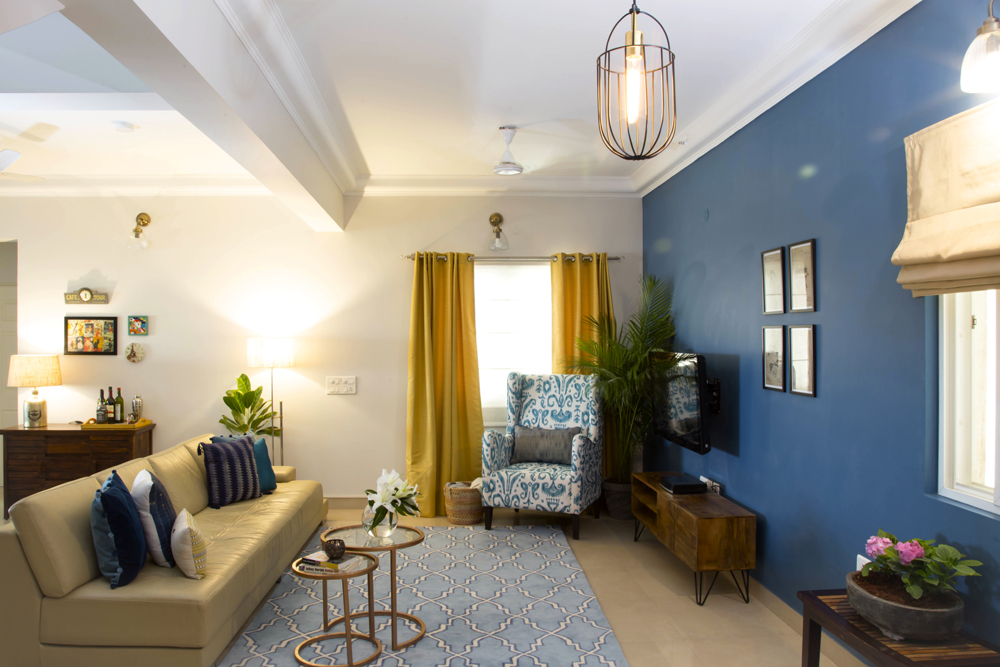 Once the accent wall is in place, it is sure to create impact in terms of visual drama and highlight the features you were seeking to.
Moving onto the most fun part now!
How to create an Accent Wall?
The answer to this is in many different ways! 😊Accent walls much like paint in any form are an expression of your unique personality, the effect you want to create or the characteristic vibe that you are going for. Let's explore a few different techniques that we can use to bring to life your custom accent wall feature with the help of some Berger Paints products:
Paint – The Most Versatile Medium:
Paint has been the cheapest and easiest way to give a space a whole new look (read more on this: https://www.wee-spaces.com/expressing-style-one-paint-swatch-at-a-time/). With paint options, there are a variety of directions of design you can head into.
Start by deciding on the overall palette of the space. You can choose to work with warm colours (reds, oranges, yellows, browns) or cool colours (greens, blues, purples) to create a visual ambience of your choice. Dark, bold and striking colours work well to create an engaging backdrop in a space. Softer toned colours work well to tie the space together.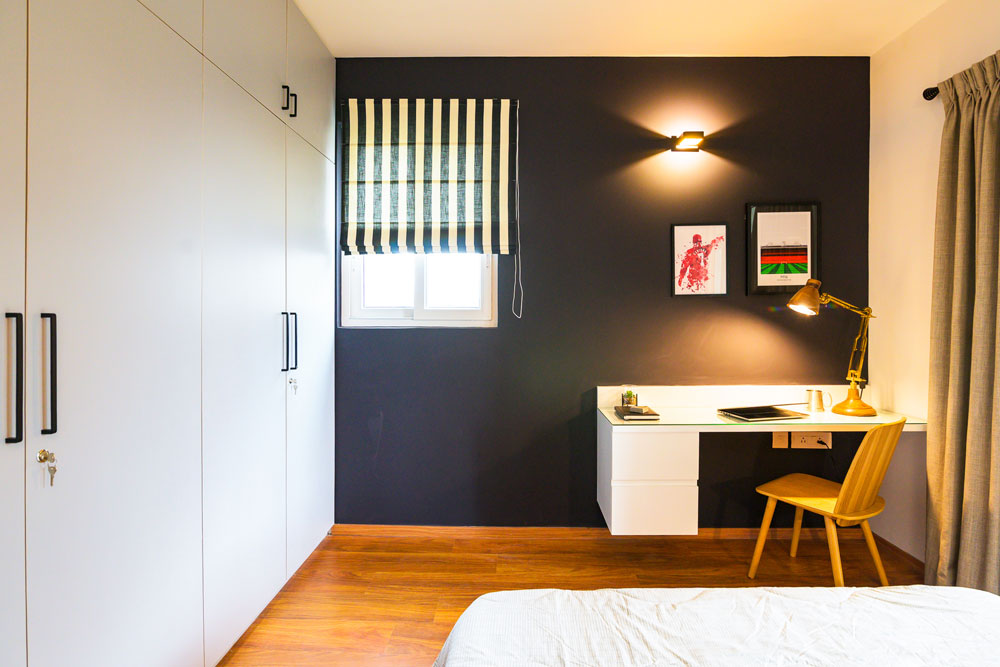 Within the color wheel you choose to work with you can choose hues that create a complementary or contrasting palette! Some trending combinations could be: teal and white, mustard, grey and white, shades of blues with orange for something vibrant or mint for something fresh and cool!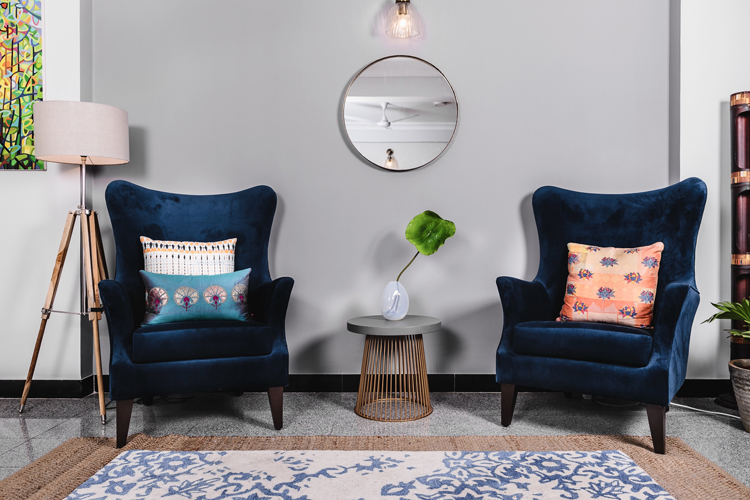 You can spruce up your accent wall colour wise with design options like ombre shades of a base colour, a solid hue on the wall, metallic finish walls, textured walls, wallpapers in sections, panelling and even decals to complement the colour story of the space. The options are endless!
You can create a statement accent wall using Berger Paints Silk Illusions range.
Stencils:
Stencils are a great option if you want to infuse pattern and make your wall a feature wall even without any further accessories! They're customizable and can make for a fun DIY project in your home. The use of stencils allows you to give your space a quick makeover that can follow a certain theme and set the mood of the space. Choose from a range of abstract, geometric, form-inspired or a collection of shapes to create that personalized accent wall.
Stencils work great in kid's rooms, study spaces, offices or anywhere you need to feel creatively inspired!
Go ahead and let your imagination free when it comes to choosing a base coat color and the pattern color to layer on top of that. Here too, you can choose to pair colors that complement each other or create an interesting visual with their contrasting pairing! Stencils are that perfect blend of pattern and personality that come together to create magic on your walls.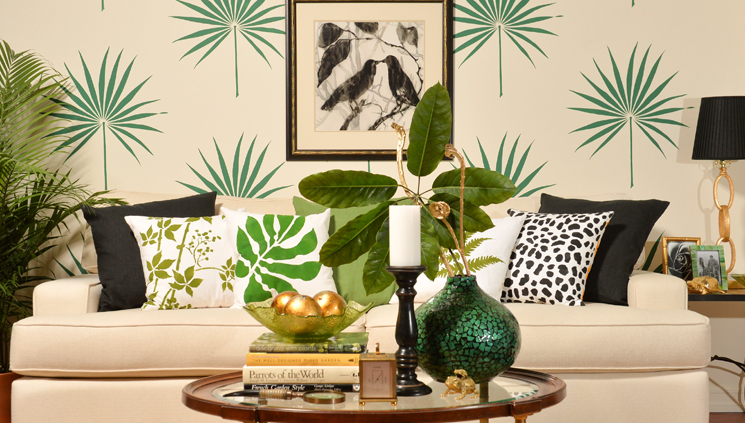 Pic credit – Pinterest
Berger's range of Interior Emulsions can be paired well together in various shades to create that desired stencil accent wall feature.
Color Blocking:
Now coming to one of our personal favourite techniques! Color blocking is a technique in which two or more solid colours are paired together in a symmetrical or asymmetrical fashion to create an interesting composition. The goal is to visually break up the space by splitting it into geometric portions that each have a distinct colour, thus creating that picture-perfect accent wall!
You can start by dividing the wall into a few sections. Use any pre-existing elements as guides to divide the wall as per your requirement. Use complementary colours for a striking effect or even subtle hues if that's your palette. The technique is perfect for demarcating zones & adding character to your space!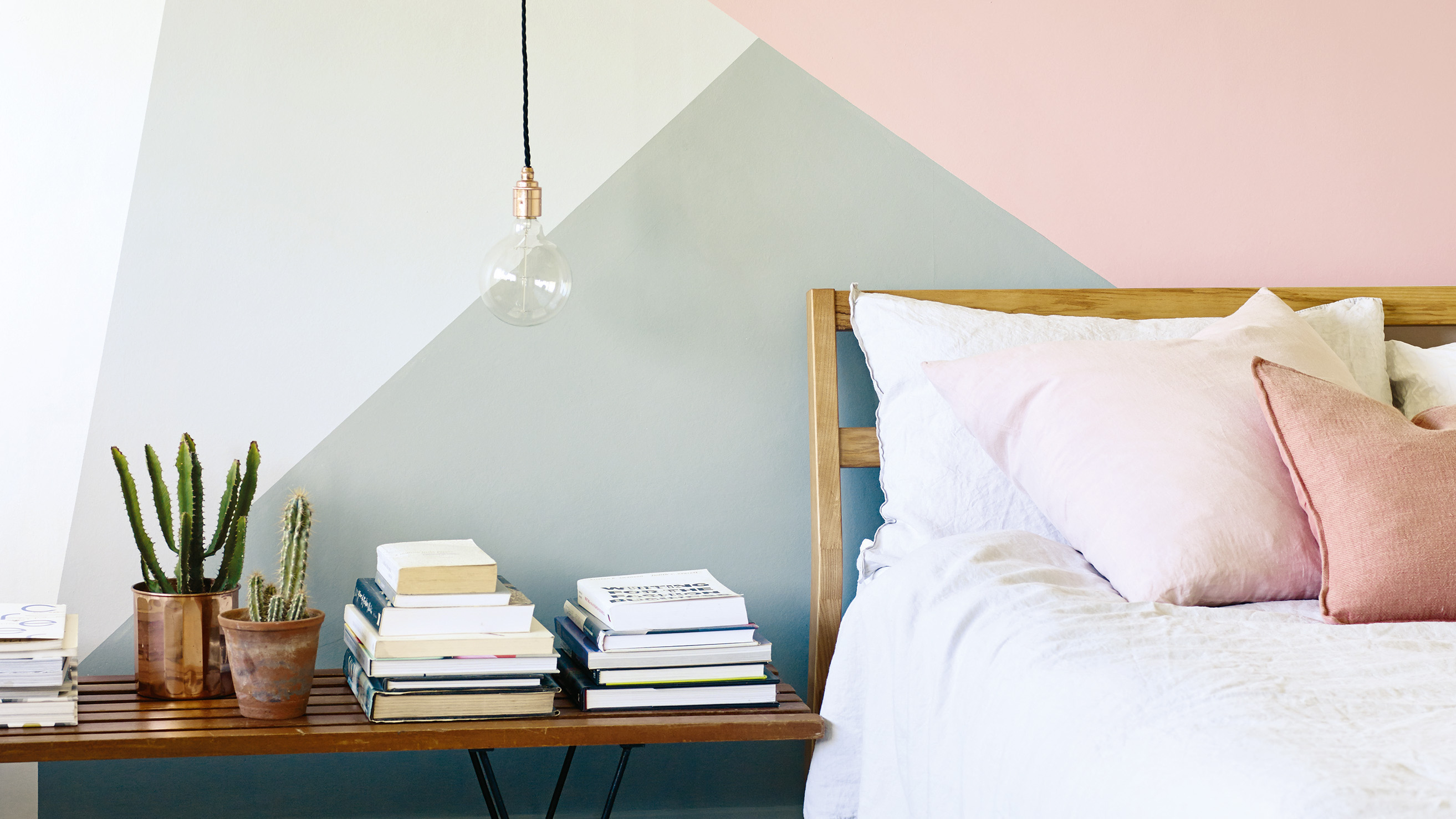 Pic credit – Pinterest
Have a look at some of Berger Paint's Silk Luxury Emulsion range to get cracking on your colour blocked wall.
Here is the golden rule: there aren't any rules!
Remember to have fun while you freshen your walls up and know that your take on accent walls is your own. It is an interior design feature that can go a long way in adding that bold touch of persona to your space and make it seem anew!
Until next time, keep it chic and colourful! 😉
Content by Lavanya Chopra for Weespaces