Expressing Style. One Paint Swatch at a Time!
Created by Vinithra Amarnathan on July 11, 2019
Need to give your space a makeover and new personality without having to splurge on it? Paint is your best option hands down! For the longest time, while décor trends have swayed across different styles and periods, paint has continued to be the most durable, economic and simplest option that can change the entire look of a space in a matter of days.
From protecting your surfaces to becoming a medium of self-expression, paint can anchor a surface effortlessly and create just the perfect mood you want to set in your space whether it's the interiors or exteriors! We explore a few ways in which you can use various paint product ranges by Berger Paints and techniques to create spaces that are an extension of your style!
Interior Paint Finishes
Interior paint finishes can literally make or break a space. The colors, textures and finishes can influence greatly the identity a space has. By using paints in a complementary or even a contrasting color scheme one can create a binding visual language. We take you through some of our favorite paint interior finishes that we find trendy and we hope you'll be inspired to explore some of them!
Concrete Limewash Paint
Created originally using a mineral base, limewash paint has a lovely chalky & nuanced texture. The material dries to create a suave matte surface which gives any wall surface visual depth and a standout look. Limewash paint works great on porous surfaces like brick, plaster or even stone and gives spaces a natural and neutral-toned look. We used this in our most recent project in the modern colorful apartment and its one of our favorite looks with its cool concrete finish. This grey tone gives the space a super modern, clean & stark look that is oh so swoon-worthy! Limewash finishes can also be achieved in color ranges of browns, taupe & shades of grey.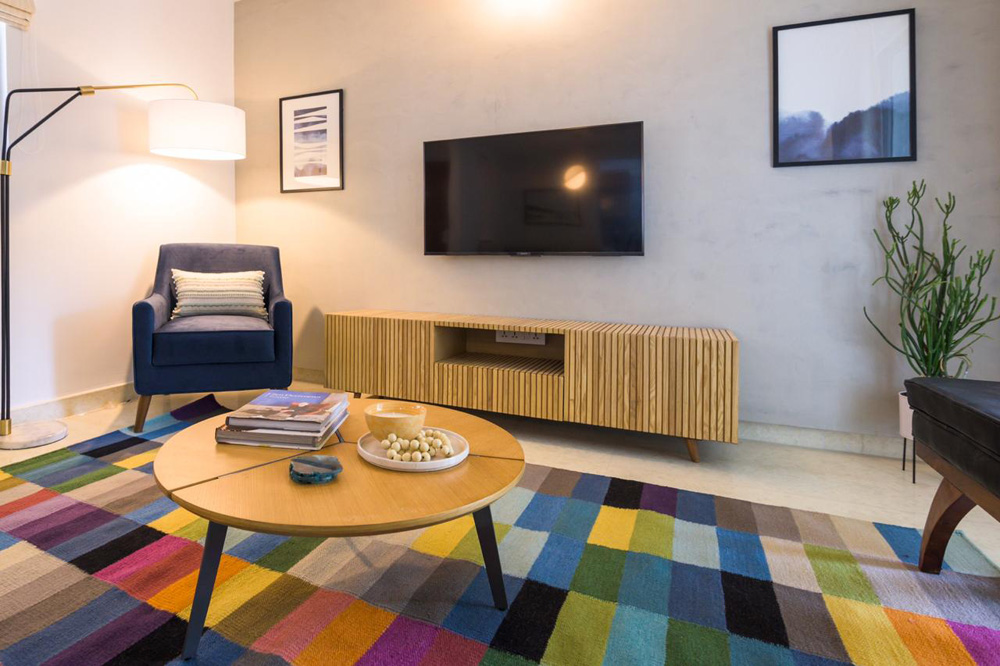 Metallic Finishes
Metallic finishes on walls are such a chic way to glam up your room's vibe! Playing with metallic finishes can give the room an edgy & elegant look which is out of the box and unique. These walls can be created as accent walls in spaces so they have visual attention drawn up to them and can be the perfect backdrops for art / wall décor on the wall. Unleash your creativity and choose from a range of golden, champagne, silver or jewel tones to create that statement backdrop!
Berger paints offer some great products like Silk Illusions Design Metallica or the Silk Illusions Metallica that can help you achieve the metallic magic you're going for! Find the products here:
https://www.bergerpaints.com/products/interior-wall-coatings/4/designer-finishes/54/silk-illusions-design-metallica
https://www.bergerpaints.com/products/interior-wall-coatings/4/designer-finishes/24/silk-illusions-metallica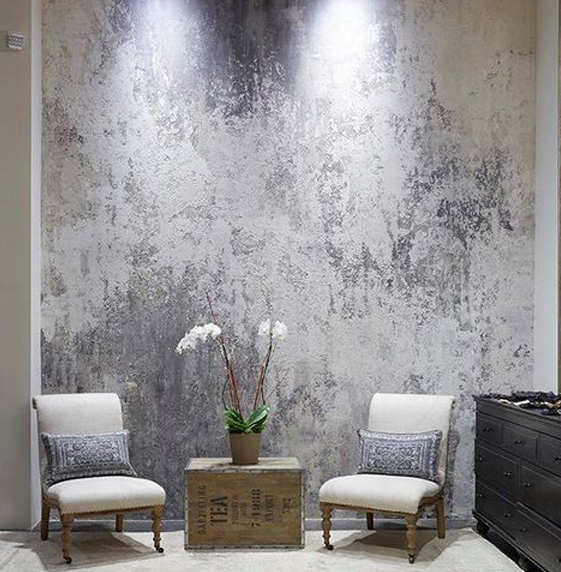 Textured Paint
If you like to have fun with your walls and would like to take a little leap into a versatile palette of interior paint finishes, textured paint is just for you! With this type of paint finish, you can achieve unique patterns with absolute ease. Textured paint is perfect for a room facelift, is durable, versatile and can be customized to create the look you want. What better than the freedom to create and implement just the right texture for your walls?
Berger Paints has some products that can help you create some intriguing textural play for your walls. The Silk Illusions Marble Finish & Silk Illusions Vintage Finish are some of our top picks! What's more? These are Green Pro certified and are eco-friendly too! Check these products out:
https://www.bergerpaints.com/products/interior-wall-coatings/4/designer-finishes/25/silk-illusions-marble-finish
https://www.bergerpaints.com/products/interior-wall-coatings/4/designer-finishes/71/silk-illusions-vintage-finish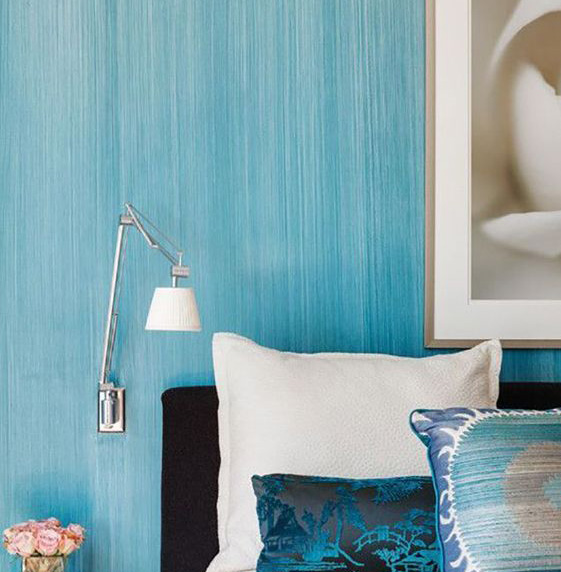 Exterior Finishes
An exterior paint finish is a functional and aesthetic layer that protects a building from all external factors from sun exposure to rainfall and any sort of wear and tear. Exterior finishes can set the tone of a built space literally at first sight!
One must ensure that the finishes picked for the shell of the building matches the weather conditions of the site and the potential weather-related factors the building may need to endure. Properties like durability, water repellency and fungal prevention should be of prime focus while picking your finishes for exterior surfaces.
We've shared with you two of our personal picks that we feel can add to the façade of your home.
Exposed Concrete Finish
High on the style scale, the concrete exterior finish can give anybuilding a sharp stylish feel. You can channel some great Brutalist expression with exposed concrete facades and elevations to make your built space stand out and make its presence felt! There's something so alluring about the rawness of this look and we feel it fits well with modern architecture and design especially with an industrial chic vibe.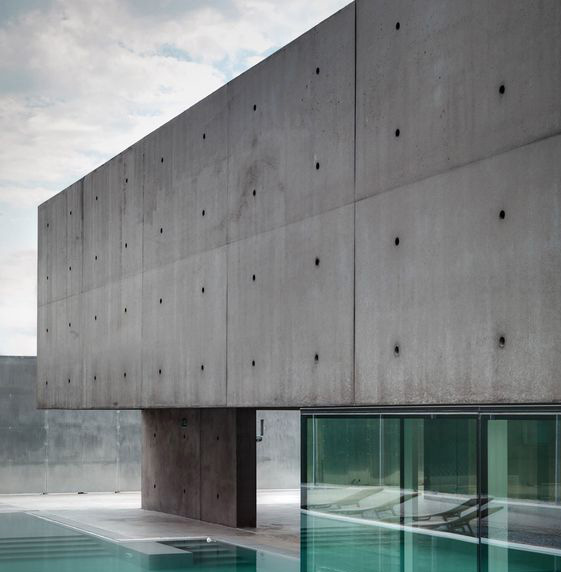 Painted Brick Finish
This style of exterior wall treatment is a throwback to classic style! Painted brick walls add an earthy look and feel that has an unconventional beauty of its own. The choice of colors can range from the classic earth tones to brick to bright hues! We are seeing a big trend towards dark exteriors and painting your brick exterior a sharp black or deep green or charcoal lends it a bold sharp look.
The WeatherCoat Long Life or the WeatherCoat All Guard paint finishes by Berger Paints is a great pick for you to keep your external walls looking fresh for years to come! Do check the paint varieties out:
https://www.bergerpaints.com/products/exterior-wall-coatings/15/exterior-emulsions/34/weathercoat-long-life
https://www.bergerpaints.com/products/exterior-wall-coatings/15/exterior-emulsions/69/weathercoat-all-guard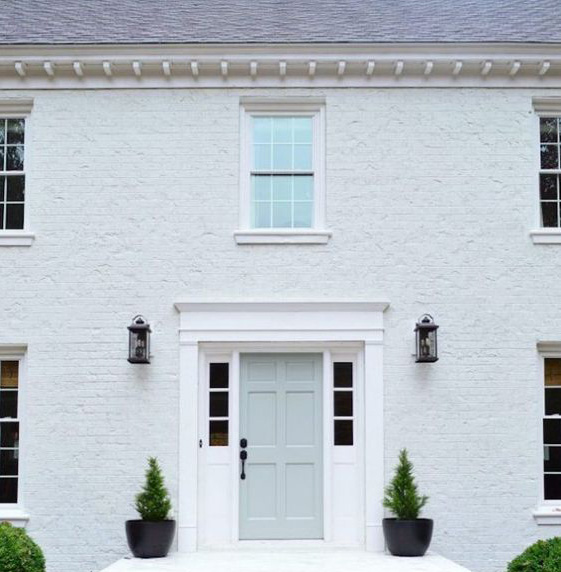 All in all, paint as a material is timeless. It's the perfect medium for creative & visual expression that can be altered and customized to suit each homeowner's personal style. So, the next time you are contemplating the perfect makeover for your spaces, whether at an interior or exterior level, be rest assured that paint and the plethora of finishes available in the market will breathe new life into your abode!
It's all about finding the perfect shade, combination, texture and finish that will complement your style and give your space a whole new look. Don't be afraid to play around with paint and colors…. it's your cheapest and easiest tool for major impact
Check out Berger Paint's detailed and expansive range of products that can give your home a dose of love, be it on the inside or the outside.
Stay tuned for more from us about our thoughts on paint and other accessories that can help you create a home truly reflective of you.